PERBEDAAN HASIL BELAJAR SISWA KELAS VII SMP NEGERI 9 AMBON MENGGUNAKAN MODEL PEMBELAJARAN LAPS-HEURISTIC DAN MODEL PEMBELAJARAN MEANDS-ENDS ANALYSIS DIPADUKAN DENGAN MEDIA MOVIE KONSEP EKOSISTEM
Frensca A Jacob

H Tuaputty
Keywords:
Laps-Heuristic and Meands-Ends Analysis, Media Movie, Learning Outcomes, Ecosystems
Abstract
Background: To achieve learning objectives, teachers are required to be able to choose and integrate learning models and learning media that are suitable for application in a particular concept. Although the development of the learning model has undergone a change, in reality teachers still have difficulty in determining the learning model that is suitable to be applied at an educational level.
Method: The study was conducted on 18 September - 18 October 2018 using descriptive methods, student learning outcomes were seen through the final grades assessed based on cognitive (LKS), affective and psychomotor aspects and pre-post test scores. Measurement data were analyzed using t test formula.
Results: Based on the t test, the results of tcount 14.066 and ttable 1.658, tcount> ttable, then the null hypothesis (HO) is rejected and the alternative hypothesis (Ha) is accepted. This shows that there are differences in learning outcomes of class VII students of SMP Negeri 9 Ambon using Laps-Heuristic learning models and Meands-Ends Analysis combined with Movie media.
Conclusion: There are differences in student learning outcomes by using Laps-Heuristic and Meands-Ends Analysis learning models for the ecosystem concept in class VII Ambon 9 State Junior High School. Meands-Ends Analysis learning is more effective for improving student learning outcomes than Laps-Heuristic learning models.
Downloads
Download data is not yet available.
References
Arikunto, 2003. Prosedur Penelitian, Suatu Prktek. Jakarta: Bina Aksara.
Arikunto. 2006. Prosedur Penelitian Suatu Pendekatan Praktek. Jakarta : PT. Rineka Cipta.
Gerlach, 1971. Teaching & Media: A Systematic Approach. Second Edition, by V.S.
Huda, M. 2014 Model-Model Pengajaran Pembelajaran. Pustaka Belajar: Yogyakarta.
Hamalik, Oemar. 2009. Kurikulum dan Pembelajarran. Jakarta. Bumi Aksara.
Majid, Abdul. 2013. Strategi Pembelajaran. Bandung: PT. Remaja Rosdakarya
Shoimin, Agus. 2014. 68 Model Pembelajaran Inovatif dalam Kurikulum 2013 Yogyakarta : Ar-Ruzz Media
Suryobroto. 1996, Mengenal pengajaran disekolah dan pendekatan baru dalam proses belajar mengajar. Amanta Jogjakarta.
Rahmawati dan Purnamasari, 2016. Penerapan model pembelajaran, media audio visual terhadap hasil belajar siswa pada materi kulit di kelas XI SMA Negeri 3 Bireuen. Fakultas KIP Universitas Almuslim. Jurnal Pendidikan Biologi Vo;.1 No.1
Wenno, I H. 2010. Metodologi Pembelajaran Sains Berbasis Konteks. Yogyakarta: Grafika Indah Offset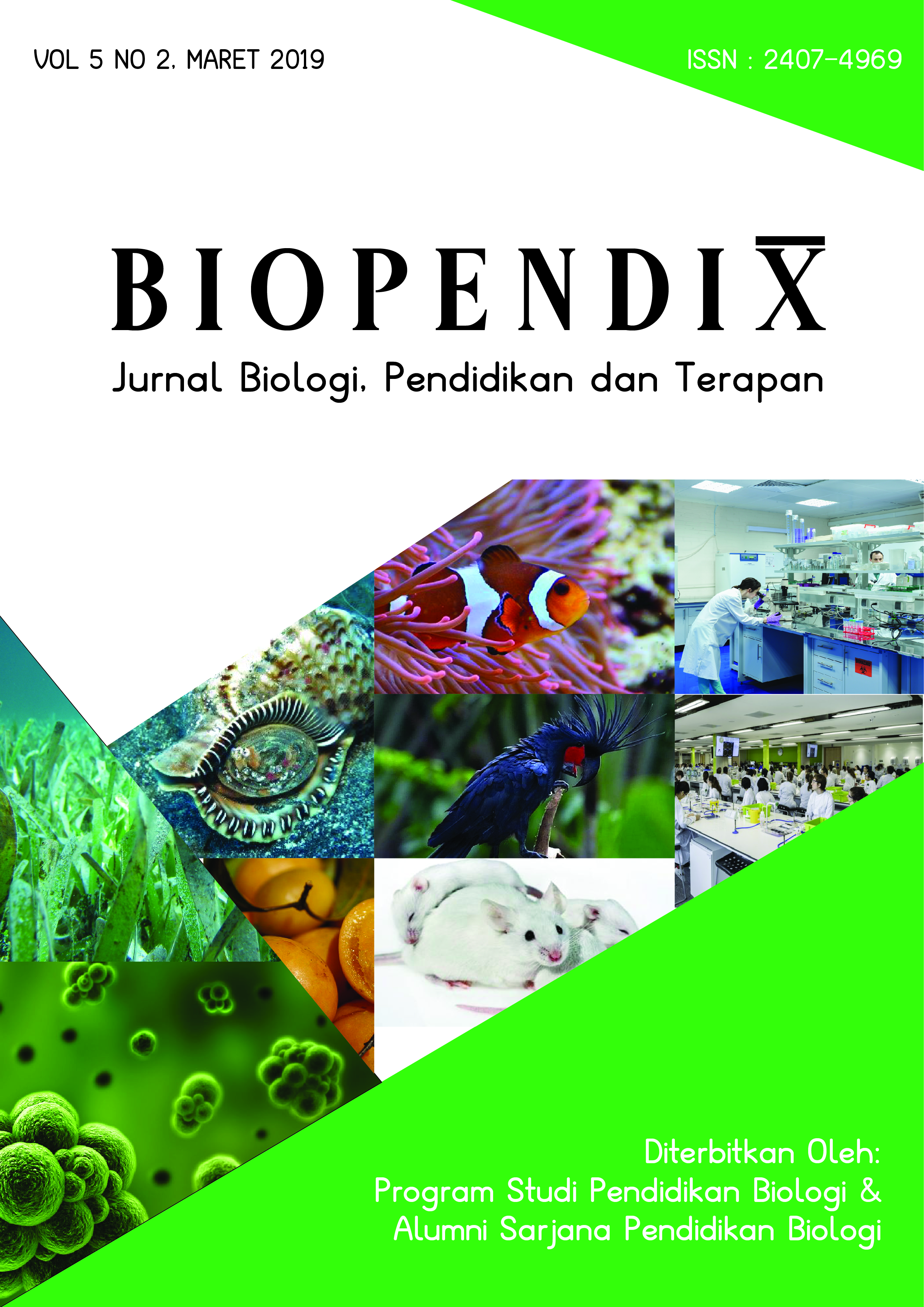 How to Cite
Jacob, F., & Tuaputty, H. (2019). PERBEDAAN HASIL BELAJAR SISWA KELAS VII SMP NEGERI 9 AMBON MENGGUNAKAN MODEL PEMBELAJARAN LAPS-HEURISTIC DAN MODEL PEMBELAJARAN MEANDS-ENDS ANALYSIS DIPADUKAN DENGAN MEDIA MOVIE KONSEP EKOSISTEM. BIOPENDIX: Jurnal Biologi, Pendidikan Dan Terapan, 5(2), 96-103. https://doi.org/10.30598/biopendixvol5issue2page96-103
Copyright (c) 2019 Biopendix : Jurnal Biologi, Pendidikan dan Terapan
This work is licensed under a Creative Commons Attribution-ShareAlike 4.0 International License.