KESERAGAMAN JENIS–JENIS IKAN PADA KOMUNITAS MANGROVE DESA WAAI KECAMATAN SALAHUTU KABUPATEN MALUKU TENGAH
Lisca Pelupessy

Ine Arini
Keywords:
uniformity and diversity, Type of Fish, Waai Village.
Abstract
Background: Fish are the basic organisms of waters living on the surface of the water or at the bottom of the water. Fish is one of the important resources that can provide benefits for recreation, economic value and science for the community. The beach is located in Waai Village is faced with Haruku Island and West Seram Island. Waai beach area found mangrove community. Method: The study was conducted approximately 1 month. Starting from January 27, 2016 to February 27, 2016.Tipe research used is descriptive where only see uniformity and diversity of species of fish in the coastal waters of Waai Village by using the existing formula. Result: The research results showed that fish species in coastal waters of Waai Village found 16 species with uniformity index which is moderate is 1.642 and diversity is 2,154. Conclusion: The index of diversity and uniformity of fish species in coastal mangrove community of Mangai State belong to medium category, with index of diversity 2,514 and uniformity value 1.642 this is influenced by environmental condition.
Downloads
Download data is not yet available.
References
Ghufran, Muhammad, 2012. Ekosistem Mangrove Potensi, Fungsi, dan Pengelolaan. Jakarta : PT. Rineka cipta
Odum, E.P.1993. Dasar-dasar Ekologi. Yogyakarta: Universitas Gajah Mada Press
Saparinto, C. 2007. Pendayagunaan Ekosistem Mangrove, cetakan pertama. Dahara Prize Semarang.
Effendi, H. 2003. Telaah Kualitas Air Bagi Pengelola Sumberdaya dan Lingkungan Perairan. Kanisius : Yogyakarta.
Indriyanto. 2010. Ekologi Hutan. Bumi Aksara: Jakarta.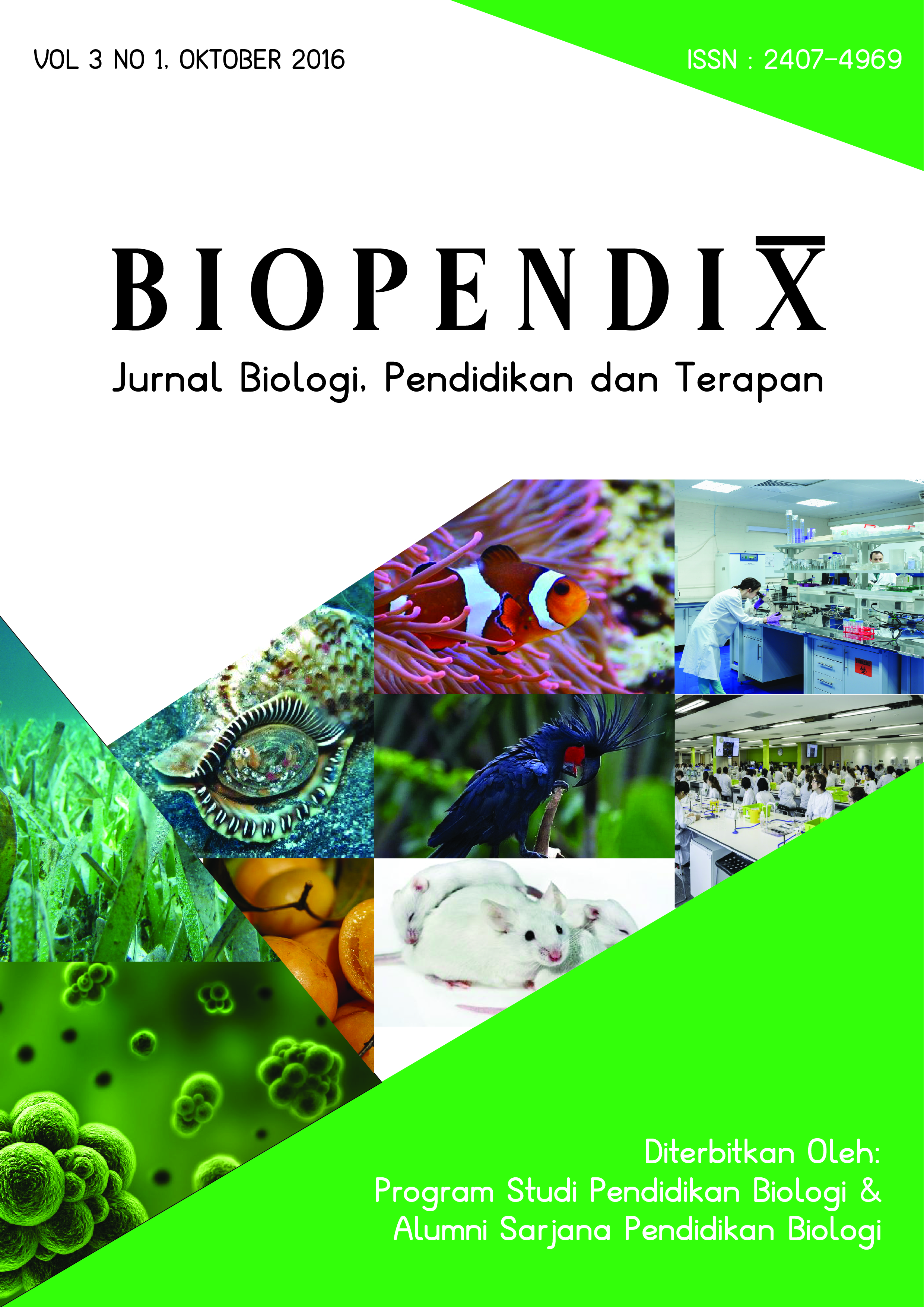 How to Cite
Pelupessy, L., & Arini, I. (2016). KESERAGAMAN JENIS–JENIS IKAN PADA KOMUNITAS MANGROVE DESA WAAI KECAMATAN SALAHUTU KABUPATEN MALUKU TENGAH. BIOPENDIX: Jurnal Biologi, Pendidikan Dan Terapan, 3(1), 1-8. https://doi.org/10.30598/biopendixvol3issue1page1-8
Copyright (c) 2016 Biopendix : Jurnal Biologi, Pendidikan dan Terapan
This work is licensed under a Creative Commons Attribution-ShareAlike 4.0 International License.