ETHANOL EXTRACT OF RED DRAGONS (Hylocereus polyrhizus) IN PREVENTING DAMAGE OF THE ALVEOLUS OF MICE (Mus Musculus) EXPOSURE TO KRETEK SMOKE
Febi Stevano Rumangun

Universitas Pattimura

Theopillus Watuguly

Ine Arini
Keywords:
Red Dragon Fruit, Alveolus, Kretek Cigarette Smoke
Abstract
Background: The main toxins in tobacco such as tar, nicotine, and carbon monoxide can trigger the formation of free radicals. Red dragon fruit (Hylocereus polyrhizus) is one of the plants that can be used as a source of protein antioxidants in red dragon fruit that can increase body metabolism and maintain heart health, can lose weight, and vitamin C is able to maintain healthy skin. Based on the description above, it is necessary to conduct research to determine the benefits of red dragon fruit as a source of antioxidants to prevent the formation of free radicals against the risk of oxidative damage in the body by looking at the number of alveolar macrophages.
Methods: This research is an experimental laboratory using a qualitative descriptive method. The data obtained from this study will be analyzed using a qualitative descriptive method by observing the histopathology of the alveoli in the lungs of mice.
Results: The results showed that the reduction of alveolar damage in mice at each treatment dose (250 mg/g BW, 500 mg/g BW and 750 mg/g BW) ethanol extract of dragon fruit before being exposed to kretek cigarette smoke for 30 days. This is because free radicals contained in kretek cigarette smoke are inhibited by flavonoids from dragon fruit which play a role in stopping chain reactions due to exposure to cigarette smoke, so that neutrophil activity can be balanced by antiproteases.
Conclusion: Red dragon fruit has antioxidant potential that plays a role in preventing damage to the alveoli of mice (Mus musculus) exposed to kretek cigarette smoke. Administration of red dragon fruit ethanol extract at a dose of 750 mg/g BW gave a more effective effect in preventing alveolus damage in mice caused by free radicals from kretek cigarette smoke compared to a dose of 250 mg/g BB.
Downloads
Download data is not yet available.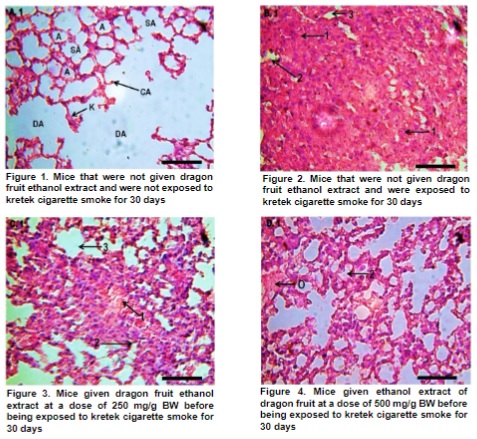 How to Cite
Rumangun, F., Watuguly, T., & Arini, I. (2022). ETHANOL EXTRACT OF RED DRAGONS (Hylocereus polyrhizus) IN PREVENTING DAMAGE OF THE ALVEOLUS OF MICE (Mus Musculus) EXPOSURE TO KRETEK SMOKE. BIOPENDIX: Jurnal Biologi, Pendidikan Dan Terapan, 8(2), 71-79. https://doi.org/10.30598/biopendixvol8issue2page71-79
Copyright (c) 2022 BIOPENDIX: Jurnal Biologi, Pendidikan dan Terapan
This work is licensed under a Creative Commons Attribution-ShareAlike 4.0 International License.