LAMA FERMENTASI TERHADAP KADAR SERAT NATA BUAH GANDARIA
Juen Carla Warella

Pamella Mercy Papilaya

Prelly Tuapattinaya
Keywords:
Old Effect of Fermentation, Gandaria Fruit (Bouea macrophylla Griff), Fiber content
Abstract
Background: Gandaria fruit on the island of Ambon has benefits if the sale value can be used as raw material for the manufacture of Nata products. The making of Nata Gandaria fruit with the help of Acetobacter xylinum microorganisms, the role of microbes to break down glucose into cellulose or fiber that is important for the human body.
Methods: To know the length of fermentation to know the effect of fiber content of Gandaria nata, then tested on fiber content of nata Gandaria fruit that has been fermented for 10 days and 12 days.
Result: Based on the test results using gravimetry fiber content method known nata fermentation time can increase fiber content. The highest increasing fiber content at nata occurred on day 12 with an average fiber content of 0.45% and the lowest occurred on fermentation day 10 with an average fiber content of 0.35%.
Conclusion: The duration of fermentation has an effect on the fiber content of gandaria fruit (Bouea macrophylla griff). The duration of fermentation that produces gandaria fruit nata (Bouea macrophylla griff) with the highest fiber content is on the 12th day while the fermentation time that produces the gandaria fruit (Bouea macrophylla griff) with the least fiber content is the 10th day
Downloads
Download data is not yet available.
References
Afifah N. 2010. Analisis kondisi danpotensi lama fermentasi medium kombucha (teh, kopi, rosela) dalam menghambatpertumbuhan bakteri pathogen (Vibrio cholerae dan Bacilluscereus). Skripsi. Universitas Islam Negeri, Malang.
Anastasia. 2008. Mutu Nata De Seaweed Dalam Berbagai Konsentrasi Sari Jeruk Nipis. Prosiding. Program Studi Perikanan. Fakultas Perikanan dan Ilmu Kelautan Universitas Padjadjaran. Bandung.
Anggrahini S. 2009. Pengaruh Lama Pengecambahan terhadap Kandunganα Tokoferol dan Senyawa Proksimat Kecambah Kacang Hijau (Phaseolusradiatus L.).
Arviyanti, Erlina & Yulimartani Nirma. 2009. Pengaruh Penambahan Air Limbah Tapioca Pada Proses Pembuatan Nata. Seminar Tugas Akhir S1. Teknik Kimia. UNDIP. Semarang.
Astawan M. 2005. Kacang Hijau, Antioksi dan yang Membantu Kesuburan Pria (19 Januari 2010).
Hasbullah. 2009. Nata de Soya. Teknologi Tepat Guna Agroindustri Kecil. Sumatera Barat.
Hermayanti H, et al. 2006. Penetapan Serat Gavimetri. Jakarta: Pustka Media
Kurniawan, M.B., & P. Bayu. 2010. Mengenal Hewan Dan Flora Asli Indonesia. Cikal Aksara. Jakarta.
Lapuz, M. M., E. G. Gallardo dan M. A. Palo. 1967. The Nata Organism Cultural Requirements Characteristic and Identify. The Phillippine Journal of Science. 98: 101-109.
Nainggolan, Jusman. 2009. Kajian perttumbuhan bakteri Acetobacter sp. Dalam kombuca-rosela merah (Habiscus sabdariffa) pada kadar gula dan lama fermentasi yang Berbeda. Tesis Universitas Sumatera Utara.
Pambayun, R. 2006. Teknologi Pengolahan Nata de Coco. Penerbit Kanisius. Yogyakarta. Available online at http://books.google.co.id diunduh pada tangga 16 Mei 2015
Papilaya, P.M. 2007. Kajian Ekologi Gandaria (Bouea macrophylla Griffth). Hubungannya Dengan Produksi Dan Kualitas Buah Pada Ketinggian Dari Permukaan Laut Yang Berbeda Di Pulau Ambon. (Suatu Analisis Tentang Tumbuhan Endemik Daerah Maluku). [Disertasi] Universitas Negeri Malang.
Ratumanan, T. G. (2004). Belajar dan Pembelajaran. Semarang. Unesa Universty Press.
Rehatta, H. 2005. Potensi Dan Pengembangan Tanaman Gandaria (Bouea macrophyllaGriffth) Di Desa Soya Kecamatan Sirimau Kota Ambon. Universitas Pattimura Ambon.
Sinay, H. 2011. Pengaruh Giberalin Jakarta Dan Temperatur Terhadap Pertumbuhan Semai Gandaria (Bouea macrophylla Grffth). Jurnal bioscientiae Volume 8 No. 1. Januari 2011.
Suryani, Ani. 2000. Kajian Teknik kultivikasi dan Pengaruh luas permukaan media tumbuh pada produksi selulosa menggunakan bakteri isolate lengkap. Jurnal Mikrobiologi Indonesia. Vol 5 (1)
Tensiska. (2008). Serat Makanan. Jurusan Teknologi Pangan Fakultas Teknologi Industri Pertanian Universitas Padjajaran (www.pustaka.unpad.ac.id/14006) Diakses tanggal akses 25 Juni 2016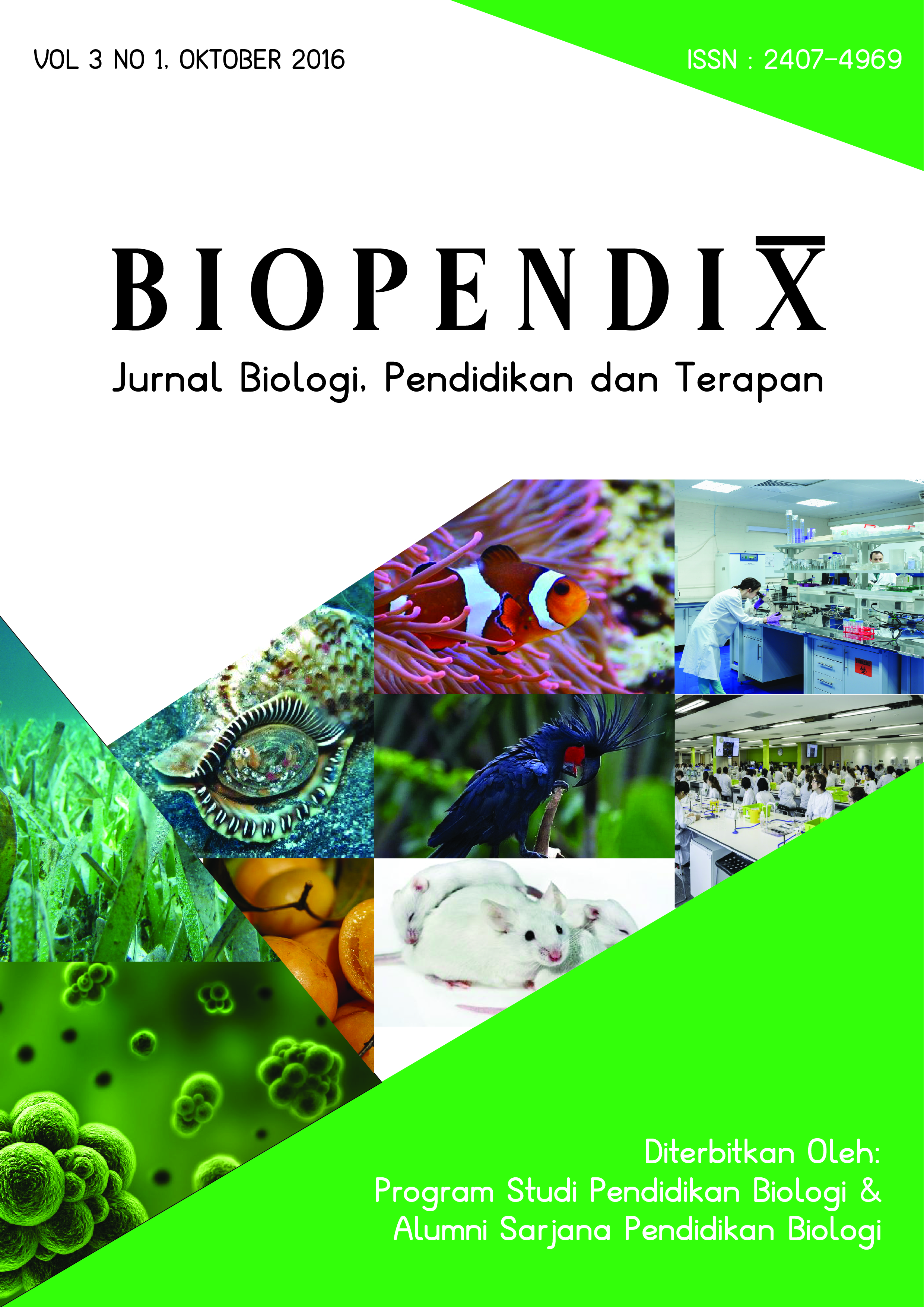 How to Cite
Warella, J., Papilaya, P., & Tuapattinaya, P. (2016). LAMA FERMENTASI TERHADAP KADAR SERAT NATA BUAH GANDARIA. BIOPENDIX: Jurnal Biologi, Pendidikan Dan Terapan, 3(1), 33-39. https://doi.org/10.30598/biopendixvol3issue1page33-39
Copyright (c) 2016 Biopendix : Jurnal Biologi, Pendidikan dan Terapan
This work is licensed under a Creative Commons Attribution-ShareAlike 4.0 International License.