ANALISIS KADAR FLAVONOID PADA TEH DAUN LAMUN (Enhalus acoroides) BERDASARKAN TINGKAT KETUAAN DAUN
Harfalien Tehubijuluw

Theopilus Watuguly

Prelly M.J Tuapattinaya
Keywords:
Levels of flavonoids, tea, seagrass leaves Enhalus acoroides, leaf aging.
Abstract
Background: Seagrass (Enhalus acoroides) is a flowering plant (Angiospermae) that has fully adapted to life immersed in the sea. Seagrass is also a commodity that has been used by many people both modern and traditional. Traditionally seagrass has been used for compost and fertilizer, cigars and children's toys, made into baskets, some are eaten, and made into fishing nets. Whereas in the modern way is as a filter of waste, food, medicines, materials for paper mills, and sources of chemicals.
Methods: Measurement of flavonoid levels of seagrass leaf tea (Enhalus acoroides) was analyzed using a one-way anava test. This research was conducted on 10-18 July 2018.
Results: The analysis showed that old tea drinks from seagrass leaves (Enhalus acoroides) had high flavonoid levels of 0.1623% while half-old tea drinks with seagrass leaves had moderate flavonoid levels of 0.1263%.
Conclusion: Young tea drinks using seagrass leaves (Enhalus acoroides) have lower flavonoid levels of 0.0888%
Downloads
Download data is not yet available.
References
Bhakta, D dan D.J. Ganjewala. 2009. Tea, Kombucha, and Health: A Review. Journal of Food Research International, 33, 409-421.
Dahuri R. 2003. Keanekaragaman Hayati Laut Aset Pembangunan Berkelanjutan Indonesia. Jakarta: PT Gramedia Pustaka Utama.
Dalimartha, S. 2008. Atlas Tumbuhan Obat Indonesia Jilid 3. Perpustakaan Nasional RI, Jakarta.
Farhoosh, R., G. A. Golmovahhed, and M. H.H. Khodaparast. 2007. Antioxidant Activity of Various Extracts of Old TeaLeaves and Black Tea Wastes (Camellia sinensis L.). Food
Felicia, N., I Wayan Rai Widarta, Ni Luh Ari Yusasrini. 2015. Pengaruh Ketuaan Daun dan Metode Pengolahan terhadap Aktivitas Antioksidan dan Karakteristik Sensoris Teh Herbal Bubuk Daun Alpukat (Persea americana Mill.). Artikel Publikasi. Vol 5 No 2: JURNAL ITEPA.
Hernani dan Rahmawati Nurdjanah. 2009. Aspek Pengeringan Dalam Mempertahankan Kandungan Metabolit Sekunder Pada Tanaman Obat. JurnalPerkembangan Teknologi Tro. Vol. 21 No. 2, Desember 2009: 33-39.
Ibrahim, M.H. dan H.Z. Jaafar. 2012. Primary, Secondary Metabolites, H2O2, Malondialdehyde and Photosynthetic Response of Orthosiphon stimaneus Bent. to Different Irradiance. Molecules. 17: 1159-1176.
Izzreen, N.Q., dan M. Fadzelly. 2013. Phytochemicals and Antioxidant Properties of Different Parts of Camellia sinensis leaves from Sabah TeaPlantation in Sabah, Malaysia. IFJR 20(1):307-312.
Maryati, S.I. Fidrianny, dan K. Ruslan. 2007. Telaah Kandungan Kimia Daun Alpukat (Persea americana Mill.). Skripsi S1. Sekolah Farmasi, Institut Teknologi Bandung.
Mu'nisa, A.H. Pagarra, dan A. Muflihunna. 2011. Uji Kapasitas Antioksidan Ekstrak Daun Sukun dan Flavanoid. Skripsi S1. Tidak dipublikasikan. Fakultas Matematika dan Ilmu Pengetahuan Alam, Universitas Negeri Makassar.

Owolabi, M.A., Coker dan S.I. Jaja. 2010. Bioactivity of the phytoconstituents of the leaves of Persea americana. Journal of Medicinal Plants Research 4(12):1130-1135.
Pambayun, R., M. Gardjito, S. Sudarmadji, K. Rahayu. 2007. Kandungan Fenolik Ekstrak Daun Gambir (Uncaria gambir Roxb) dan Aktivitas Antibakterinya. AGRITECH Vol. 27, No. 2.
Rahakbauw, I.D. 2016. Analisis Senyawa Flavonoid Daun Lamun Enhalus acoroides di Perairan Pantai Desa Waai Kabupaten Maluku Tengah, Skripsi. Tidak Dipublikasikan. FKIP Pendidikan Biolog UNPATTI: Ambon.
Timisela, P.P., 2015. Identifikasi dan Analisis Flavonoid Daun Lamun Enhalus acoroides Pada Perairan Pantai Desa Galala dan Rutong, Skripsi. Tidak Dipublikasikan. FKIP Pendidikan Biologi UNPATTI: Ambon.
Waji A.R, Andis S. 2009. Flavonoid (Quercetin). Makasar: Fakultas MIPA Universitas Hasanuddin.
Winarsi, Hery. 2011. Antioksidan Alami dan Radikal Bebas. Yogyakarta: Kanisi.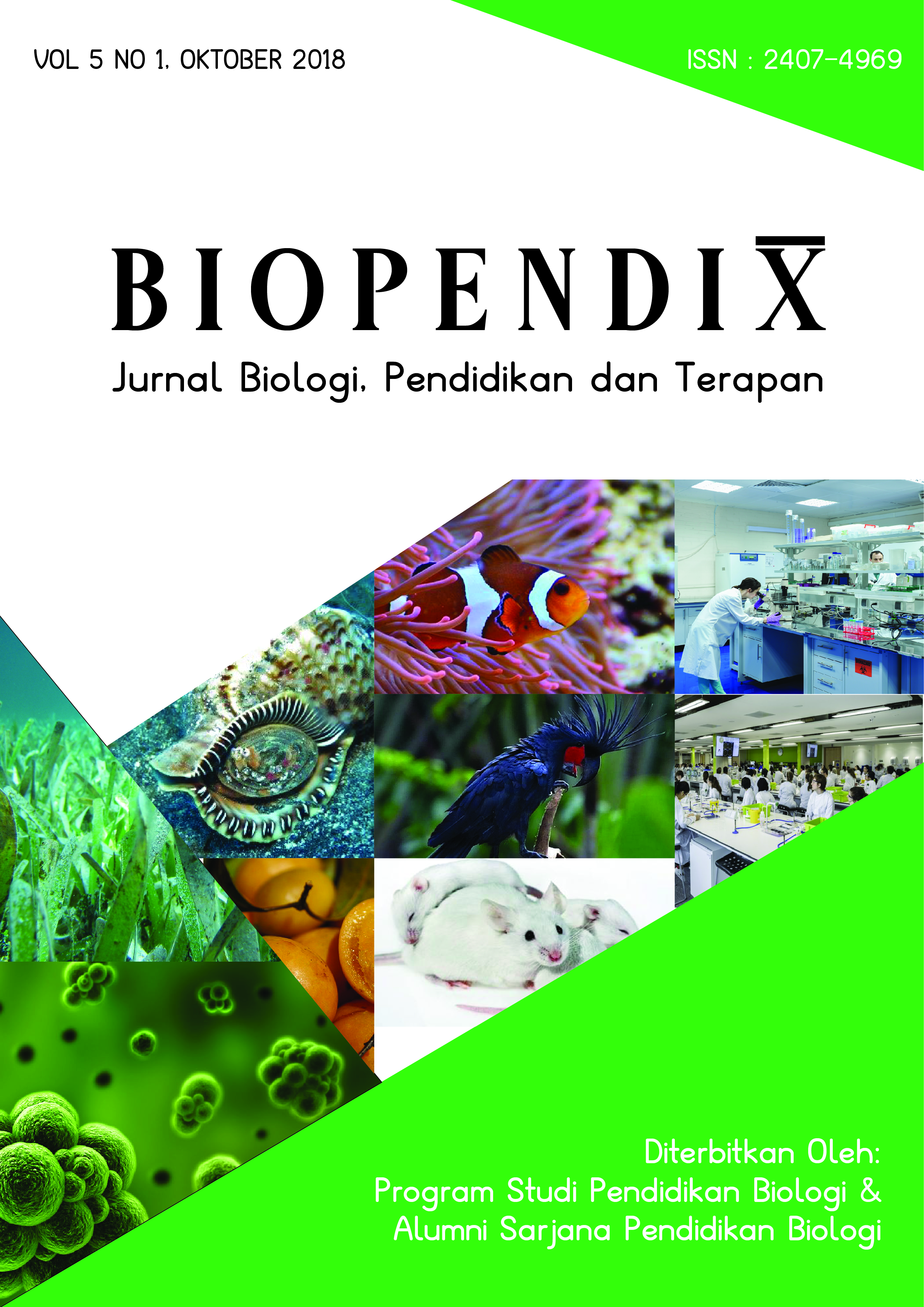 How to Cite
Tehubijuluw, H., Watuguly, T., & Tuapattinaya, P. (2018). ANALISIS KADAR FLAVONOID PADA TEH DAUN LAMUN (Enhalus acoroides) BERDASARKAN TINGKAT KETUAAN DAUN. BIOPENDIX: Jurnal Biologi, Pendidikan Dan Terapan, 5(1), 1-7. https://doi.org/10.30598/biopendixvol5issue1page1-7
Copyright (c) 2018 Biopendix : Jurnal Biologi, Pendidikan dan Terapan
This work is licensed under a Creative Commons Attribution-ShareAlike 4.0 International License.