UJI KUALITAS ORGANOLEPTIK DAN KADAR SERAT PADA PRODUK PANGAN JELLY DRINK BERBAHAN DASAR BUAH AREN (Arenga pinnata Merr) SERTA IMPLIKASINYA PADA MASYARAKAT TANIWEL
Aprilya Claudia Aliputty

Universitas Pattimura

Fredy Leiwakabessy

Universitas Pattimura

Merry Pattipeilohy

Universitas Pattimura
Keywords:
Jelly Drink, Palm Sugar, Fiber Content, Organoleptic
Abstract
Background: Sugar palm plants (Arenga pinnata MERR) are plants that have great potential in terms of food shortages. Currently the main product of the palm sugar plantations is the sap of tapping male flowers made of palm sugar, sageru, vinegar and alcoholic drinks. In addition, all parts of the palm treeare useful and can be used for a variety of needs, ranging from roots, stems, leaves, fibers, and the results of their production are roomie, flour and fruit. This study aims to determine the organoleptic quality and jelly fiber content of drinks made from palm fruit (Arenga pinnata Merr).
Methods: This study uses a gravimetric method to determine the levels of fiber in jelly drinks and hedonic methods to test organoleptics.
Results: Based on the results of the analysis it can be concluded that the levels of jelly fiber drinks made from palm fruit are different. In the U-I test code the fiber content was 0,3446 while in the U-II test code it was 0,3127. Organoleptic test on jelly drink made from palm fruit showed the average for color parameters of 3, taste of 4.8, texture of 4.9, and suppleness of 4.5. This research is implied in the form of leaflets to the Taniwel community.
Conclusion: The levels of jelly fiber drinks made from palm fruit are different. Organoleptic testing was carried out by 20 panelists who had tested the parameters of color, taste, texture and suppleness
Downloads
Download data is not yet available.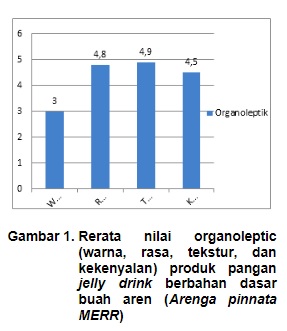 How to Cite
Aliputty, A., Leiwakabessy, F., & Pattipeilohy, M. (2020). UJI KUALITAS ORGANOLEPTIK DAN KADAR SERAT PADA PRODUK PANGAN JELLY DRINK BERBAHAN DASAR BUAH AREN (Arenga pinnata Merr) SERTA IMPLIKASINYA PADA MASYARAKAT TANIWEL. BIOPENDIX: Jurnal Biologi, Pendidikan Dan Terapan, 6(2), 62-67. https://doi.org/10.30598/biopendixvol6issue2page62-67
Copyright (c) 2020 BIOPENDIX: Jurnal Biologi, Pendidikan dan Terapan
This work is licensed under a Creative Commons Attribution-ShareAlike 4.0 International License.