PENGEMBANGAN MEDIA PEMBELAJARAN MATA KULIAH EKOLOGI HEWAN BERBASIS MACROMEDIA FLASH 8 MATERI ADAPTASI HEWAN
Sintje Liline

Muhammad Tarmizi Kubangun

Wa Nurul Mutmainah J Heremba
Keywords:
animal adaptation, Macromedia flash, learning media, development
Abstract
Background: The learning process of the Animal Ecology course for Biology Education study program students of the Pattimura University Ambon University of Biology is carried out conventionally and uses media in the form of Microsoft power points so that multimedia-based learning media development is carried out using Macromedia flash 8 software, on animal adaptation material. The purpose of this study was to determine the product development of learning media for Animal Ecology courses based on Macromedia flash professional 8 for students of the Biology Education Study Program, FKIP, Pattimura University, Ambon.
Methods: This research is development research using the 4D development model (proposed by Thiagarajan et al., 1974. The 4-D development model consists of 4 stages of development known as define, design, develop and disseminate. The development of learning media is limited to the development or development stage. This research was conducted in July-December 2020 and was carried out in the Biology Education Study Program FKIP Pattimura University
Result: the validation data analysis by the material expert team was 88.95% (very good) and the media expert was 88.33% (very good). The results of data analysis on product testing activities for students in small groups obtained a value of 81.16% (good) and product testing for students in large groups obtained a value of 85.28% (very good).
Conclusion: Learning media based on Macromedia flash 8 for animal adaptation material in animal ecology courses can be used as a learning medium because it is very good
Downloads
Download data is not yet available.
References
Arsyad A. 2004. Media Pembelajaran.
Jakarta: PT Raja Grafindo Persada.
Hujair A.H. Sanaky. 2009. Media Pembelajaran. Yogyakarta: Safiria Insania Press.
Lembaga Penelitian dan Pengembangan. 2004. Membuat Animasi Presentasi dengan Macromedia Flash MX 2004. Yogyakarta: Andi.
Mohler J. 2001. Using Interactive Multimedia Technologies to Improve Student Understanding of Spatially-Dependent Enginering Concepts. Online at http://www.graphicon.ru/2001/Education/Mohler.pdf. Diakses tanggal 24 Mei 2010.
Munadi, Y. 201. Media Pembelajaran, Sebuah Pendekatan Baru. Jakarta: Gaung Persada.
Permata, I. dan Muin, A. 2013. Penegembangan Media Pembelajaran Interaktif Mata Pelajaran Fisiska. Jurnal Teknologi dan Informasi dalam Pendidikan. 1(2):145-155.
Sanaky, H. A. H. 2009. Media Pembelajaran. Yogyakarta: Safiria Insania Press.
Sugiyono. 2008. Metode Penelitian Pendidikan Pendekatan Kuantitatif, Kualitatifdan R&D. Bandung: Alfabeta.
Thiagarajan, S., Semmel, D.S. dan Semmel, M.I. 1974. Instructional Development for Training Teachers of Exceptional Children A Sourcesbook. Minneapolis, Minnesota: Indiana University.
Widharyanto. 2008. Model-model Pembelajaran Bahasa dan Sastra Indonesia. Bahan Diklat Profesi Guru. Universitas Negeri Yogyakarta.
Yudhiantoro, D. 2003. Panduan Lengkap Macromedia Flash MX. Yogyakarta: Andi.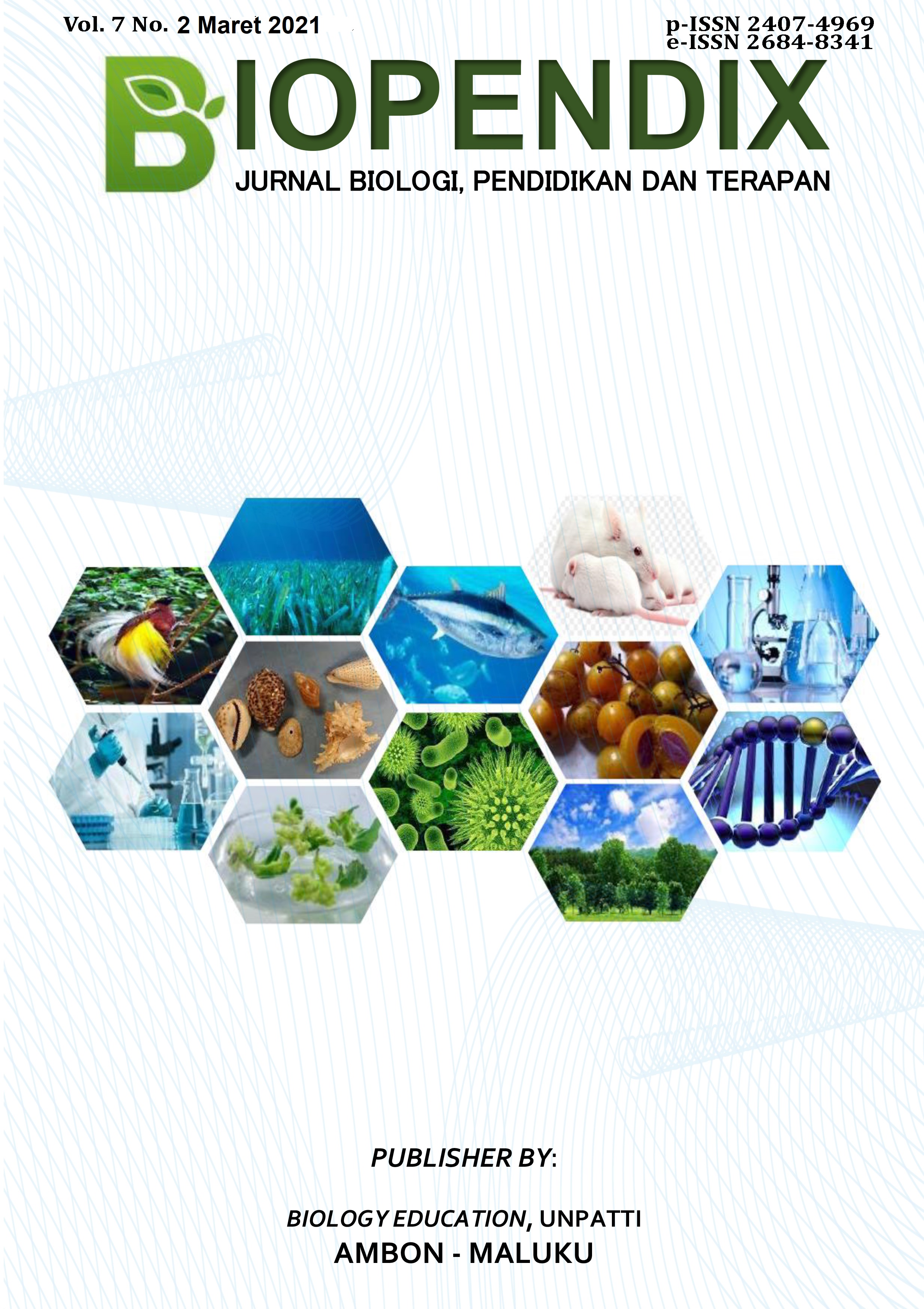 How to Cite
LilineS., KubangunM., & HerembaW. N. (2021). PENGEMBANGAN MEDIA PEMBELAJARAN MATA KULIAH EKOLOGI HEWAN BERBASIS MACROMEDIA FLASH 8 MATERI ADAPTASI HEWAN. BIOPENDIX: Jurnal Biologi, Pendidikan Dan Terapan, 7(2), 109-116. https://doi.org/10.30598/biopendixvol7issue2page109-116
Copyright (c) 2021 BIOPENDIX: Jurnal Biologi, Pendidikan dan Terapan
This work is licensed under a Creative Commons Attribution-ShareAlike 4.0 International License.