PENERAPAN METODE CERDAS (CERAMAH, DISKUSI, DANSIMULASI) DALAM MENINGKATKAN HASIL BELAJAR MATERI SISTEM PERNAPASAN PADA MANUSIA DI SMA NEGERI 5 AMBON KELAS XI
Nelci Dompeipen

Universitas Pattimura

S I. A Salmanu

Universitas Pattimura

Ine Arini

Universitas Pattimura
Keywords:
Method, Lecture, Discussion, Simulation, Learning Outcomes, High School Biology
Abstract
Background: Education is a process in order to influence students to be able to adapt to the environment so as to cause changes in themselves that are useful in people's lives. This study aims to obtain a picture of the activities of teachers in the learning process with lecture, discussion and simulation methods in improving learning outcomes of human respiratory system material in class XI MIA3 students of SMA Negeri 5 Ambon.
Method: This research is a Classroom Action Research conducted with 2 cycles, the stages of each cycle consisting of planning, implementation, observation and reflection. The subjects of this study were the teachers and all students of class XI MIA3 in SMA Negeri 5 Ambon in the 2019/2020 school year, totaling 34 students. The research instrument was in the form of observation sheets to obtain data on teacher activities in applying learning using lecture, discussion and simulation methods and questionnaire sheets were used to motivate students to learn biology data.
Results: The activity of the teacher with the method of learning lecture discussion and simulation in the first cycle obtained good and very good categories, and the second cycle became very good. In the first cycle the average learning outcomes of students' biology was 68.29 to 91.01 in the second cycle with very good category.
Conclusion: Learning outcomes in cycle II are better when compared to cycle I and in cycle II have experienced a significant increase in learning.
Downloads
Download data is not yet available.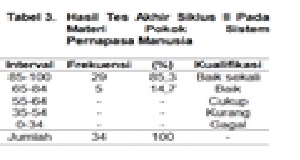 How to Cite
Dompeipen, N., Salmanu, S., & Arini, I. (2019). PENERAPAN METODE CERDAS (CERAMAH, DISKUSI, DANSIMULASI) DALAM MENINGKATKAN HASIL BELAJAR MATERI SISTEM PERNAPASAN PADA MANUSIA DI SMA NEGERI 5 AMBON KELAS XI. BIOPENDIX: Jurnal Biologi, Pendidikan Dan Terapan, 6(1), 46-52. https://doi.org/10.30598/biopendixvol6issue1page46-52
Copyright (c) 2019 BIOPENDIX: Jurnal Biologi, Pendidikan dan Terapan
This work is licensed under a Creative Commons Attribution-ShareAlike 4.0 International License.