KAPASITAS TAMPUNG DAN LEGUMINOSA PADANG PENGGEMBALAAN DIKECAMATAN BULA KABUPATEN SERAM BAGIAN TIMUR
Lea Marylin Rehatta

Universitas Pattimura

Marna Eoh
Keywords:
Capacity, Leguminosa, Pastures
Abstract
Background:This study aims to determine the botanical composition of forages and legumes and the capacity of livestock in grazing fields in Bula sub-district, East Seram Regency.
Research methods:This research was conducted in May 2009 with research locations in 2 villages, Jembatan Basa and Bula villages and using a survey method conducted in the grasslands. Determination of sample villages and grazing locations based on purposive sampling based on village area and number of ruminants. This method uses dry weigh rank to determine the botanical composition of forage by using cluster sampling, while in measuring the capacity of the capacity is measured based on the formula voisin (Y-1) S = r.
Results :The study showed the botanical composition as follows: Pangola grass (Digitaria decumbens) 22.36 percent, donated pasture. Leguminosa found in Bula Sub-district, East Seram Regency, Arachis Nuts (Arachis glabarata) 5.37 percent, Asu beans (Kalopogonium mucunoides) 4.11 percent. The results of the study showed that the carrying capacity (KT) for ruminants in Bula District was 1.39 ha/UT/year or 0.58 UT/ha/year.
Conclusion: The botanical composition of legumes in pastures in Bula sub-district does not meet the 9.84 percent standard, besides that there are tree legumes such as gamal (Gliisida sepium), and Chinese petai (Lamtorogun).
Downloads
Download data is not yet available.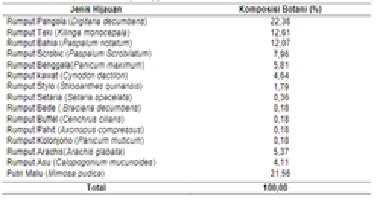 How to Cite
Rehatta, L., & Eoh, M. (2022). KAPASITAS TAMPUNG DAN LEGUMINOSA PADANG PENGGEMBALAAN DIKECAMATAN BULA KABUPATEN SERAM BAGIAN TIMUR. BIOPENDIX: Jurnal Biologi, Pendidikan Dan Terapan, 9(2), 141-147. https://doi.org/10.30598/biopendixvol9issue2page141-147
Copyright (c) 2022 BIOPENDIX: Jurnal Biologi, Pendidikan dan Terapan
This work is licensed under a Creative Commons Attribution-ShareAlike 4.0 International License.