The Utilitasion of Beef Tallow Into Biodiesel With Heterogenous Catalyst
Pengolahan lemak sapi menjadi biodiesel dengan katalis Heterogen
Adriani Bandjar

Department of Chemistry, Faculty of Mathematics and Natural Science, University of Pattimura-Indonesia

I Wayan Sutapa

Department of Chemistry, Faculty of Mathematics and Natural Science, University of Pattimura-Indonesia

Rosmawaty Rosmawaty

Department of Chemistry, Faculty of Mathematics and Natural Science, University of Pattimura-Indonesia

Nurlina Mahulau

Department of Chemistry, Faculty of Mathematics and Natural Science, University of Pattimura-Indonesia
Keywords:
Biodiesel, heterogenous catalyst, esterification, beef tallow, methanol, transeterification
Abstract
The research of utilitasion of beef tallow into biodiesel with heterogenous (CaO) catalyst has been conducted. Biodiesel production initially by esterification reaction with catalyst H2SO4 1% (toward oil and methanol weight) with molar ratio oil : methanol (1:9). After esterification process, trygliceride separated from methanol and continued by transesterification step with molar ratio 1:12 (oils and methanol) and CaO catalyst 11% wt. Esterification and transesterification process carried out for 2 hours and 6 hours respectively at 65 ℃. Composition of the biodiesel was analyzed by 1HNMR, Gas Chromatography-Mass Spectrometry (GC-MS) and their physical properties analyzed by ASTM method. Result of biodiesel conversion is 93.99% while based on GC-MS analysis showed that mayor component of biodiesel were mixture of methyl esters with methyl octadecanoat as the major coumpound (40.65%). Based on data from ASTM, biodiesel produced from beef tallow have qualified as diesel fuel.
Downloads
Download data is not yet available.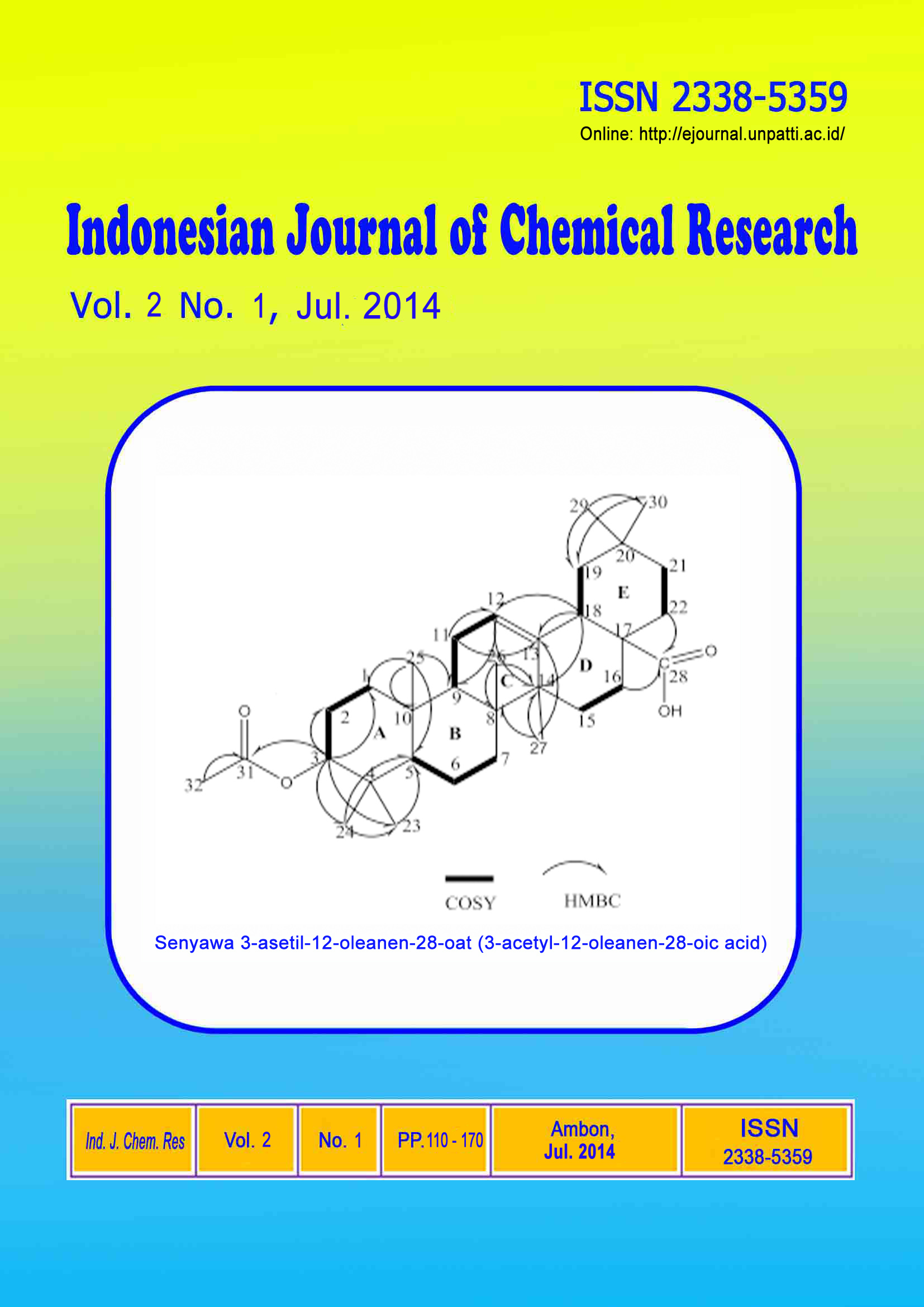 How to Cite
(1)
Bandjar, A.; Sutapa, I. W.; Rosmawaty, R.; Mahulau, N. The Utilitasion of Beef Tallow Into Biodiesel With Heterogenous Catalyst. Indo. J. Chem. Res. 2014, 2, 166-170.
Section
Artikel singkat (Short communication)