Isoterm Adsorpsi Ion Cr(III) Oleh Kitosan Hasil Isolasi Limbah Kepiting Rajungan dan Kitosan Komersil
Isotherm Adsorption of Cr(Iii) Ions by Chitosan Isolated Rajungan Crab Waste and Commercial Chitosan
Rahayu Rahayu

Department of Chemistry, Faculty of Mathematics and Natural Science, University of Pattimura-Indonesia

Matheis F.J.D.P. Tanasale

Department of Chemistry, Faculty of Mathematics and Natural Science, University of Pattimura-Indonesia

Adriani Bandjar

Department of Chemistry, Faculty of Mathematics and Natural Science, University of Pattimura-Indonesia
Keywords:
Chitin, Cr(III) ion, chitosan, Freundlich isotherm
Abstract
The chitin isolation from crab Rajungan (Portunus sanginolentus) and commercial chitin was done. The chitosan was made by deasetilation of chitin using alkaline solution with addition NaBH4. The chitin and chitosan were identified by related instrument. The identification by adsorption Cr(III) ion on chitosan was done by the Atomic Absorption Spectrofotometry. The result of the chitosan isolation was fitted to the Freundlisch isotherm, with KF = 1.18673 mg/g and 1/n= 0.2712. 
Downloads
Download data is not yet available.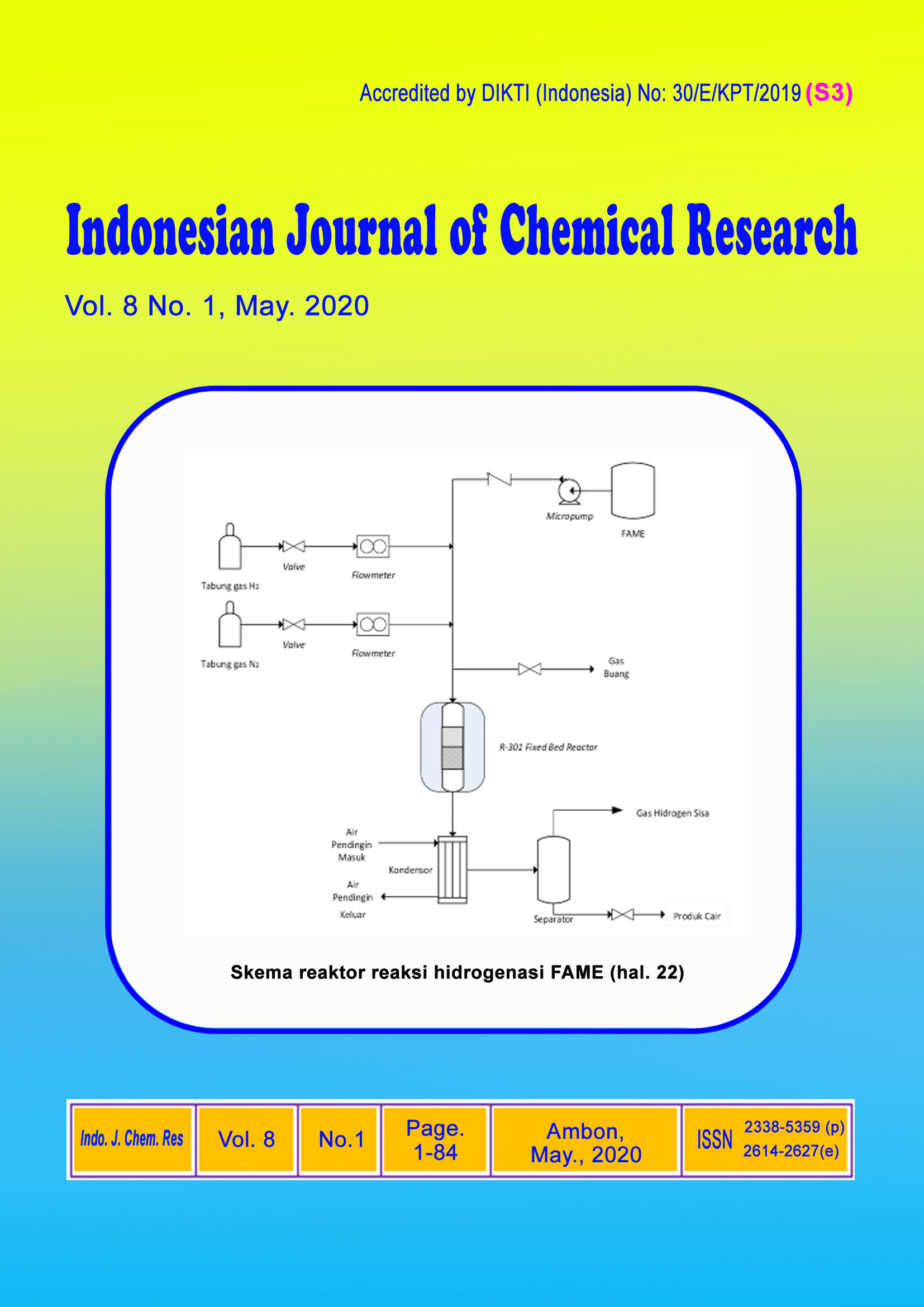 How to Cite
(1)
Rahayu, R.; Tanasale, M.; Bandjar, A. Isoterm Adsorpsi Ion Cr(III) Oleh Kitosan Hasil Isolasi Limbah Kepiting Rajungan Dan Kitosan Komersil. Indo. J. Chem. Res. 2020, 8, 28-34.
Section
Research articles
Copyright (c) 2020 Rahayu Rahayu, Matheis F.J.D.P. Tanasale, Adriani Bandjar
This work is licensed under a Creative Commons Attribution-NonCommercial-NoDerivatives 4.0 International License.