IMPLEMENTASI METODE PEMBELAJARAN INKUIRI PADA MATERI KIMIA RUMAH TANGGA TERHADAP PEMAHAMAN KONSEP SISWA SMP NEGERI I PULAU-PULAU ARU
Fatma Al Hamid

Program Studi Pendidikan Kimia, Jurusan Pendidikan MIPA FKIP Unpatti
Keywords:
Inquiry, Families chemistry material, Concept understanding
Abstract
Research aimed to know how the improvement of  student concept understanding  after process instruction using learning method inquiry. Research type deskriptive is choosen with design of learning package use one group pretest-posttest desing. Sample of this research are 33 students class VIII of SMP Negeri I Pulau-pulau Aru in academic year 2014/2015. Instrument of this research is test to examine student concept understanding, which is pretest and posttest. Data analyse with descriptive statistic show that the average of student pretest is   41,51%, the average of student postest is 85,45%, so the average gain of student concept understanding is 0,72 which show that the gain is avaliable in high gain cateogories. Based on data analyse and discussion, can be concluded that  method learning inquiry is effective for use in instruction to improve student concept understanding in chemistry household matter
Downloads
Download data is not yet available.
References
Anderson, L.W. and Krathwohl, D.R. 2001. A Taxonomy For Learning, Teaching and Assessing. A Revision of Bloom's Taxonomy of Educational Objectives. New York: Addison Wesley Longman
Arikunto, 2006. Prosedur Penelitian. Suatu Pendekatan Praktik. Jakarta: Rineka Cipta
Arends, R.I. 2012. Learning To Teach. Ninth Edition. New York: Mcgraw Hill
Borich, G.D. 1994. Observation Skills for Effective Teaching. Second Edition. New York: Macmillan Publishing
Brickman. P., Cara G., Norris A, and Brittan H. 2009. "Effect of Inquiry-Based Learning on Student's Science Literacy Skill and Confidence". International Journal for The Scholarship of Teaching and Learning. Vol 3. No 2. July 2009. pp 351-360
Carin, A.A. 1993. Teaching Science Trough Discovery. Seventh Edition. New York: Macmillan Publishing
Collette, A.T and Chiappetta, E.L. 1994. Science Instruction in The Middle and Secondary Schools. Third Edition. New York: Macmillan Publishing Company
Dahar (1986)
Fay, E.Michael, P Nathiel. Grove, Towns Hamby Marcy, and Bretz Lowery Stacey. 2007. "A Rubric to Characterize Inquiry in The Undergraduate Chemistry Laboratory". Chemistry Educational Research And Practice. 8 (2). October 2007, pp 212-219.
Gagne, R.M., Briggs, L.J., Wager, and Walt, W. 1988. Principles of Instructional Design. New York: Holt Rinehart And Winston
Gronlund, N.E. 1982. Constructing Achievement Test. Fifth Edition, New York: Prentice Hall
Manku, G.S. 1980 Theoretical Principles of Inorganic Chemistry. New Delhi: Tata Mcgraw-Hill Publishing Company
Shiver and Atkins. 2006. Inorganic Chemistry. Fourth Edition. New York.Oxford University Press
Slavin, R.E. 2006. Educational Psychology. Theory and Practice. Eighth Edition. USA: Allyn and Bacon Publishere
Sund and Trowbride. 1972. Teaching Science by Inquiry in The Secondary School. USA: Charles E Merril Publishing Company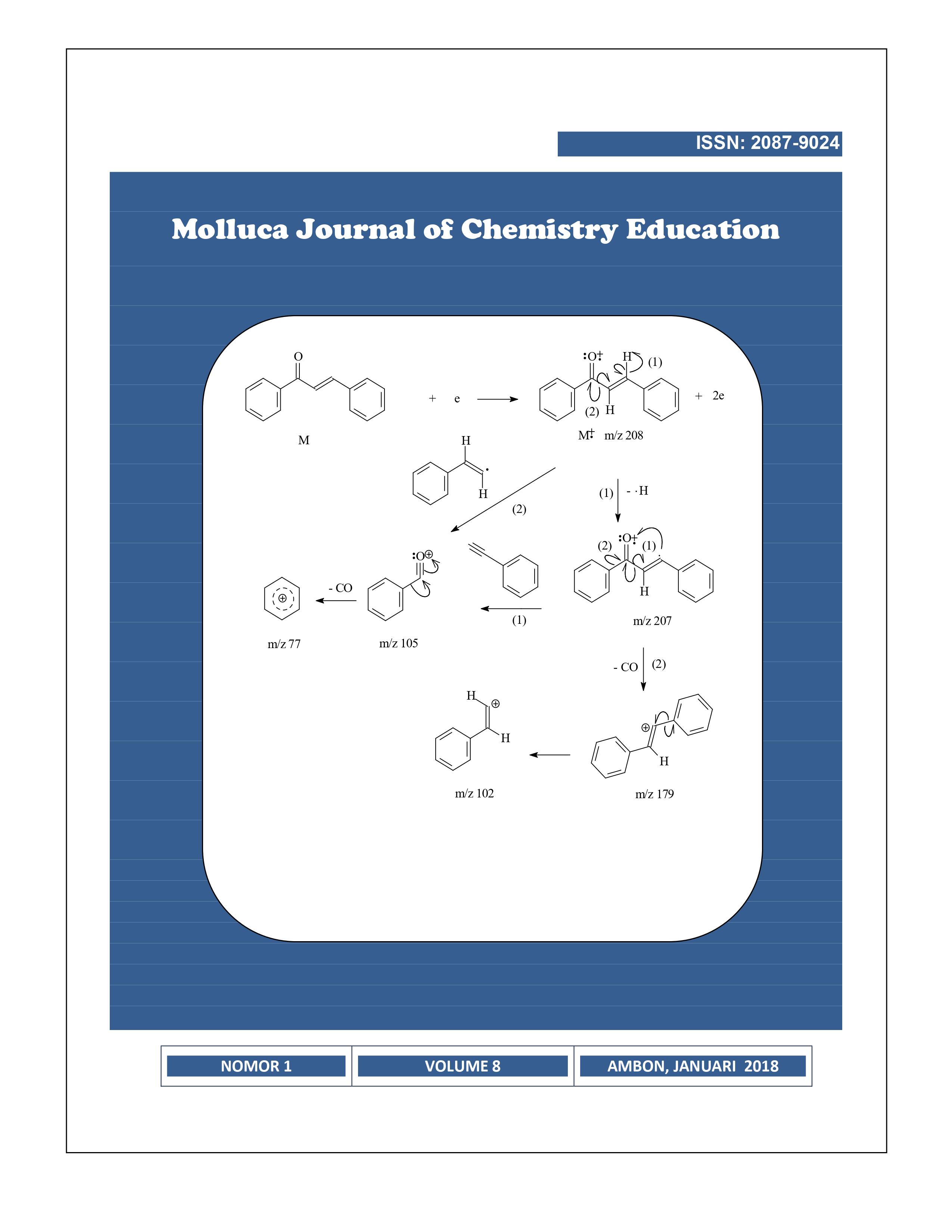 How to Cite
Al Hamid, F. (2018). IMPLEMENTASI METODE PEMBELAJARAN INKUIRI PADA MATERI KIMIA RUMAH TANGGA TERHADAP PEMAHAMAN KONSEP SISWA SMP NEGERI I PULAU-PULAU ARU. Molluca Journal of Chemistry Education (MJoCE), 8(1), 1-6. https://doi.org/10.30598/MJoCEvol8iss1pp1-6
Copyright (c) 2018 Molluca Journal of Chemistry Education (MJoCE)
This work is licensed under a Creative Commons Attribution-NonCommercial-ShareAlike 4.0 International License.