PEMANFAATAN KATALIS Ca3(PO4)2 DARI TULANG IKAN TUNA PADA PEMBUATAN BIODIESEL DARI MINYAK BINTANGGUR (Callophyllum inophyllum L)
Rosmawaty Rosmawaty

Jurusan Kimia FMIPA Universitas Pattimura, Ambon

I Wayan Sutapa

Jurusan Kimia FMIPA Universitas Pattimura, Ambon

Desy Kamanasa

Jurusan Kimia FMIPA Universitas Pattimura, Ambon
Keywords:
biodiesel, bintanggur oil, Ca3(PO4)2 catalyst, esterification, transesterification
Abstract
Biodiesel synthesis from bintanggur oil (Callophyllum inophyllum L.) has been done through esterification and transesterification process with Ca3(PO4)2 catalyst and methanol solvent. Production of Ca3(PO4)2 catalyst process was conducted by calcination of the Tuna's bone at 1000ºC for 2 hours. The catalyst result was got 58.75%  and then been characterized with XRD. The esterification process was performed with methanol and bintanggur oil in molar ration of 1:9 for 2 hours with 1.25% H2SO4. The transesterification process was conducted with bintanggur oil and methanol in molar ratio of 1:12 for 9 hours with 10% Ca3(PO4)2 catalyst. The conversion result by 1H-NMR is 73.76% and experimentally was 56.87%. Biodiesel was analyzed with FTIR, GC-MS, 1H-NMR and ASTM. ASTM testing result show there are spesific density of 0.9204 g/cm3, kinematic viscosity of 29.68 mm2/s, flash point at 188.5ºC, pour point at 6ºC, Conradson carbon residue of 0.162%,  water content 0.175%, and  copper strip corrosion of 1b
Downloads
Download data is not yet available.
References
Antolin, G. dan Tinaut F. V., 2002, Optimization of Biodiesel Production by Sunflower Oil Transesterification, Bioresour. Technol., 83, 2, 11-14.
Bustomi, Sofian, Tati, R., Sudradjat, R., Budi, L., Kosasih, A. S., dan Illa, A., 2008, Nyamplung (Calophyllum inophyllum L) Sumber Energi Biofuel yang Potensial, Badan Litbang Kehutanan, Jakarta.
Canakci, M. dan Van Gerpen, J., 1999. Biodiesel Production Via Acid Catalysis, Trans Am Soc Agric Eng, 42, 1203–1210.
Chakraborty, R., S. Bepari, dan A. Banerjee, 2011, Application of Calcined Waste Fish (Labeo rohita) Scale as Low-cost Heterogeneous Catalyst for Biodiesel Synthesis, Bioresource Technology, 102, 3610-3618.
Darnoko, D. dan Cheryan M, 2000, Kinetics Oil Transesterificationin A Batch Reactor, J. Am, Oil Chem. Soc., 77, 1263-1267.
Di Serio, M., Tesser, R., Pengmei, L., dan Santacesaria, E., 2008, Heterogeneous Catalysts for Biodiesel Production, Energy Fuels, 22, 207–217.
Empikul., N. Viriya, dan P. Krasae, 2010, Waste Shells of Mollusk and Egg As Biodiesel Production Catalysts, Biosource Technology, 101, 3765-3767.
Gui, M. M., Lee, dan K. T., Bhatia, S., 2008, Feasibility of Edible Oil vs. non-Edible Oil vs. Waste Edible Oil As Biodiesel Feedstock, Energy, 33, 16, 46–53.
Huber, G. W., Iborra, S., dan Corma, A., 2006, Synthesis of Transportation Fuels from Biomass Chemistry, Catalysts and Engineering, Chem. Rev., 106, 4044–4098.
Husein, A., 2011, Kalsium Oksida (CaO) dari Kulit Telur Ayam Ras sebagai Katalis dalam Sintesis Biodiesel dari Minyak Bintanggur (Callophyllum inophyllum L), Skripsi, Fakultas MIPA Kimia, Universitas Pattimura, Ambon.
Kawashima, A., Matsubara, K., dan Honda, K., 2008, Development of Heterogeneous Base Catalysts for Biodiesel Production, Bioresour, Technol, 99,3439–3443.
Kinast, J. A., dan Tyson, K. S., 2003. Production of Biodiesel from Multiple Feedstocks and Properties of Biodiesel and Biodiesel/Diesel Blends.NREL US Departement of Energy Laborattory.
Kose, O., Tuter, M., dan Aksoy H. A., 2002, Immobilized Candida Antarctica Lipase-Catalyzed Alcoholysis of Cotton Seed Oil in A Solvent-free Medium, Bioresour. Technol, 83, 12-59.
Kumar. T. A., Kumar A., dan Raheman, H., 2007, Biodiesel Production from Jatropha Oil (Jatropha curcas) with High Free Fatty Acids: An Optimized Process, Biomass Bioenergy, 315, 69–75.
Ma, F. dan Hanna, M. A., 1999, Biodiesel Production: A Review, Biores. Technol., 70, 1–15.
Macleod, C. S., Harvey, A. P., Lee, A. F., dan Wilson, K., 2008, Evaluation of The Activity and Stability of Alkali-Doped Metal Oxide Catalysts for Application to An Intensified Method of Biodiesel Production,Chem. Eng. J., 135, 63-70.
Mittelbach, M. dan C. Remschmidt, 2004, Biodiesel: The Comprehensive Handbook, Martin Mittelbach, Graz, Austria (dalam Prosiding Seminar Nasional Tatang H. Soerawidjaja).
Mohamed, M., Soumanoua, B., Uwe, T., dan Bornscheuer, A., 2003, Improvement in Lipase Catalyzed Synthesis of Fatty Acid Methyl
Esters from Sunflower Oil, Enzyme Microb Technol, 33, 97–103.
Monteiro, M. R., A. R. P., Ambrozin, L. M., Liao, dan A. G. Ferreira, 2009, Determination of Biodiesel Blend Levels in Different Diesel Samples by 1H-NMR, Fuel, 88, 691–696.
Patil, P. D. dan Deng, S., 2009, Optimization of Biodiesel Production from Edible and Nonedible Vegetable Oils, Fuel, 88,1302–1306.
Prihandana, R., Hendroko, R., dan Nuramin, M., 2006, Menghasilkan Biodiesel Murah, Penerbit Agromedia, Bogor.
Sastrohamidjojo, H., 2001, Spektroskopi, Edisi Kedua, Liberty, Yogyakarta.
Samual, I., 2012, Pembuatan Biodiesel dari Minyak Bintanggur (Callophyllum inophyllum L) Menggunakan Katalis Kalsium Oksida, Skripsi, Fakultas MIPA Kimia, Universitas Pattimura, Ambon.
Schindlbauer, H., 1998, Standardization and Analysis of Biodiesel: What Spesifications are Important di dalam: Proceeding of The 1998 PORIM International Biofuel and Lubricant Conference, Kuala Lumpur.
Soerawidjaja, T. H., 2006, Fondasi-Fondasi Ilmiah dan Keteknikan dari Teknologi Pembuatan Biodiesel, Handout Seminar Nasional, Biodiesel Sebagai Energi Alternatif Masa Depan, UGM, Yogyakarta.
Vicente, G., Martinez, M., dan Aracil, J., 2007, Optimization of Integrated Biodiesel Production, Part I. A Study of The Biodiesel Purity and Yields, Bioresource Technology, 98, 1724-1733.
Widayat, S. dan Haryani, K., 2009, Optimasi Proses Adsorbsi Minyak Goreng Bekas dengan Adsorbent Zeolit Alam, Studi Pengurangan Bilangan Asam Jurnal Teknik Gelagar, 17, 1, 77 – 82.
Zabeti, M., Wan Daud, W. M. A., dan Aroua, M. K., 2009, Activity of Solid Catalysts for Biodiesel Production, A Review, Fuel Process. Technol., 90, 770–777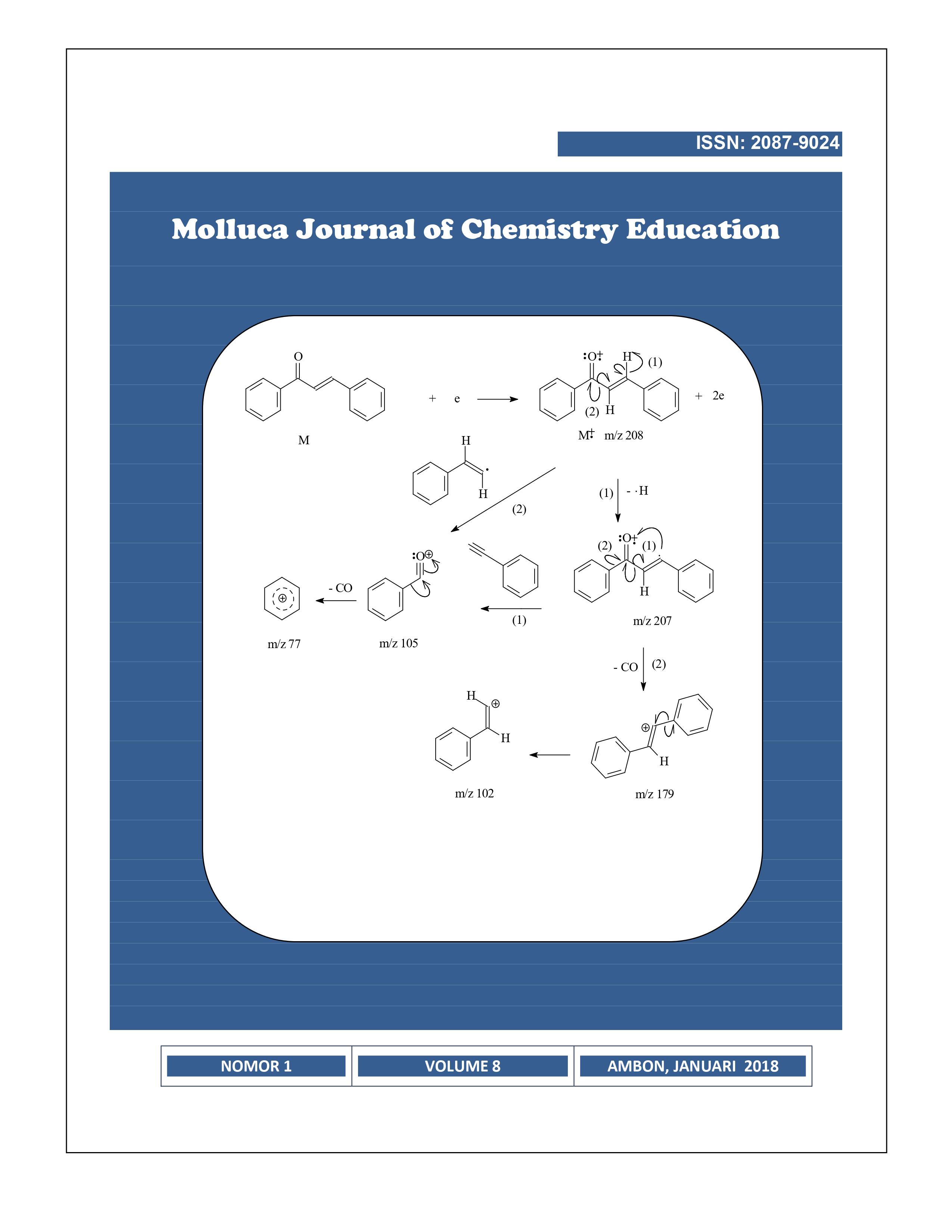 How to Cite
Rosmawaty, R., Sutapa, I., & Kamanasa, D. (2018). PEMANFAATAN KATALIS Ca3(PO4)2 DARI TULANG IKAN TUNA PADA PEMBUATAN BIODIESEL DARI MINYAK BINTANGGUR (Callophyllum inophyllum L). Molluca Journal of Chemistry Education (MJoCE), 8(1), 12-24. https://doi.org/10.30598/MJoCEvol8iss1pp12-24
Copyright (c) 2018 Molluca Journal of Chemistry Education (MJoCE)
This work is licensed under a Creative Commons Attribution-NonCommercial-ShareAlike 4.0 International License.