SINTESIS SENYAWA t-KALKON BAHAN DASAR SENYAWA TABIR SURYA
Ruslin Hadanu

Program Studi Pendidikan Kimia, FKIP, Universitas Pattimura
Keywords:
t-chalcone, aldol condensation reaction, sunscreen compounds
Abstract
A novel method for the synthesis of t-chalcone as material start of sunscreen compounds through aldol condensation reaction was introduced using NaOH/EtOH as a catalyst and solvent. The structures of the t-chalcone of product were confirmed by IR, GC-MS and 1H-NMR spectrosfotometer
Downloads
Download data is not yet available.
References
Finnen, M.J., 1987, J. Pharmacol. Skin., 1, 130-131.
Edy, W., 1998, Sintesis Turunan Etil Ferulat dari Vanilin Berdasar reaksi Claisen, Skripsi sarjana FMIPA UGM, Yogyakarta.
Gunantyo D. W., 2008. Sintesis senyawa 1,5-difenil-2,4-pentadien-1- on dan Uji Potensinya sebagai Senyawa Tabir Surya, Skripsi Program Sarjana UNY. Yogyakarta.
Wahyuningsih T.D, Raharjo T.J., dan Tahir I., 2002, "Sintesis Senyawa Tabir Surya 3,4-dimetoksi Isoamil Sinamat dari Bahan Dasar Minyak Cengkeh dan Minyak Fusel." Indonesian Journal of Chemistry, 2 (1): 55-6.
Tahir I., Jumina, Yuliastuti I., 2002, "Analisis Aktivitas Perlindungan Sinar UV Secara In Vitro Dan In Vivo Dari Beberapa Senyawa Ester Sinamat Produk Reaksi Kondensasi Benzaldehida Tersubstitusi Dan Alkil Asetat." Makalah pada Seminar Nasional Kimia XI, Jurusan Kimia FMIPA UGM. Yogyakarta
Silverstein, et al., 1991, Spectrometric Identification of Organic Compounds Fifth Edition. Canada : John Wiley & Sons. Inc.
Affandi M.Y., 2008, Mempelajari Reaksi Kondensasi Aldol Silang Antara p-Anisaldehida dan p-Hidroksibenzaldehida dengan Aseton Pada Kondisi Basa, Skripsi Program Sarjana UGM. Yogyakarta.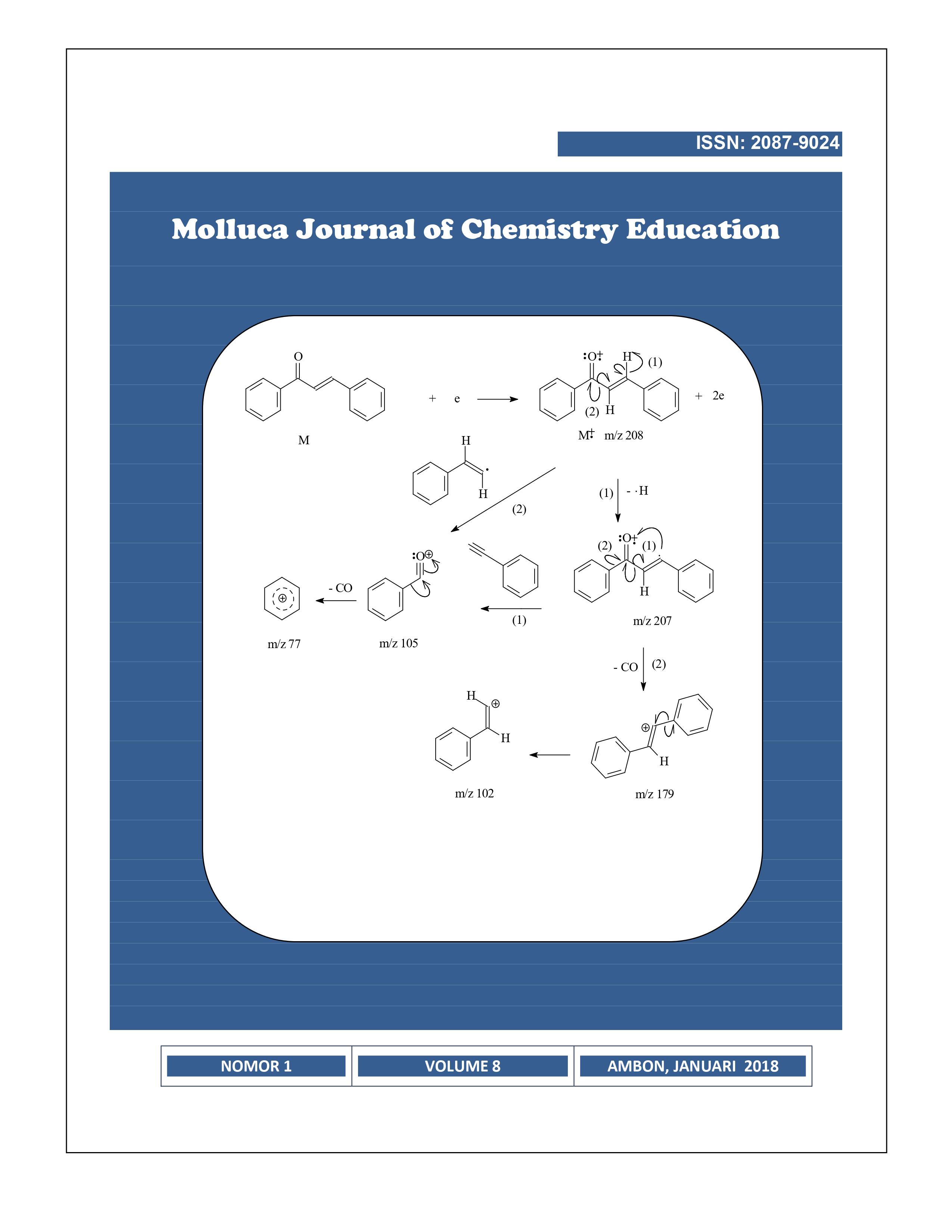 How to Cite
Hadanu, R. (2018). SINTESIS SENYAWA t-KALKON BAHAN DASAR SENYAWA TABIR SURYA. Molluca Journal of Chemistry Education (MJoCE), 8(1), 36-41. https://doi.org/10.30598/MJoCEvol8iss1pp36-41
Copyright (c) 2018 Molluca Journal of Chemistry Education (MJoCE)
This work is licensed under a Creative Commons Attribution-NonCommercial-ShareAlike 4.0 International License.