PROFIL HASIL BELAJAR KONSEP ASAM BASA DAN GARAM MELALUI PENDEKATAN CONTEXTUAL TEACHING AND LEARNING (CTL) PADA SISWA KELAS VII SMP NEGERI 15 AMBON
Napsin Palisoa

Program Studi Pendidikan Kimia, FKIP Universitas Pattimura Ambon

Healthy Kainama

Program Studi Pendidikan Kimia, FKIP Universitas Pattimura Ambon

Mendy F Picaulima

Program Studi Pendidikan Kimia, FKIP Universitas Pattimura Ambon
Keywords:
profile study result, Acids, base and salts, CTL
Abstract
The research has been done to know profile of students result of teaching in acid, base and salt concepts through a contextual teaching and learning (CTL) using the class VII students of SMP Negeri 15 Ambon as a sampel of searching.  Profile of student learning results in acid-base concept and salt obtained by the test results to learn. Descriptive analist showed that the results obtained studying the cognitive aspects of 80.07%, 86.02% affective aspects, while the aspect psiycomotoryc 87.29% students are success to achieved the KKM. After following the learning process, the result of the acquisition value of the final test (post-test) showed that 80.16% of students have been able to achieve KKM. Of the students test data during the learning process the Final Value (NA) all students showed that 100% all students have reached the KKM. Based on the results obtained can be concluded that by using a contextual approach to teaching and learning (CTL) on the concept of base and acid salts can encourage students to be able find a relationship between the material learned to real life situations of students and increase student result of learning.
Downloads
Download data is not yet available.
References
Arikunto, S.,2002. Dasar-Dasar Evaluasi Pendidikan, Bumi Aksara, Jakarta.
Arsyad, A., 2002. Media Pembelajaran, Edisi Pertama, Cetakan Ketiga, PT. Raja Grafindo Persada. Jakarta.
Darmojo, Kaligi., 1991. Belajar dan Pembelajaran. IKIP, Semarang Press, Semarang.
Dimyati., Mudjiono., 2002. Belajar dan Pembelajaran, Rineka Cipta, Jakarta.
Hamalik, O., 2007. Kurikulum dan Pembelajaran, Bumi Aksara, Jakarta.
Johnson, E.B., 2002. Contextual Teaching and Learning. California: A Sage Publications Company, CorwinPresss
Leasa., 2005. Implementasi Praktikum Kimia Berbasisi Kontekstual Pada Konsep Larutan Elektrolit dan Non Elektrolit Terhadap Hasil Belajar Siswa Kelas X SMA Negeri 9 Ambon, Skripsi, Unpatti Ambon.
Mulyasa, E., 2003. Kurikulum Berbasis Kompetensi; Konsep, Karakteristik dan Implementasi, Rosdakarya, Bandung.
Mulayasa, E., 2006. Kurikulum Tingkat Satuan Pendidikan. Suatu Panduan Praktis. Penerbit PT Rosdakarya. Bandung.
Sanjaya, W., 2008. Strategi Pembelajaran Berorientasi Standar Proses Pendidikan. Kencana, Jakarta.
Slameto., 2003. Belajar dan Faktor-Faktor yang Mempengaruhinya. Rineka Cipta, Jakarta.
Sudjiono, A., 2003. Pengantar Evaluasi Pendidikian. Raja Grafindi Persada, Jakarta.
Wenno, I.H., 2008. Strategi Belajar Mengajar Sains Berbasis Kontekstual. Penerbit Inti Media, Yokyakarta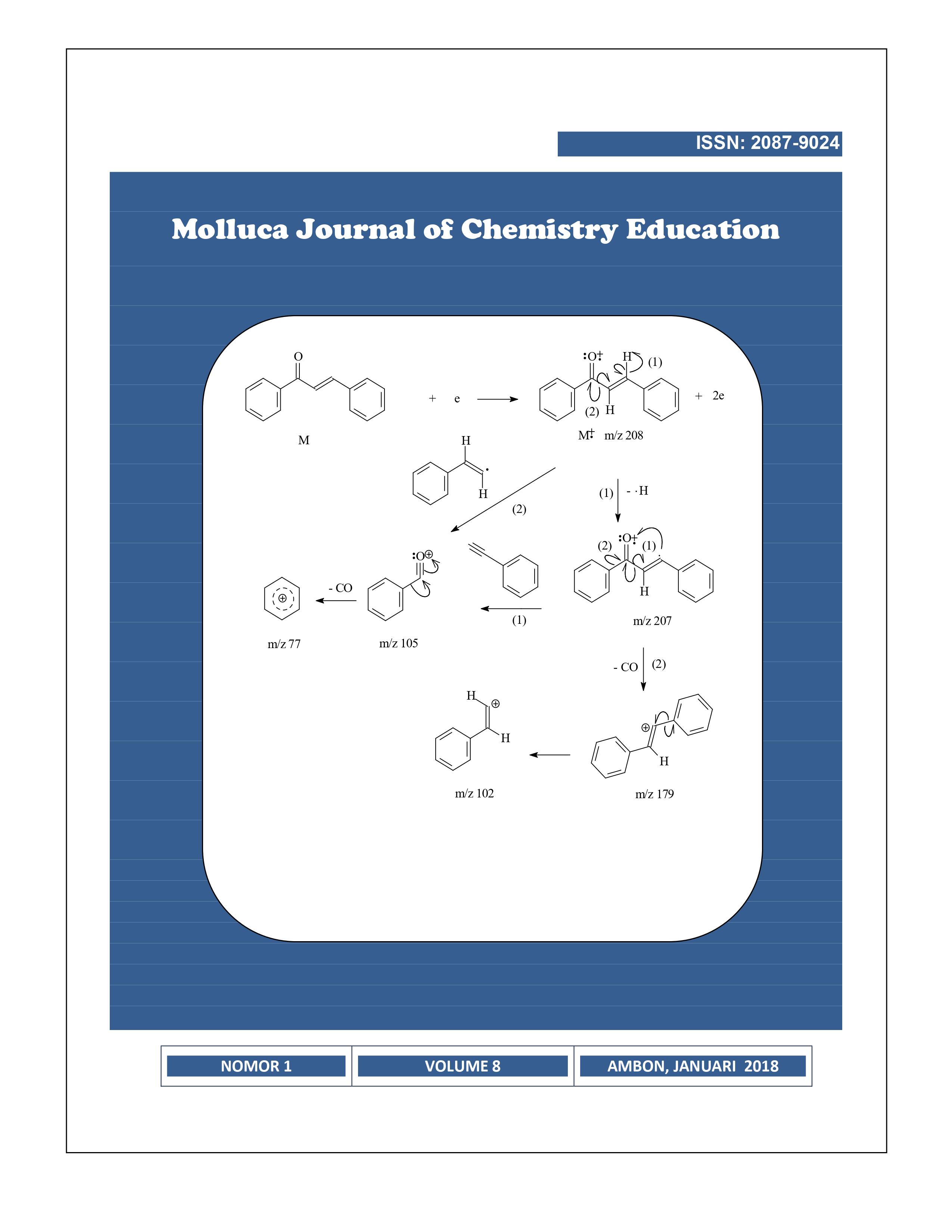 How to Cite
Palisoa, N., Kainama, H., & Picaulima, M. (2018). PROFIL HASIL BELAJAR KONSEP ASAM BASA DAN GARAM MELALUI PENDEKATAN CONTEXTUAL TEACHING AND LEARNING (CTL) PADA SISWA KELAS VII SMP NEGERI 15 AMBON. Molluca Journal of Chemistry Education (MJoCE), 8(1), 42-55. https://doi.org/10.30598/MJoCEvol8iss1pp42-55
Copyright (c) 2018 Molluca Journal of Chemistry Education (MJoCE)
This work is licensed under a Creative Commons Attribution-NonCommercial-ShareAlike 4.0 International License.