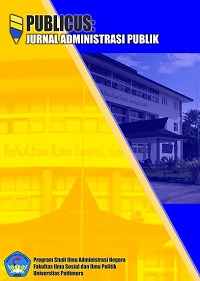 PUBLICUS: JURNAL ADMINISTRASI PUBLIK
Country: Indonesia
Subject: Social and Political Science
Language: English, Indonesia
Frequency 2 issues per year (June & December)
PUBLICUS: JURNAL ADMINISTRASI PUBLIK is provided for writers, teachers, students, professors, and researchers, who will publish their research reports or their literature review articles (only for invited contributors) about social and political science. This journal published twice a year, in June and December. For each volume, the contents will be contributed by invited contributors who experts in social and political science either from Indonesia or abroad.
Current Issue
Vol 1 No 1 (2022): PUBLICUS: JURNAL ADMINISTRASI PUBLIK (ON PROGRESS)
Country: Indonesia
Subject: Social and Political Science
Language: English, Indonesia
Frequency 2 issues per year (June & December)
PUBLICUS: JURNAL ADMINISTRASI PUBLIK is provided for writers, teachers, students, professors, and researchers, who will publish their research reports or their literature review articles (only for invited contributors) about social and political science. This journal published twice a year, in June and December. For each volume, the contents will be contributed by invited contributors who experts in social and political science either from Indonesia or abroad
View All Issues