Jurnal Agrosilvopasture-Tech (JASPT) [e-ISSN 2964-6103] is published two times a year in June and December by Agriculture Faculty, Pattimura University. Articles loaded covering research results and analysis policy that is applicative includes agricultural in the broadest sense: agronomy, the science of soils, pest, and disease, the zoological, medicine veterinary, agricultural engineering, industrial technology, technology food, food science, the science of nutrition, family, and consumers, biometry, biology, climatology, livestock, health care, and the environment, forestry, and socioeconomic agricultural are being considered and was approved by the council editor.
Jurnal Agrosilvopasture-Tech is a peer-reviewed journal publishing articles to develop a coherent and respected network. It is important to agree upon standards of expected ethical behavior for all parties involved in the act of publishing: the author, the journal editor, the peer reviewer, the publisher, and the society.
Agriculture Faculty, Pattimura University publisher of Jurnal Agrosilvopasture-Tech takes its duties of guardianship at all stages of the publishing process and we recognize our ethical and other responsibilities.
We are committed to ensuring that advertising, reprint, or other commercial revenue has no impact or influence on editorial decisions. In addition publisher and Editorial Board will assist in communications with other journals and/or publishers where this is useful and necessary.
Current Issue
Vol 2 No 2 (2023): Jurnal Agrosilvopasture-Tech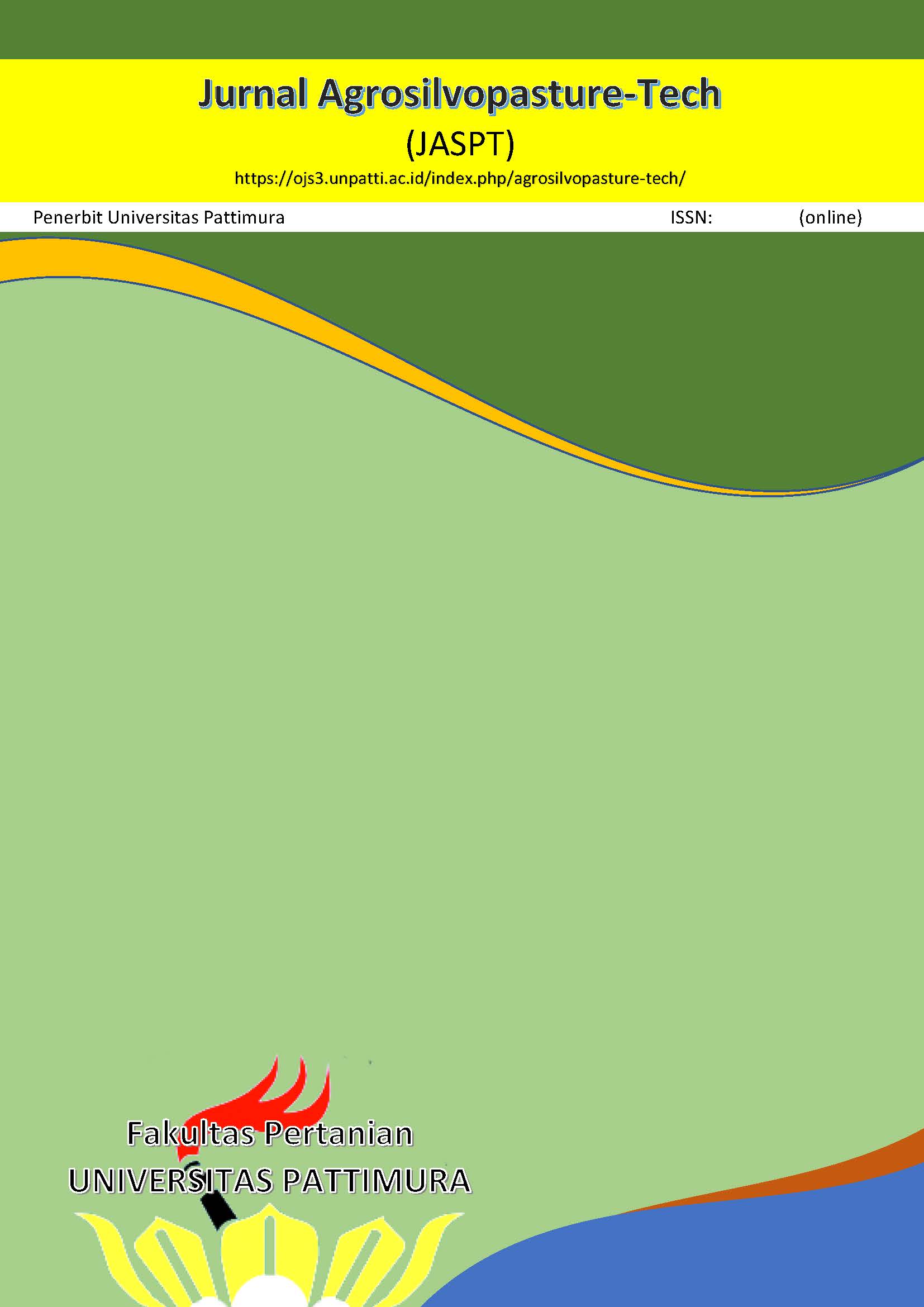 In progress (December 2023). This issue is in progress but contains articles that are final and fully citable.
Articles
Abstract views 104 |

PDF downloads 55 |

Abstract views 121 |

PDF downloads 78 |

Abstract views 147 |

PDF downloads 216 |

Abstract views 70 |

PDF downloads 82 |

Abstract views 101 |

PDF downloads 74 |

Abstract views 200 |

PDF downloads 52 |

Abstract views 55 |

PDF downloads 52 |

Abstract views 490 |

PDF downloads 223 |

Abstract views 75 |

PDF downloads 52 |

Abstract views 86 |

PDF downloads 52 |

Abstract views 52 |

PDF downloads 74 |

Abstract views 80 |

PDF downloads 57 |

Abstract views 44 |

PDF downloads 57 |

Abstract views 72 |

PDF downloads 51 |

Abstract views 56 |

PDF downloads 35 |

Abstract views 79 |

PDF downloads 58 |

Abstract views 57 |

PDF downloads 64 |

Abstract views 33 |

PDF downloads 32 |

Abstract views 36 |

PDF downloads 42 |

Abstract views 79 |

PDF downloads 39 |

Abstract views 36 |

PDF downloads 28 |

Abstract views 26 |

PDF downloads 16 |

Abstract views 50 |

PDF downloads 27 |

Abstract views 24 |

PDF downloads 25 |
View All Issues