MODEL SIMULASI UNTUK MENGANALISIS KINERJA SISTEM ANTRIAN KAPAL TANKER PADA DERMAGA PT. PERTAMINA TBBM WAYAME AMBON
B. J. Camerling

Universitas Pattimura

Juan. P. Manusiwa

Universitas Pattimura
Keywords:
Model Simulasi, Sistem Antrian, Promodel
Abstract
PT Pertamina (Persero), Terminal transit bahan bakar minyak wayame memiliki peran penting sebagai tulang punggung dalam mensuplai BBM keseluruh TBBM diwilayah maluku papua dengan efisien untuk menghindari terjadinya krisis BBM di Terminal Transit Bahan Bakar Minyak lain akibat lambatnya kegiatan backloading. Berdasarkan data dari fungsi marine TBBM wayame menyatakan bahwa pada tahun 2012-2016 rata-rata tingkat kedatangan kapal tangker di pelabuhan TBBM wayame mencapai ± 535 kapal/tahun dan untuk proses pelayanan loading BBM kapal membutuhkan waktu tunggu kapal lebih dari 1 hari untuk mendapatkan pelayanan loading BBM. Sehingga terjadi antrian pada dermaga, serta dalam proses loading Bbm. serta dalam proses loading Bbm yang mengakibatkan fungsi utilitas menjadi tidak maksimal diantara dermaga I dan III lebih tinggi utilitasnya dibandingkan dengan utilitas dermaga II. Hasil penelitian ini dengan mengambil data tbbm wayame ambon, maka dapat dilihat untuk hasil awal atau kenyataannya bahwa untuk hasil utilitas menunjukan bahwa pada server dermaga II tidak terlalu sibuk dengan utilitas adalah 55.69% dengan kapal yang dilayani selama sebanyak 152 kapal loading dan untuk dermaga kapal backloading, dermaga I mempunyai utilitas 99.94% dan  dermaga III mempunyai utilitas 99.76% dengan banyak kapal yang dilayani sebanyak 463 kapal backloading,  dari hasil tersebut maka penulis memberikan alternative perbaikan untuk mempercepat pelayanan dimana kapal backloading dapat melakukan kegiatan bongkar muat pada dermaga kapal loading apabila tidak ada kegiatan bongkar muat, dapat digunakan untuk kapal backloading. Hasil utilitas dermaga I adalah 91.80% , utilitas dermaga II adalah 87.80% dan utilitas dermaga III adalah 82.86%, untuk pelayan kapal backloading sebanyak 492 kapal dan kapal loading 152 kapal, dengan menggunakan alternative perbaikan ini maka dapat mengurangi waktu pelayanan kapal
Downloads
Download data is not yet available.
References
A.K.Erlang.2011. Sejarah Teori Antrian. Modul Manajemen Operasional.
Alma, Buchori. 2000. Manajemen Pemasaran dan Pemesaran Jasa. Bandung: Alfabeta.
Averill M. Law and W. David Kelton, (1991).Simulation Modeling And Analysis, Second Edition, McGRAW-HILL, Singapore.
Bronson, Richard. (1982). Theory And Problem Of Operation Research. MacGRAW-HILL, Inc, New York,
Goel, B.S. dan Mital, S.K., (1979). Operations Research (Meerut: Praganti Prakashan,).
Gottfiied, B. S., (1984). Elements of Stochastic Process Simulation, Prentice Hall, Inc, New Jersey.
Hamdy A. Taha, , (1987). Operation Reseach An Introduction. 4th ed., Macmillan Publishing Company, New York.
Harrel. C., Ghosh. B.K., Bowden. R.O. (2004), Simulation using Promodel, Second edition., Mc Graw Hill
Kadir, A., (1999). Teori Permodelan System, Penerbit Andi, Yogyakarta.
Naylor, Thomas H, et. al. (1966). Computer Simulation Techniques. John Wiley & Sons,Inc.,New York,.
Paillin, D.B. (2009). Pemecahan Vehicle Routing Problem Dengan Karakteristik Fleet Mix Vehicle, Multiple Trips, Split Delivery, Multiple Products Dan Multiple Compartments Menggunakan Teknik Genetic Algorithm, Thesis, Industrial Engineering and Management Institut Teknologi, Bandung.
Payne, James A. (1988). Introduction To Simulation. McGRAW-HILL, Singapore.
Pritsker, A.A.B, (1986). Introduction to Simulation and SLAM II. 3dr ed.,System Publishing, West Lafayette, Ind.
Subagyo, P., (1987). Dasar-Dasar Operation Research, LPFE UGM, Yogyakarta. Sudjana, M., (1986). Metode Statistika, Tarsito, Bandung.
Soeharto, (2003). Kajian Terhadap Fasilitas Peralatan Bongkar Muat Barang Pada Terminal Peti Kemas di Pelabuhan Tanjung Emas Semarang, Tests Universitas Diponegoro Semarang, Semarang.
Soemarsono, (1997) Optimasi Fasilitas Pelayanan dan Evaluasi Sistem Pelayanan Bongkar Muat dengan Simulasi Komputer di Pelabuhan Tanjung Emas Semarang, Tesis S2 Transportasi ITB.
Tamin, O. Z., (1998). Perencanaan dan Pemodelan Transportasi, ITB, Bandung. Triatmodjo, B., (1996). Pelabuhan, Beta Offset, Yogyakarta.
Warpani, S., (1990), Merencanakan Sistem Perangkutan, ITB, Bandung.
Yogyakarta. Sudjana, M., (1986). Metode Statistika, Tarsito, Bandung.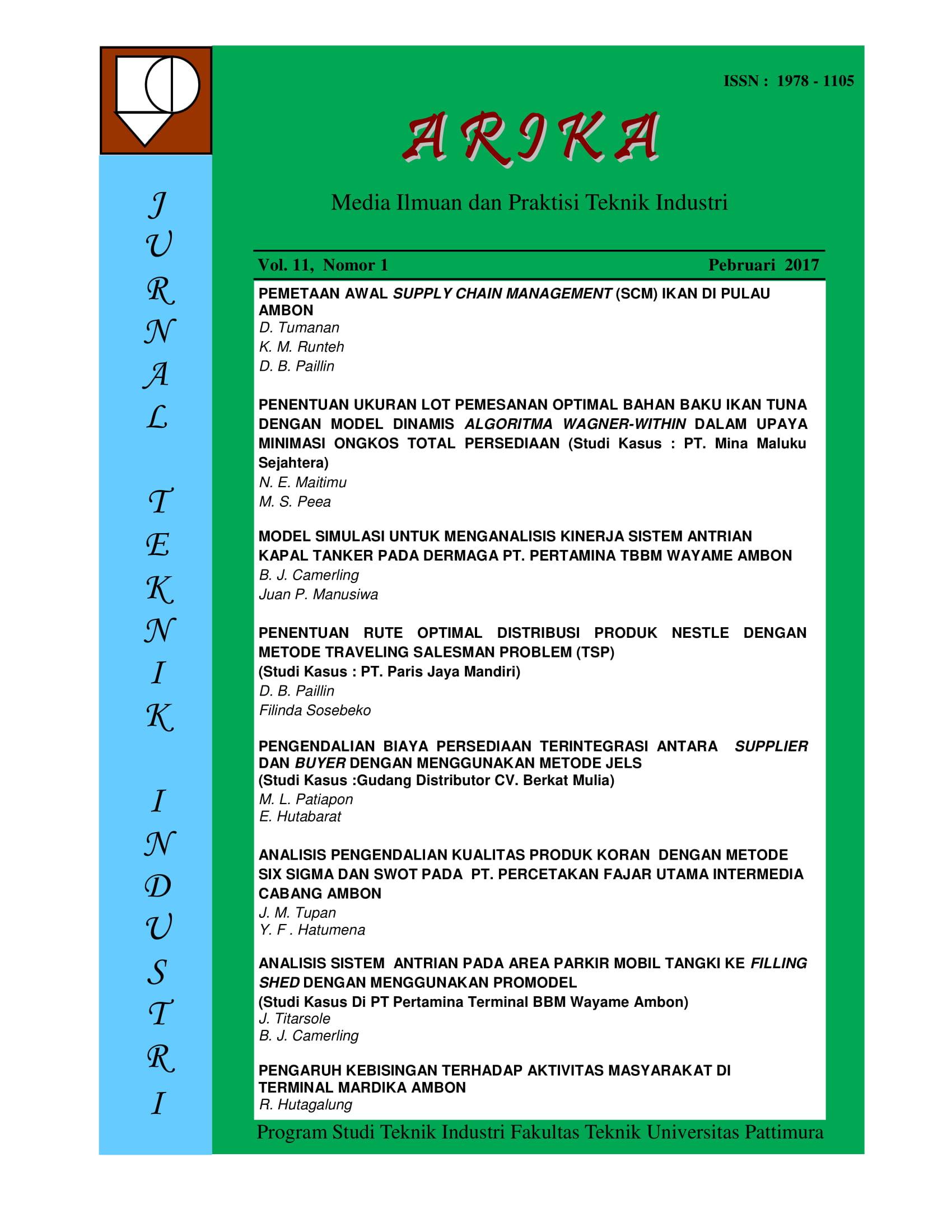 How to Cite
Camerling, B. J., & Manusiwa, J. P. (2017). MODEL SIMULASI UNTUK MENGANALISIS KINERJA SISTEM ANTRIAN KAPAL TANKER PADA DERMAGA PT. PERTAMINA TBBM WAYAME AMBON. ARIKA, 11(1), 21-34. https://doi.org/10.30598/arika.2017.11.1.21

This work is licensed under a Creative Commons Attribution-ShareAlike 4.0 International License
An author who publishes in the ARIKA Jurnal agrees to the following terms:
The author retains the copyright and grants ARIKA journal the right of first publication of the work simultaneously licensed under the Creative Commons Attribution-ShareAlike 4.0 License that allows others to share the work with an acknowledgment of the work's authorship and initial publication in this journal.
The author is able to enter into separate, additional contractual arrangements for the non-exclusive distribution of the journal's published version of the work (e.g., post it to an institutional repository or publish it in a book) with the acknowledgment of its initial publication in this journal.
The author is permitted and encouraged to post his/her work online (e.g., in institutional repositories or on their website) prior to and during the submission process, as it can lead to productive exchanges, as well as earlier and greater citation of the published work (See The Effect of Open Access).