TINJAUAN PENGGUNAAN METODE LEAN CONSTRUCTION PADA PROYEK KONTRUKSI (Studikasus Pada Pesona Alam Estate)
Welmy Kololu

Universitas Pattimura

B. J. Camerling

Universitas Pattimura
Keywords:
Lean Construksi, Proyek Kontruksi, Potensi Penerapan
Abstract
Setiap pelaksanaan proyek konstruksi tidak lepas dari berbagai kendala ataupun kegagalan, yang antara lain disebabkan oleh rendahnya kinerja ataupun produktivitas tenaga kerja, perencanaan proyek yang kurang matang, anggaran proyek membengkak, dan juga spesifikasi yang tidak sesuai. Untuk itu perlu adanya perbaikan perencanaan dengan menggunakan metode Lean Construction, yang meliputi pengidentifikasian waste, resiko dan estimasi kebutuhan proyek (waktu, sumber daya, dan biaya).Lean construction adalah cara untuk mendesain sistem produksi untuk meminimalkan waste dalam bahan material, waktu, dan usaha untuk menghasilkan nilai (value) semaksimum mungkin (Abdelhamid dan Salem, 2005). Lean merupakan cara baru untuk memikirkan dan melakukan pekerjaan di konstruksi.mengoptimalkan Pekerjaan Kontruksi Pesona Alam Estate Menurut Pandangan Kontraktor, Pengawasdan Suplier. Hal ini terlihat dengan nilai Chi-Square yang menunjukan tidak ada perbedaan jawaban antara ketiga pelaku kontruksi yaitu kontraktor, Pengawas dan Suplier yang menyatakan sangat perlu untuk penerapan Lean Construction dalam pekerjaan mereka.Tingkat kesulitan penerapan metode Lean Cnstruction masih dirasakan merupakan kendala bagi ketiga pelaku pekerjaan kontruksi Pesona Alam Estate.
Downloads
Download data is not yet available.
References
Abduh, M., danRoza, H.A. (2006). Indonesian Contractors' Readiness towards Lean Construction, Proceedings of the 14 Annual C'onfrrence of International Group for Lean Construction, Santiago, Chile.
Abduh, Muhamad. (2005). Konstruksi Ramping; MemaksimalkanValue danMeminimalkanWaste.FakultasTeknikSipildanLingkungan, InstitutTeknologiBandung.
Alves, T. danTsao, C. (2007), "LeanConstruction 2000 to 2006â€, Lean Construction Journal, Vol. 3, No. 1, hal. 46-70
Anggraeni, Nyoman. 2009. Penerapanmetodepenjadwalan Critical Chain danLeanConstruction DalamPerencanaandanPengendalianProyekKonstruksi (StudiKasus : PT.. AdhiKarya (Persero), Tbk, TugasAkhir. JurusanTeknikIndustri ITS, Surabaya.
Ballard, G danPollat,G. (2004)†Waste in Turkish constructionâ€, Lean construction Journal, Vol 3, no.1, hal. 3-5
Ballard, G. (1999). The Last Planner System of Production Control, Dessertation, University of Birmingham, Birmingham.
Bossink, B.A.G danBrouwers, H.J.H., (1996).Construction Waste : Quantification and Source Evaluation. Journalof Construction Engineering and Management. March, 55-60
Cooke, B., Williams, P., 2004. Construction planning, programming & control. UK: Blackwell.
Ervianto, W.I., 2005, Manajemen Proyek Konstruksi (Edisi Revisi), Penerbit Andi, Yogyakarta.
Linggasari, M.I.D., (2004) Pengaruh Total Quality Management (TQM) untuk Mengurangi Waste pada Proyek Konstruksi, TA, JTS, FT.,UNTAR.
Messah, Y.A. 2011, Kajian Hubungan Waste Material Konstruksi dan Organisasi Proyek Konstruksi, Jurnal Teknik Sipil, Vol 1.no1. FST, Undana, Kupang.
Muktian, Yulianur, A., dan Fatimah, E., 2013, Studi Faktor- faktor Utama Penyebab Pemborosan Material (Material Waste) Pada Proyek Rehabilitasi Jaringan Irigasi Provinsi Aceh, diakses 2 Maret 2014.
Purnatha, I P G J., 2013 Studi Mengenai Construction Waste pada Proyek Konstruksi di Daerah Kabupaten Badung, TA. TS, UAJY
Ratnasari, T. 2014, Studi Mengenai Construction Waste Pada Proyek Konstruksi Di Surakarta, S1 Tugas Akhir, Teknik Sipil, Fakultas Teknik, UAJY.
Rahmawati, F dan Hayati, D.W. 2013,Analisa Sisa Material Konstruksi Dan Penanganannya Pada Proyek Gedung Pendidikan Profesi Guru Universitas Negeri Surabaya, Konteks7, Jurusan Teknik Sipil, ITS.
Trisiana, A., Wiguna, I. P.A. dan Rahmawati, F. 2011, Analisis Faktor Risiko Waste Pada Proyek Konstruksi Gedung Di Kota Jember, Tesis, MTS ITS.
Wejoseno, H. 2011, Studi Mengenai Construction Waste pada Proyek Konstruksi di DIY, S1 Tugas Akhir, Teknik Sipil, Fakultas Teknik, UAJY.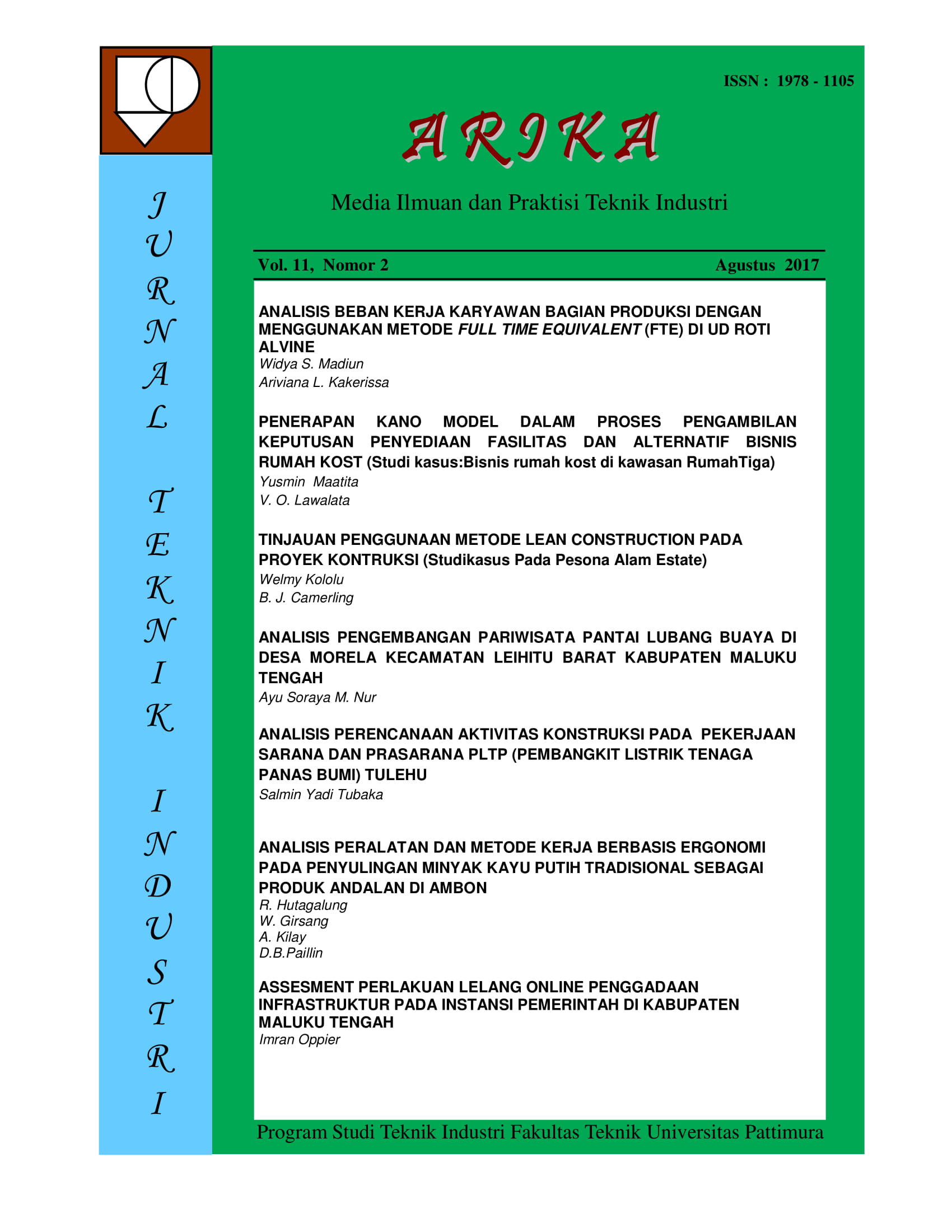 How to Cite
Kololu, W., & Camerling, B. J. (2017). TINJAUAN PENGGUNAAN METODE LEAN CONSTRUCTION PADA PROYEK KONTRUKSI (Studikasus Pada Pesona Alam Estate). ARIKA, 11(2), 109-118. https://doi.org/10.30598/arika.2017.11.2.109

This work is licensed under a Creative Commons Attribution-ShareAlike 4.0 International License
An author who publishes in the ARIKA Jurnal agrees to the following terms:
The author retains the copyright and grants ARIKA journal the right of first publication of the work simultaneously licensed under the Creative Commons Attribution-ShareAlike 4.0 License that allows others to share the work with an acknowledgment of the work's authorship and initial publication in this journal.
The author is able to enter into separate, additional contractual arrangements for the non-exclusive distribution of the journal's published version of the work (e.g., post it to an institutional repository or publish it in a book) with the acknowledgment of its initial publication in this journal.
The author is permitted and encouraged to post his/her work online (e.g., in institutional repositories or on their website) prior to and during the submission process, as it can lead to productive exchanges, as well as earlier and greater citation of the published work (See The Effect of Open Access).