ASOSIASI GASTROPODA DENGAN TUMBUHAN MANGROVE PADA EKOSISTEM PANTAI DI NEGERI TIOUW DAN NEGERI HARIA KECAMATAN SAPARAUA KABUPATEN MALUKU TENGAH
Linus Takandare

Pamela Mercy Papilaya
Keywords:
Mangrove, gastropods, associations
Abstract
Background: Mangrove forests are one of the unique natural ecosystems with high ecological value. Mangrove ecosystems are one of the areas with high productivity because there are litter and decomposition of litter and detritus occurs. This study was conducted to determine the association between gastropods and mangrove plants.
Method: Research on gastropod association with mangrove plants in the coastal waters of Tiouw Village and Haria Village was conducted in January 2018.
Results: This study found from gastropods 6 species namely variabilis strombus, microurceus strombus, Nassarius luridus, Strombus urceus, Cypraea annulus, Strombus, Strombus, Nerita squamulata. From the mangrove plants, 10 species were found: Avicennia eucalyptifolia, Avicennia lanata, Bruguiera sexangula, Rhizophora apiculata, Bruguiera hainessi, Aegiceras floridum R, Aegiceras curniculatum L, Bruguiera palviflora, Bruguiera exaristafa, Ceriops tagal.
Conclusion: Association values ​​ranged from 0.741-0.9773 with positive and negative types. This means that both types of seagrass are often found together or not found together in the observation location
Downloads
Download data is not yet available.
References
Dharma, B. 1988. Siput dan Kerang Indonesia. PT Sarana Graha. Jakarta.
Ludwig, J. A. dan J. F. Reynolds. 1988. Statistical Ecology, a Primer on Methods and Computing. John Willey and Sons. New York.
Mueller-Dombois, D. dan H. Ellenberg. 1974. Aims and Methods of Vegetation Ecology. New York University
Nyabakken, J. W, 1992. Biologi Laut SuatuPendekatanEkologis. Jakarta: Gramedia
Rochana, E. 2006. Ekosistem Mangrove dan Pengelolaannya di Indonesia. Yokyakarta www.irwantoshut.
Supriharyono, 2000. Pelestarian dan Pengelolaan Sumber Daya Alam di Wilayah Pesisir Tropis. Jakarta: Gramedia
Saripantung, 2013. Mangrove. Diskusi panel Prodi Biologi Konservasi FMPIA-UI. Depok.
Suwondo, Febrita, E., Dessy dan Alpusari, M. 2004. Kualitas Biologi Perairan Sungai Senapelan, Sago dan Sail di Kota Pekan Baru Bioindikator Plangton dan Bentos. Biogenesis, 1 (1): 15-20.
Whittaker R.H, 1975. Communities and ekosistem. MacMillan Publishing Co. INC. New York
Yuniarti, N., Nugroho, A.E., Hakim, L., Supardjan, dan Istyastono, E.P., 2007, Aktivitas Antioksidan Senyawa Gamavuton dan Turunannya, Artocarpus 7(2): 70-81.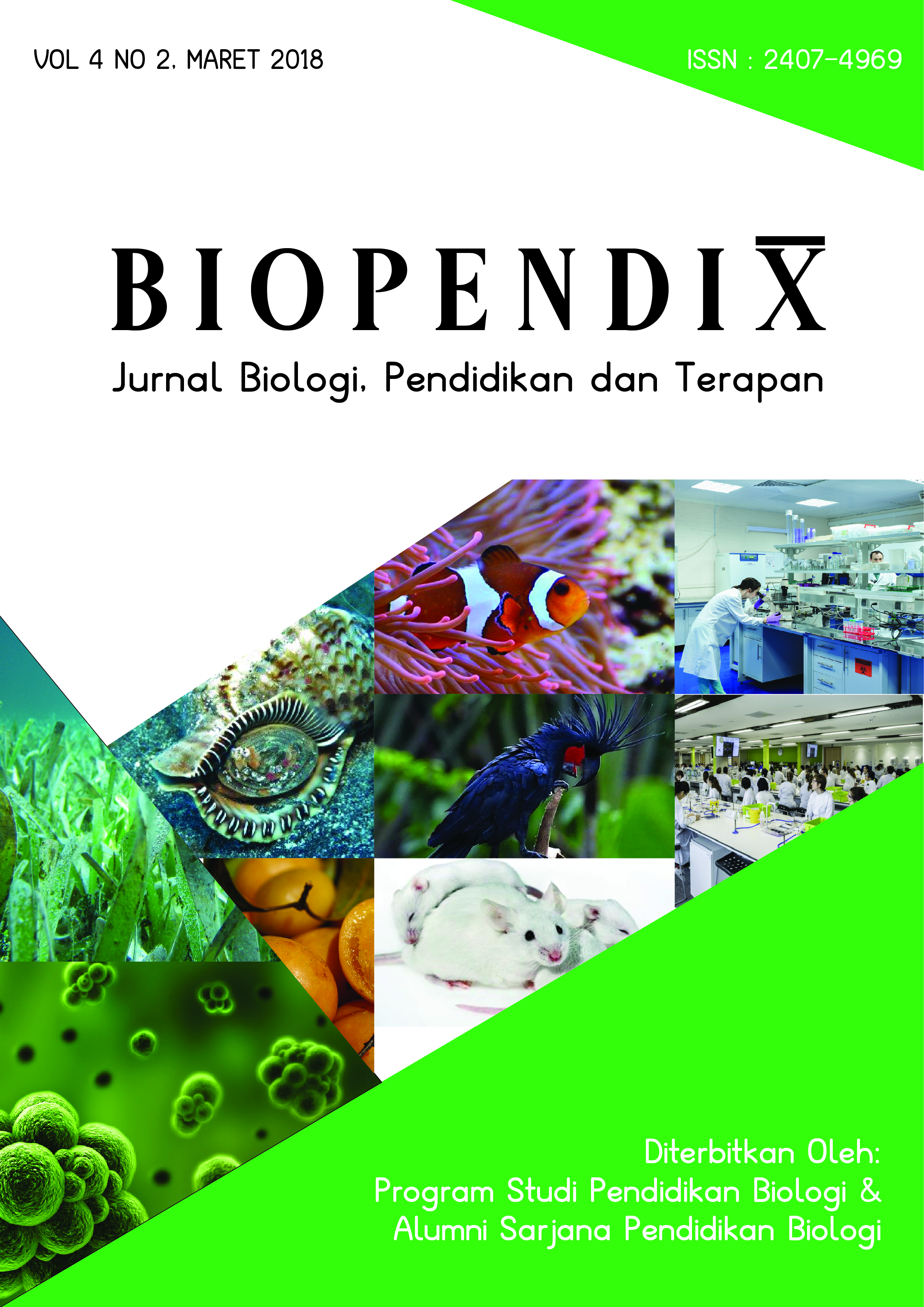 How to Cite
TakandareL., & PapilayaP. (2018). ASOSIASI GASTROPODA DENGAN TUMBUHAN MANGROVE PADA EKOSISTEM PANTAI DI NEGERI TIOUW DAN NEGERI HARIA KECAMATAN SAPARAUA KABUPATEN MALUKU TENGAH. BIOPENDIX: Jurnal Biologi, Pendidikan Dan Terapan, 4(2), 83-96. https://doi.org/10.30598/biopendixvol4issue2page83-96
Copyright (c) 2018 Biopendix : Jurnal Biologi, Pendidikan dan Terapan
This work is licensed under a Creative Commons Attribution-ShareAlike 4.0 International License.