PEMANFAATAN EKSTRAK DAUN CENGKEH (Syzygium aromaticum L.) SEBAGAI HERBISIDA ALAMI TERHADAP PERTUMBUHAN GULMA RUMPUT TEKI (CYPERUS ROTUNDUS L.)
Diana R Talahatu

Pamela Mercy Papilaya
Keywords:
Natural Herbicides, Clove Leaf Extract (Zysygium aromaticum L.), Growth, Weeds Sedges (Cyperus rotundus L.).
Abstract
Background: Clove is a spice native plants Maluku Islands, and has been traded and cultivated for generations in the form of people's plantation. Separation of chemical constituents of clove showed that clove leaves contain saponins, alkaloids, flavonoid glycosides and tannins. Flavonoids are one of the types of compounds that are toxic / residues, the sugar bound compound from the flavonoids. Flavonoids have distinctive properties that is a very sharp odor, bitter taste, soluble in water and organic solvents, and easily decompose at high temperatures.
Methods: This study was conducted in February-April of 2015 at the Laboratory and Greenhouse biology education Pattimura University. This research is a lab experiment. Clove leaf extract obtained by polar solvent is macerated with ethanol 96% and then applied to the growth of weeds sedges. Clove leaf extract concentration used a 5%, 10%, 20%, 50% and control.
Results: There is a natural herbicide effectiveness of clove leaf extract at a concentration of 50%, which can be used as an alternative to inhibit the growth of tall weeds sedges.
Conclusion: The higher the clove leaf extract given against weeds sedges will increasingly serve to inhibit weed sedges as measured by plant height, phytotoxicity, fresh weight and dry weight of weeds sedges.
Downloads
Download data is not yet available.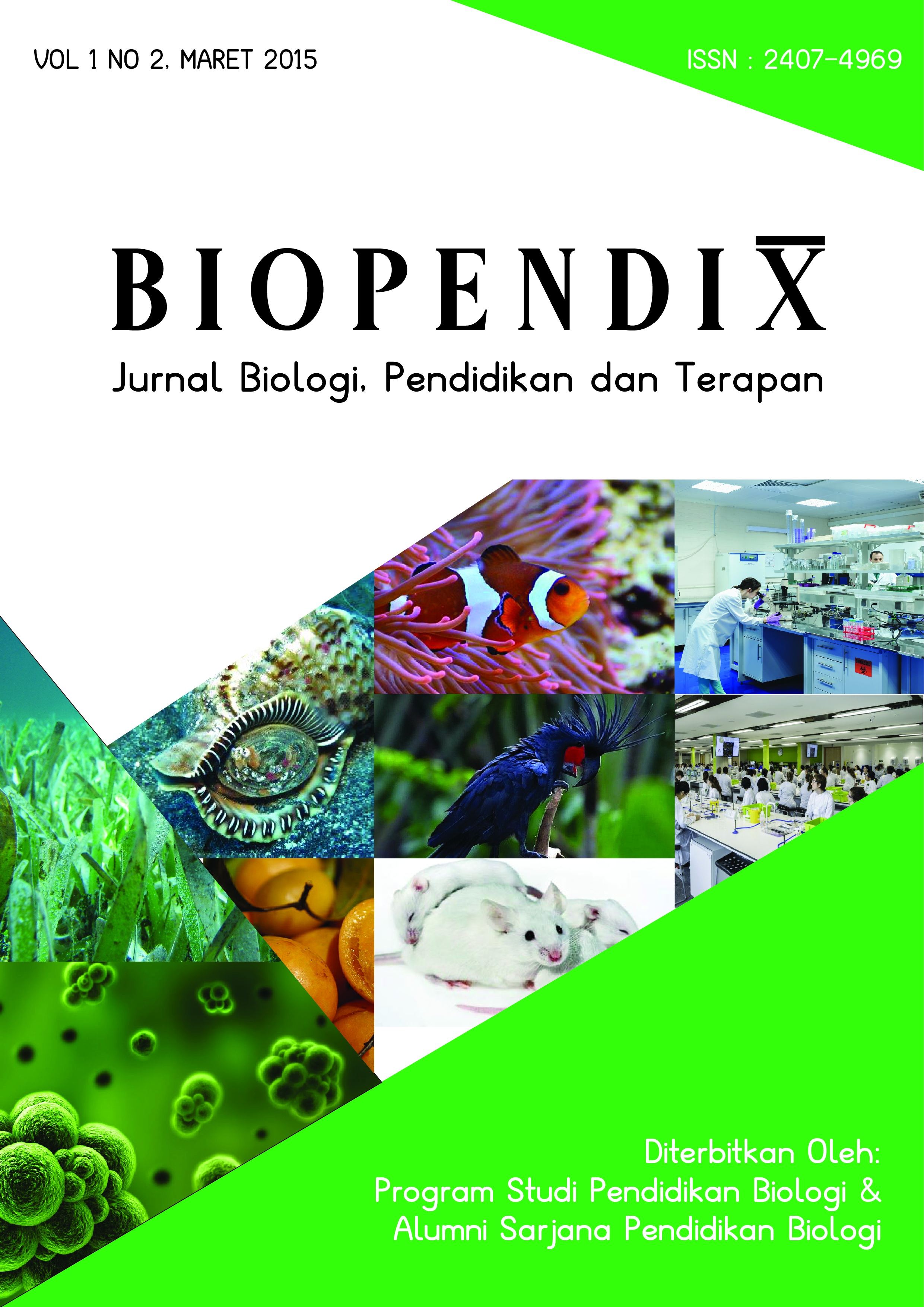 How to Cite
Talahatu, D., & Papilaya, P. (2015). PEMANFAATAN EKSTRAK DAUN CENGKEH (Syzygium aromaticum L.) SEBAGAI HERBISIDA ALAMI TERHADAP PERTUMBUHAN GULMA RUMPUT TEKI (CYPERUS ROTUNDUS L.). BIOPENDIX: Jurnal Biologi, Pendidikan Dan Terapan, 1(2), 160-170. https://doi.org/10.30598/biopendixvol1issue2page160-170
Copyright (c) 2015 Biopendix : Jurnal Biologi, Pendidikan dan Terapan
This work is licensed under a Creative Commons Attribution-ShareAlike 4.0 International License.