ANALISIS TINGKAT PENYIMPANAN SENYAWA KARBON (C-Stock) PADA VEGETASI HUTAN MANGROVE BERDASARKAN PERBEDAAN SUBTRAT DI PULAU SAPARUA KABUPATEN MALUKU TENGAH
Patriks Sitaniapessy

Pamela Mercy Papilaya
Keywords:
Vegetation of mangrove forests and carbon content.
Abstract
Background: Analysis of the level of storage of Carbon compounds (C-Stock) on mangrove forest vegetation based on differences in substrate on Saparua Island, Central Maluku Regency. This study aims to determine the amount of carbon content and the difference in carbon content stored in mangrove forests.
Method: This study used a survey method through direct observation in the field and analysis of sample weight in the laboratory. The data obtained were analyzed using the biomass estimation formula and carbon content and statistical equation to determine the difference in carbon content at each station.
Results: From the results of the study obtained total carbon in station I was 3.498351 tons / ha, station II was 0.180750 tons / ha and station III was 16.727136 tons / ha.
Conclusion: With the difference of each station based on the BNT Test with a confidence level of 99% showing the value of the difference of 20.58, while the BNT test of the confidence level of 95% shows the difference in value of 13.59.
Downloads
Download data is not yet available.
References
Bengen, D.G. 2000. Sinopsis Ekosistem dan Sumberdaya Alam Pesisir. Pusat Kajian Sumberdaya Pesisir dan Lautan. Institut Pertanian Bogor. Bogor, Indonesia
Brown, S. and Lugo, A.E. 1984. Biomass of Tropical Forest: A New Estimate Based on Forest Volume. Science, 223: 1290-1293.
Brown. S. 1997. Estumating Biomass and Biomass Change of Tropical Forest. Forestry Paper 134. USA: FAO.
Bouillon, S., Moens, T., Overmeer, I., Koedam, & Dehairs, F., 2003. Resource utilization patterns of epifauna from mangrove forests with contrasting inputs of local versus imported organic matter. Mar. Ecol. Prog. Ser. 278, 7788.
Hogarth, P. J. 2007. The Biology of Mangroves and Sea grasses. New York: Oxford University Press Inc.
Kirby, K. R., & Potvin, C. (2007). Variation in carbon storage among tree species: Implications for the management of a small-scale carbon sink project. Forest Ecology and Management, 246, 208–221.
Nath, A. J., Das, G., & Das, A. K. (2009). Above ground standing biomass and carbon storage in village bam- boos in North East India. Biomass and Bioenergy, 33, 1188–1196.
Navar, J. (2009). Allometric equation for tree species and carbon stock for forest of northwest Mexico. Forest Ecology and Management, 257, 427 – 434.
Nyabakken, J. W, 1992. Biologi Laut Suatu Pendekatan Ekologis. Jakarta: Gramedia
Ong, J.E. 1993. Mangroves – a Carbon Source and Sink. Chemosphere, 27: 1097-1107.
Tomlinson, P. B. 1994. The Botany of Mangroves. Cambridge University Press.
Walpole, E.R. 1993. Pengantar Statistika (ed ke-3). Gramedia. Jakarta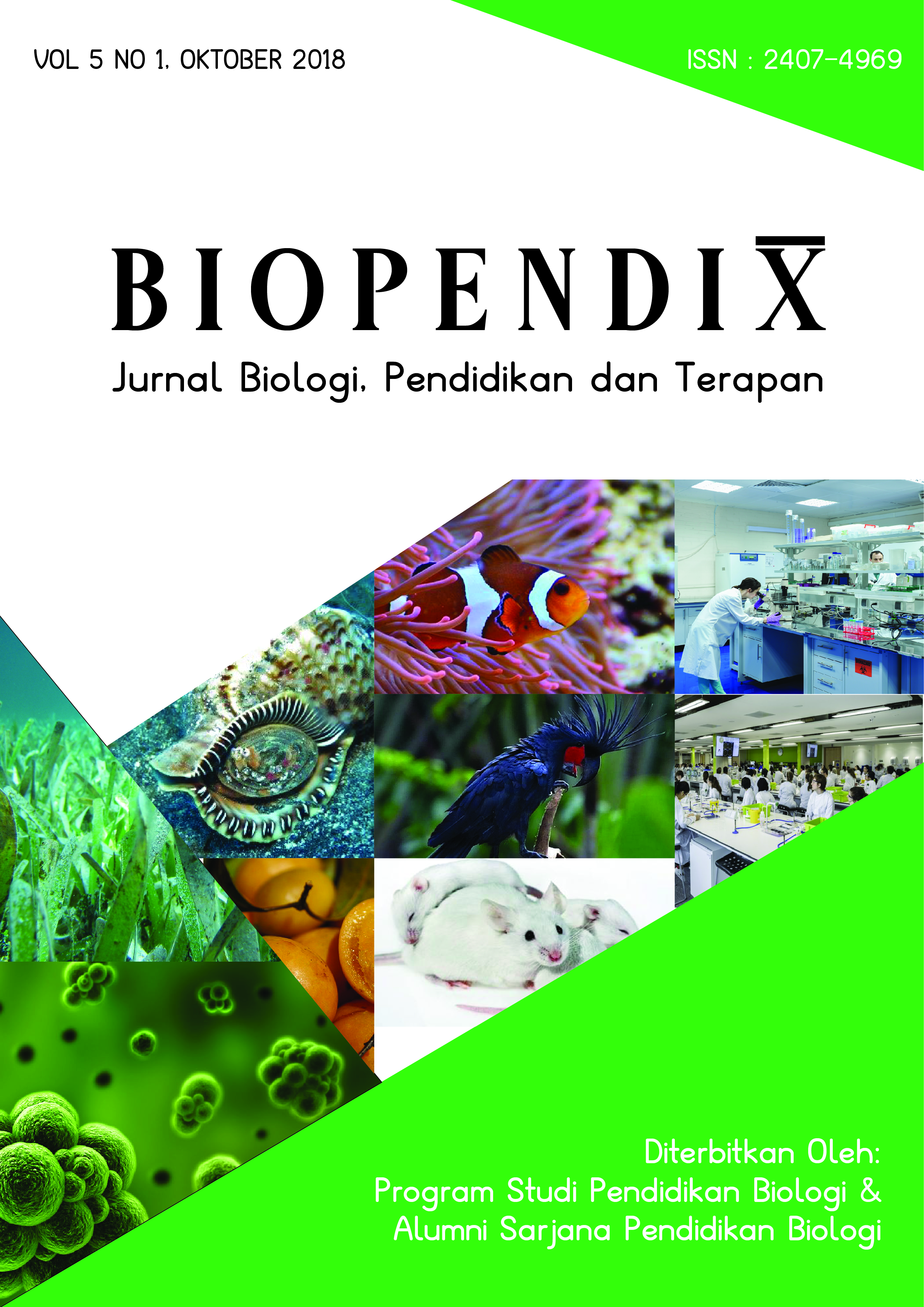 How to Cite
Sitaniapessy, P., & Papilaya, P. (2018). ANALISIS TINGKAT PENYIMPANAN SENYAWA KARBON (C-Stock) PADA VEGETASI HUTAN MANGROVE BERDASARKAN PERBEDAAN SUBTRAT DI PULAU SAPARUA KABUPATEN MALUKU TENGAH. BIOPENDIX: Jurnal Biologi, Pendidikan Dan Terapan, 5(1), 8-12. https://doi.org/10.30598/biopendixvol5issue1page8-12
Copyright (c) 2018 Biopendix : Jurnal Biologi, Pendidikan dan Terapan
This work is licensed under a Creative Commons Attribution-ShareAlike 4.0 International License.