PERBANDINGAN KOMPOSISI KIMIA PERISA TULANG IKAN TUNA (Thunnus albacares) DAN KULIT UDANG ( Litopenaeus vannamei)
Adrianus O. W. Kaya

Program Studi Teknologi Hasil Perikanan, Fakultas Perikanan dan Ilmu Kelautan Universitas Pattimura

Esterlina E. E. M Nanlohy

Program Studi Teknologi Hasil Perikanan, Fakultas Perikanan dan Ilmu Kelautan Universitas Pattimura

Sherly Lewerissa

Program Studi Teknologi Hasil Perikanan, Fakultas Perikanan dan Ilmu Kelautan Universitas Pattimura
Keywords:
kulit udang, komposisi kimia, perisa, perbandingan, tulang ikan tuna
Abstract
Utilization of the waste of processed fisheries product is obtain a product with a good chemical properties and also zero waste product. flavoring is a product can be obtain from utilization of processed
fisheries waste. This study purposed to produce natural flavoring by using tuna bone and shrimp shells. This research used 3 treatments ratio of broth and maltodextrin and was performed and chemical
analysis involve moisture, ash, protein and fat were carried out. The results showed that the best flavoring product obtained from the ratio of broth and maltodextrin 100 ml : 100 mg (A1), both for tuna
bone and shrimp shells.
Downloads
Download data is not yet available.
References
Lestari WA., Dwiyana P. 2016. Pemanfaatan limbah tulang ikan tuna (Thunnus sp.) dalam bentuk tepung pada pembuatan stick. Jurnal Ilmu Kesehatan, 8(2).
Suherman B., Muhdar L., Sisilia TRD. 2018. Potensi kitosan kulit udang Vannemei (Litopenaeus vannamei) sebagai antibakteri terhadap Staphylococccus epidermidis, Pseudomonas aeruginosa, Propionibacterium agnes, dan Escherichia coli dengan metode difusi cakram kertas. Media Farmasi, XVI (1).
Saiyavit V., Shobsngobb S., Bhidyachakorawata M. and Suphantharika M. 2000. Production of meat-like flavor. Science Asia, 26: 219-224.
[SNI] Standar Nasional Indonesia. 2006. Bahan tambahan pangan. Persyaratan perisa dan penggunaan dalam produk pangan. No 01-7152-2006.
Setiawati S. 2008. Proses pembelajaran dalam pendidikan kesehatan. Jakarta. Trans Info Media.
Purwaningsih. 2005. Berbagai macam jenis perisa alami yang dikonsumsi dunia. Agroindustri. WordPress.
Kamsiati E. 2006. Pembuatan bubuk sari buah tomat (Licopersicon esculentum) dengan metode "foam-mat dryingâ€. Jurnal Teknologi Pertanian. 7(2).
Hustiany R. 2006. Modifikasi, asilasi dan suksinilasi pati tapioka sebagai bahan enkapsulasi komponen flavor. Disertasi, Institut Pertanian Bogor.
Yuliawaty ST. dan Susanto WH. 2015. Pengaruh lama pengeringan dan konsentrasi maltodekstrin terhadap karakteristik fisik kimia dan organoleptik minuman instan daun mengkudu (Morinda citrifolia l). Jurnal Pangan dan Agroindustri, 3(1): 41-52.
Phisut N. 2012. Spray drying technique of fruit juice powder. International Food Research Journal, 19(4), 1297-1306.
Winarno F. G. 2008. Ilmu Pangan dan Gizi. Jakarta. Gramedia Pustaka Utama
Amanto BS., Siswanti., dan Atmaja, A. 2015. Kinetika pengeringan temu giring (Curcuma heyneana valeton dan van zijp) menggunakan kabinet dryer dengan perlakuan pendahuluan blanching. Jurnal Teknologi Hasil Pertanian, VIII (2), 107-114.
Ayu M., Rosidah U. Dan Priyanto G. 2016. Pembuatan sambal cabai hijau instan dengan metode foam mat drying. Prosidin Seminar Nasional Lahan Suboptimal: 20-21.
Sudarmadji S., Haryono B. dan Suhardi. 1997. Prosedur Analisa untuk bahan makanan dan pertanian. Edisi Keempat. Liberty. Yogyakarta.
Tjokroadikoesoemo PS. 1986. High fructose syrup dan industri ubi kayu lainnya, Penerbit PT. Gramedia Pustaka Utama, Jakarta.
Husniati. 2009. Studi karakteristik sifat fungsi maltodekstrin dari pati singkong. Jurnal Riset Industri. III(2):133-138.
Sasone FT., Mencherini P., Picerno M., d'Amore, dan Lauro MR. 2011. Maltodextrin/pectin microparticles by spray draying as carrierfor nutraceutical extract. Journal Food Engineering, 105: 468-476.
Ranken M.D. 2000. Handbook of meat product technology. Oxford: Blackwell Science Ltd.
Hendrayana T. 2011. Sukrosa dan peranannya terhadap produk pangan. Yogyakarta.Diva Press.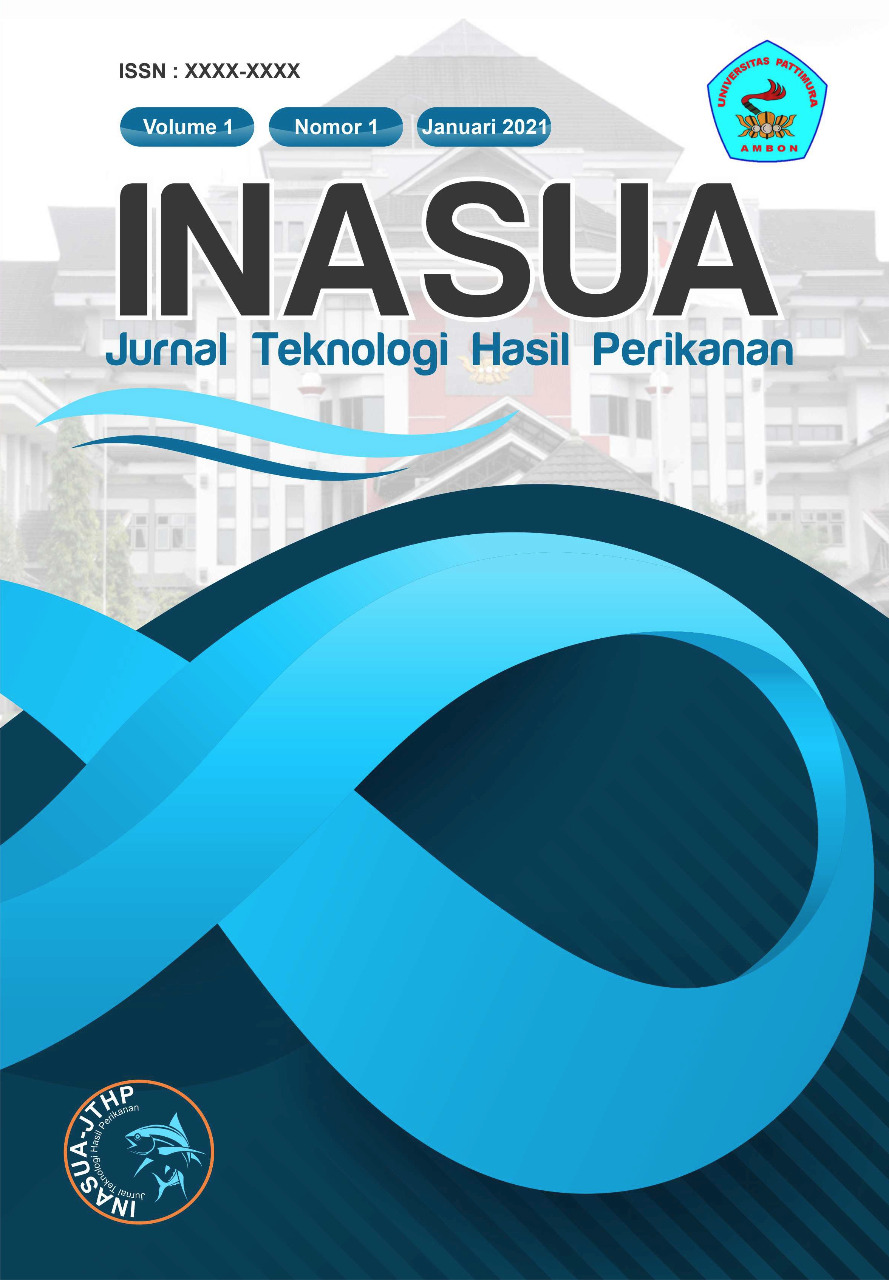 Copyright (c) 2021 Adrianus O. W. Kaya, Esterlina E. E. M Nanlohy, Sherly Lewerissa
This work is licensed under a Creative Commons Attribution-ShareAlike 4.0 International License.