PENGARUH KEBIJAKAN MODAL MINIMAL TERHADAP MINAT MAHASISWA BERINVESTASI SAHAM (STUDI PADA GALERI INVESTASI POLITEKNIK NEGERI MANADO)
Martine Lapod

Department of Business Administration Business Management Study Program Manado State Polytechnic

Effendy Rasjid

Universitas Pattimura
Keywords:
capital, interest, stock
Abstract
The Investment Gallery at the Manado State Polytechnic Campus is one of the forums or educational facilities that was formed with the aim that students can learn, get to know various kinds of investment products in the capital market which ultimately targets students to want to become investors from an early age. Minimum Investment Capital which is the policy of the Indonesia Stock Exchange to attract public interest in investing, namely with a minimum investment capital of IDR 100,000, - this is considered affordable by the public and also by students as millennial investors. This can be a problem that affects student interest in investing.
The results of data processing using the SPSS 26 program obtained a tcount value of 1.237 with a significance of 0.000. Because the tcount value of 1.237 is greater than the ttable value of 1.659 with a significance value of 0.000 <0.05, it can be concluded that the tested group has a significant (significant) difference. These results mean that partially Minimum Investment Capital has a significant effect on Student Interest in Investing in Stocks at Manado State Polytechnic. The results of the correlation analysis obtained r = 0.120 categorized as having a strong and positive relationship between the variable Minimum Investment Capital and Student Interest in Investing Stocks in the Capital Market
Suggestions must be socialized regarding the minimum amount of capital needed in investing in stocks which can later affect student interest in investing in stocks.
Downloads
Download data is not yet available.
References
Alma, Buchari. 2011. Manajemen Pemasaran Dan Pemasaran Jasa. Alfabeta: Bandung.
Atmaja, Lukas Setia. 2019. Seri Kartun: 1 Edukasi Yuk Nabung Saham. Kontan Publishing: Jakarta.
Arifin, Barnawi dan M. 2014. Manajemen Sarana dan Prasarana
Sekolah.Yogyakarta: Ar-ruzz Media.

Divisi Pengembangan Investor Bursa Efek Indonesia. 2018. Modul Sekolah Pasar Modal Level 1. PT. Bursa Efek Indonesia, Jakarta.
Fristiana Irina. 2017. Metode Penelitian Terapan. Parama Ilmu: Yogyakarta.
Gusti Ayu Ketut Rencana Sari Devi dan Diota Prameswari Vijaya. 2018. Investasi Dan Pasar Modal Indonesia. Rajawali Pers: Depok.
Hanafi Mamduh, 2014, Manajemen Keuangan, BPFE Yogyakarta
Hasrini Sari dan Rifky Adi Pradana. 2018. Perancangan Strategi Pemasaran Galeri Investasi Berdasarkan Faktor-Faktor yansg Mempengaruhi Intensi Investor Untuk Berinvestasi. Jurnal Ilmiah Teknik Industri Institut Teknologi Bandung.
Hidayat. 1986. Konsep Dasar dan Pengertian Produktivitas Serta Interprestasi Hasil, Prisma, Jakarta: LP3ES
Husnan, Suad. 2009. Dasar-dasar Teori Portofolio dan Analisis Sekuritas. Edisi Ketiga. Yogyakarta: UPP AMP YKPN
IDX, 2021 Pedoman Galeri investasi BEI
Irham Fahmi dan Yovi Lavianti Hadi. 2009. Teori Portofolio Dan Analisis Investasi Teori dan Soal Jawab. Alafabeta: Bandung.
Jogiyanto Hartono. 2013. Teori Portofolio dan Analisis Investasi, ed. 8, BPFE,
Yogyakarta.
Kamaruddin Ahmad 2013 Dasar- dasar Manajemen Investasi dan Portofolio, Jakarta, Rineka Cipta.

Mamduh Hanafi, 2018, Manajmeen Keuangan, Yoyakarta, Penerbit Fakultas Ekonomi dan Bisnis UGM

Moh. Samsul, 2016, Pasar Modal dan Manajemen Protofolio, Jakarta, Penerbit Erlangga.
Mohammad Surya. (2004). Psikologi Pembelajaran dan Pengajaran. Bandung:
Pustaka Bani Quraisy.
Sardiman. (2018). Interaksi dan Motivasi Belajar Mengajar. Depok: PT.
Rajagrafindo Persada.
Sutrisno, 2016, Manjemen Keuangan Teori, Konsep dan Aplikasi, Yogyakarta, Penerbit Ekonisia Kampus Ekonomi UII
Sumarjo.2015. Manajemen Laboratorium. Yogyakarta: Falkultas Teknik UNY
Tandelilin, Eduardus. 2017. Manajemen Portofolio dan Investasi. Yogyakarta:
KANISIUS Edisi Elektronik
Uno Hamzah Uno, Nina lamatenggo, 2011 Teknologi Komunikasi dan Informasi pembelajaran, Penerbit Bumi Aksara, Jakarta
Otoritas Jasa Keuangan. 2016. Perencanaan Keuangan. Jakarta: Otoritas Jasa Keuangan
Undang-Undang Pasar Modal No. 8 tahun 1995
Teori Keuangan dan Pasar Modal. Yogyakarta: EKONOSIA. Arikunto, S. (2010).
Prestasi Pasar Modal 2017, BEI Unjuk Rekor IHSG Hingga Kontribusi Pajak. Retrieved 9 13, 2017, from okezonefinance: https://economy.okezone.com Arifin, Z.
Prosedur Penelitian: Suatu Pendekatan Praktik. Edisi 7. Jakarta: PT. Rineka Cipta. Aziz, A. (2010).
https://jwm.ulm.ac.id/id/index.php/jwm/article/view/181

https://ojs.unpkediri.ac.id/index.php/manajemen/article/view/12645

https://ejurnal.binawakya.or.id/index.php/MBI/article/view/897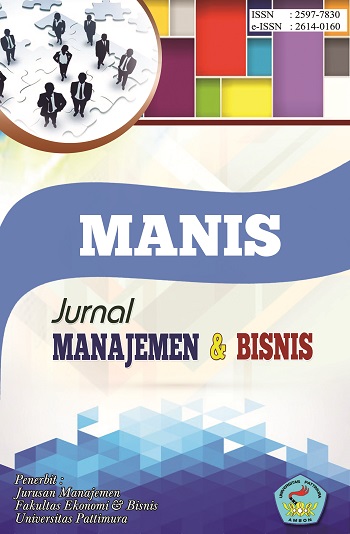 How to Cite
Lapod, M., & Rasjid, E. (2022). PENGARUH KEBIJAKAN MODAL MINIMAL TERHADAP MINAT MAHASISWA BERINVESTASI SAHAM (STUDI PADA GALERI INVESTASI POLITEKNIK NEGERI MANADO). Manis: Jurnal Manajemen Dan Bisnis, 6(1), 1-10. https://doi.org/10.30598/manis.6.1.1-10
Copyright (c) 2022 Manis: Jurnal Manajemen dan Bisnis
This work is licensed under a Creative Commons Attribution-NonCommercial-ShareAlike 4.0 International License.