SOCIOLINGUISTIC PERSPECTIVE OF GENDER PATTERNS ON FACEBOOK
Keywords:
Gender, Sociolinguistics, Facebook.
Abstract
The purpose of this research is to look for the differences and similarities among the way sexes use internet particularly social networking site, Facebook. The differences exist on multiple levels and all these have been exhibited through language and the choices they make. The findings show that women mostly write about themselves, about their own emotions, andthe way a female leaves all information blank and a male give all for public display certainly speaks volumes about their privacy concerns.
Downloads
Download data is not yet available.
References
Al-Harahsheh, Ahmad Mohammad Ahmad. (2014). Language and Gender Differences in Jordanian Spoken Arabic: A Sociolinguistic Perspective. Theory and Practice in Language Studies, Vol. 4, No. 5, pp. 872-882. Yarmouk University, Irbid: Jordan
Bamman,D.Eisenstein, J.Schnoebelen, T. Gender IdentityAnd Lexi-cal Variation In Social Media.
Butler, J. 1990. Gender Trouble: Fe-
minism and the Subversion of Identity. New York: Rout-ledge.
Crawford, M. (1995). Talking Diffe-rence. On Gender and La-nguage. London: Sage.
Eckert, P., & McConnell-Ginet, S. (2003): Language and Gen-der. Cambridge University Press.
Hudson, R.A. (1996): Sociolinguistics. Cambridge: Cambridge Uni-versity Press

Gross, R., & Acquisti, A. (2005) Information Revelation and Privacy in Online Social Net-works. pp. 71-79. ACM Workshop on Privacy in the Electronic Society (WPES)
Kreps, D. (2010). My social networking profile: copy, resemblance, or simulacrum? A pos-tstructuralist interpre-tation of social information systems. European Journal of Information Systems, 19(1), 104-115.
Lakoff, R. (1975). Language and Women's Place. New York: Harper & Row
Trask, R.L. (1999). The Key Concepts in Language and Linguistics. New York: Routledge.
Trottier, D,Fuchs, Christian (2014) Theorising social media, politics and the state: an introduction. Routledge Re-search in Information Tech-nology and Society. Routledge, New York
Thurlow, C., Lengel, L., & Tomic, A. (2003). Computer-Mediated Communication: Interaction and the Internet. London: Sage.
Siibak, A. (2007). Reflections of RL in the virtual world. Cyber-psychology: Journal of Psy-chosocial Research on Cybe-rspace, 1(1).
Spender, D. (1980). Man-made language. London: Routledge: Kegan Paul
Statista, The Statistic Portal. Most famous social network sites worldwide as of April 2017, ranked by the number of active users (in milions). Retrieved on June 1. 2017, from https: //www.statista.com/statistics/272014/global-social-networks-ranked-by-number-of-users/
Wikipedia. (n.d). Facebook. Retrieved on May 31, 2017 from https://en.wikipedia.org/wiki/Facebook
Zhao, S., Grasmuck, S., & Martin, J. (2008). Identity construction on Facebook: Digital empo-werment in anchored relation-ships. Computers in Human Behavior, 24, 1816-1836, http://dx.doi.org/10.1016/j.chb.2008.02.012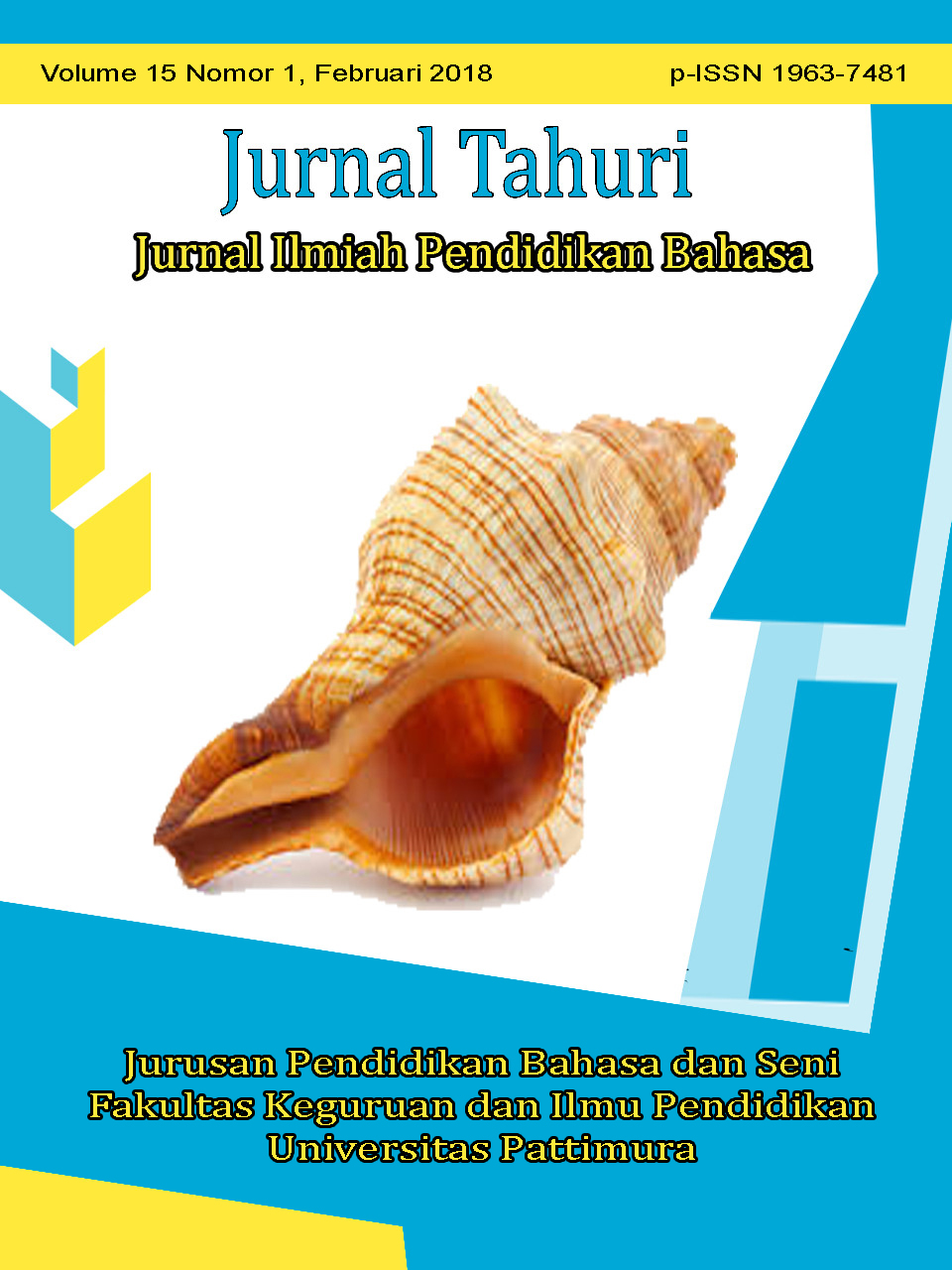 How to Cite
Tupamahu, M. S. (2019). SOCIOLINGUISTIC PERSPECTIVE OF GENDER PATTERNS ON FACEBOOK. JURNAL TAHURI, 15(1), 44 - 56. Retrieved from https://ojs3.unpatti.ac.id/index.php/tahuri/article/view/1367
Copyright (c) 2018 JURNAL TAHURI
This work is licensed under a Creative Commons Attribution-ShareAlike 4.0 International License.
Dilarang menjiplak atau memperbanyak naskah untuk kepentingan apapun juga, terima kasih