ENHANCING STUDENTS CRITICAL READING SKILLS IN TEACHING ARGUMENTATIVE ESSAY
Richard Manuputty

Universitas Pattimura
Keywords:
Critical Reading, Argumentative, Reading-Writing
Abstract
Stereotypically, the teaching of writing is separated from reading subjects. As the results, many students are found to be passive and not critical in writing.  This action research looks into the effectiveness of enhancing students' critical reading in writing argumentative essays. It is investigating whether the genre-based cognitive reading and approach applied brings significant impacts in students' writing ability?  The results of the study indicated some moderate changes in writing argumentative skills which were analyzed and assessed through content analysis over two complete writing products submitted after two complete learning cycles. Some students of (N=18) are at developing learning stage of becoming critical in writing but not yet fluently in making strong arguments for their opinions. Some have already shown capability to organize their thoughts better in thesis writing but not successfully developed them with facts from their own factual experiences in supporting and defending their stands and arguments in development writing stage. The instructional learning system is found to be effective though obviously much time is needed for comprehending texts, and more writing practice is required before students can eventually perform better argumentative essays
Downloads
Download data is not yet available.
References
University of Birmingham ( 2015 ). Critical thinking, reading and writing Skills for academic practice guidelines; slides why think critically and why Critical reading? University of Birmingham.
Hyonsuk Cho & Janina Brutt-Griffler (2015). Integrated reading and writing: Why think critically?A case of Korean English language learners. State University of New York at Buffalo, USA
Hyland, K. (2004). Genre and Second Language Writing. Ann Arbor: University of Michigan Press.
Hyonsuk Cho & Janina Brutt-Griffler (2015). Integrated reading and writing: A case of Ko-rean English language learners. State University of New York at Buffalo, USA
Jacqueline, R ( February 27, 2017). Putting Reading and Writing Together for struggling students; Education Northwest. Retrieve from https://educationnorthwest,org.
Kearney, V. (2017). How to write an argumentative essay step by step. Retrieved from http://Letterpile.com
Kruse, M. (2017). Reading and writing HAVEN. Why Teach Genre. Retrieved from http://www.readingandwritinghaven.com/why-teach-genres-and-how
Learning Center (Nov 2014). Analytical reading: How can I think, read, or write more analytically?. The University of Sydney. Australia. Retrieve from: http://www.writing.utoronto.ca /advice/reading-and-researching
Oshima,A. & Hogue,A. (2006). Writing Academic Emglish: Arhgmentative essay. Pearson Education Inc. New York. USA
Saefer, S ( 2018 ). HOT skills: Developing-higher-order thinking in young learner Pdf. Readleaf Press. Scholar.google.com
Smith.C, Ferms.S & Russel.L, (2014). The impact of work Integrated Learning on student work readiness. The office for learning and teaching. Curtin University. Scholar.google.com
Schwalm, K (17 April 2007 ) Rubric for the Assessment of the Argumentative Essay. Retrieved from: web.gccaz edu/English/assessment/…/argumentrubric.htm
Pasquarelli, S. L. (2006). Teaching writing genres across the curriculum: Strategies for middle school teachers. Greenwich, Connecticut. USA
University of Leicester. Learning Development Centre. (2013) What is critical writing?.Available from: http://www2.le.ac.uk/offices/ld/resources/writing/ writing-resources/critical-writing—
Unilearning (2000). Critical reading checklist. Available at http://unilearning. uow.edu.au/ reading/2b.html
Wang, M., Haertel, G., & Walberg, H. (1993). Synthesis of research: What help students learn ? Educational Leadership, 51(4), Pp.74-83.
Woodbeck, A. (2014). Assessment of critical reading skills in your classes: Colleage. Residential Reading Faculty, PVCC. Retrieved from; https://www.paradisevalley.edu/sites/default/files/docs al/al_fall_2014_critical_reading.pd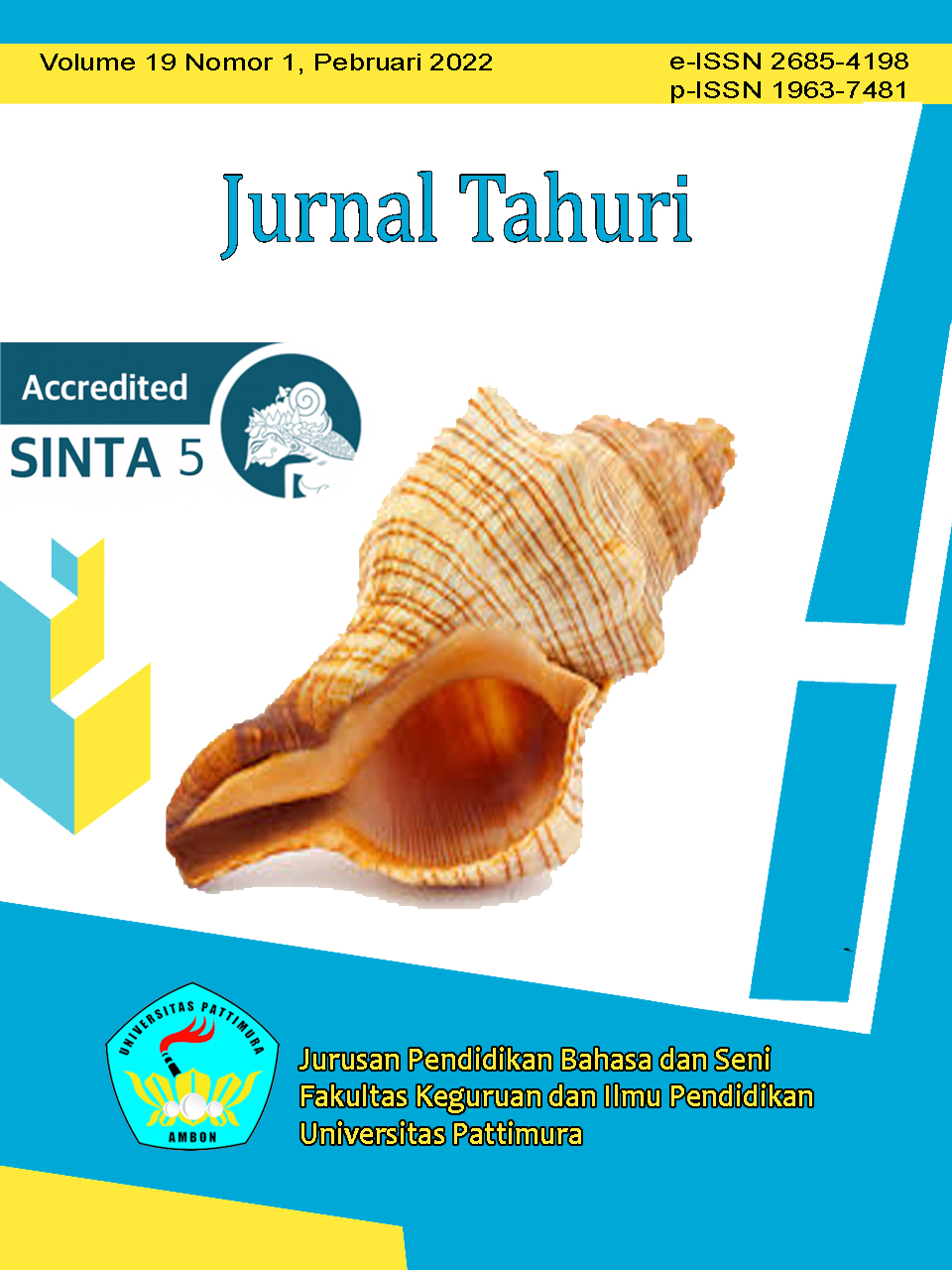 How to Cite
Manuputty, R. (2022). ENHANCING STUDENTS CRITICAL READING SKILLS IN TEACHING ARGUMENTATIVE ESSAY. JURNAL TAHURI, 19(1), 36-46. https://doi.org/10.30598/tahurivol19issue1page36-46
Copyright (c) 2022 JURNAL TAHURI
This work is licensed under a Creative Commons Attribution-ShareAlike 4.0 International License.
Dilarang menjiplak atau memperbanyak naskah untuk kepentingan apapun juga, terima kasih