KEANEKARAGAMAN DAN POLA DISTRUBUSI ANGGUR LAUT (Caulerpa sp) DI DESA LETMAN KECAMATANKEI KECIL KABUPATEN MALUKU TENGGARA
Glorens Labetubun

M Nur Matdoan
Keywords:
Biodiversity, Patterns distrubusi, Wine sea (Caulerpa sp).
Abstract
Background: Wine sea (algae) and Caulerpa types of Caulerpa letifera racesmosa or in any other language communities of Southeast Maluku call as Lat plant. These algae species are used as vegetables and vegetables are very interested in the community and has become a typical regional menu with a fairly high protein content.
Methods: This study is a descriptive study to reveal information about the diversity and patterns of sea Wine distrubusi (Caulepa sp) in the village of Letman District of Kei Kecil. Calculated using the species diversity index formula diversity (diversity) Shannon-Winner, namely: H '= - N Σ Pi ln Pi where Pi = ni / N and to calculate the value of diversity and patterns distrubusi.
Results: Based on the research that has been conducted in the coastal waters of the Village Letman District of Kei Kecil Southeast Maluku regency, overall research sites found five species of sea grapes that Caulerpa lentifera, Caulerpa racemosa, Caulerpa sertuloroides, Caulerpa cupresoides / serrulata (Forskal), and Caulerpa taxifolia.
Conclusion: 4 (four) research station found the type of Caulerpa lentifera with the number 93, the type of Caulerpa racemosa with the number 79, sea grape Caulerpa sertuloroides with the number 53, the type of Culerpa cupresoides / serrulata (forskal) with the number 59, the type of Caulerpa taxifolia by the number 61.
Downloads
Download data is not yet available.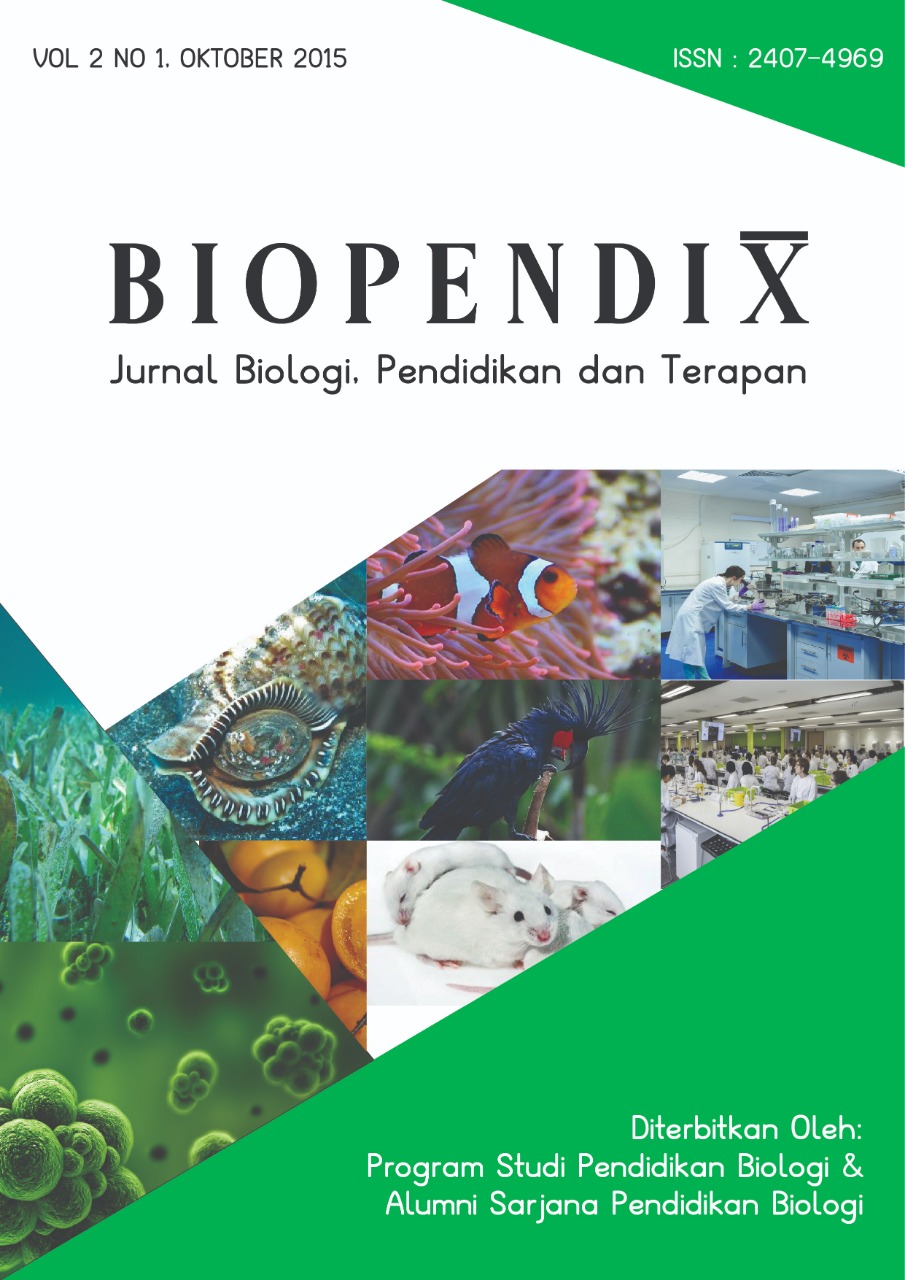 How to Cite
Labetubun, G., & Matdoan, M. (2015). KEANEKARAGAMAN DAN POLA DISTRUBUSI ANGGUR LAUT (Caulerpa sp) DI DESA LETMAN KECAMATANKEI KECIL KABUPATEN MALUKU TENGGARA. BIOPENDIX: Jurnal Biologi, Pendidikan Dan Terapan, 2(1), 15-19. https://doi.org/10.30598/biopendixvol2issue1page15-19
Copyright (c) 2015 Biopendix : Jurnal Biologi, Pendidikan dan Terapan
This work is licensed under a Creative Commons Attribution-ShareAlike 4.0 International License.