KEANEKARAGAMAN DAN POLA DISTRIBUSI JENIS KEPITING BAKAU (Scylla Sp) PADA ZONA INTERTIDAL PANTAI DUSUN WAEL KABUPATEN SERAM BAGIAN BARAT
Wa Mega Wally

Universitas Pattimura

M Nur Matdoan

Universitas Pattimura

Ine Arini

Universitas Pattimura
Keywords:
Mangrove Forest, Intertidal Zone, Mangrove Crab
Abstract
Background: Mangrove forests are coastal ecosystems that usually grow along beaches or river mouths and are strongly influenced by tides. Mangrove crab (Scylla sp) is one of the important fisheries commodities in Indonesia. Mangrove crabs are very prospective as foodstuffs because they have an important nutritional value for the body, with 47.5% protein content and 11.20% fat. The intertidal zone of Wael hamlet is a coastal area located between the highest tides and lowest low tides. This area is a transition from ocean conditions to land conditions.
Method: This research uses descriptive research type, which is to express information descriptively about diversity and species distribution patterns.
Results: This study shows that mangrove crabs found in the mangrove forest area were 2 species, namely 7 species of Scylla sp and 5 species of Scylla oceanica.
Conclusion: This study shows that the diversity level of crabs is low while the distribution pattern of mangrove crabs is said to be clustered.
Downloads
Download data is not yet available.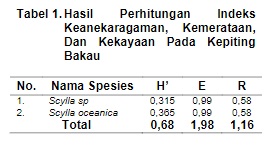 How to Cite
Wally, W., Matdoan, M., & Arini, I. (2020). KEANEKARAGAMAN DAN POLA DISTRIBUSI JENIS KEPITING BAKAU (Scylla Sp) PADA ZONA INTERTIDAL PANTAI DUSUN WAEL KABUPATEN SERAM BAGIAN BARAT. BIOPENDIX: Jurnal Biologi, Pendidikan Dan Terapan, 6(2), 117-120. https://doi.org/10.30598/biopendixvol6issue2page117-120
Copyright (c) 2020 BIOPENDIX: Jurnal Biologi, Pendidikan dan Terapan
This work is licensed under a Creative Commons Attribution-ShareAlike 4.0 International License.