PERBEDAAN HASIL BELAJAR IPA BIOLOGI MENGGUNAKAN MODEL PEMBELAJARAN PROBLEM BASED LEARNING (PBL) DAN GROUP INVESTIGATION (GI)
Ester Stasya Lawalata

Universitas Pattimura

Alwi Smith

Universitas Pattimura

S Liline

Universitas Pattimura
Keywords:
Problem based learning, Group investigation, Learning outcomes, Human digestive system
Abstract
Background: One of the causes of students' lack of understanding of a concept is teacher-centered learning and a lack of motivation from students in following the learning process. Then we need an innovative learning model that can help students in the learning process. To achieve learning objectives, teachers are required to be able to choose suitable learning models to be applied at an educational level.
Method: This research was conducted from January 14 to February 14, 2020 using descriptive methods, student learning outcomes are seen through the final value that is seen based on cognitive aspects (LKS), affective and psychomotor and pre-post test scores. Measurement data were analyzed using the t test formula.
Results: Based on the t test, obtained the results of tcount 1.573 and ttable 2.010, tcount <ttable, the hypothesis (H1) was rejected and (H0) was accepted.
Conclusion: There is no difference in the learning outcomes of students taught using the Problem Based Learning model and Group Investigation on the material of the human digestive system in class VIII SMP Negeri 7 Ambon, but there is an increase in learning outcomes after teaching and learning using the Problem Based Learning and Group Investigation models so the results of the t-test show that tcount <ttable (1.573 <2.010).
Downloads
Download data is not yet available.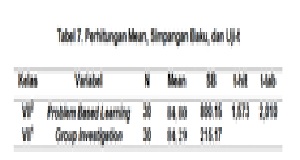 How to Cite
Lawalata, E., Smith, A., & Liline, S. (2019). PERBEDAAN HASIL BELAJAR IPA BIOLOGI MENGGUNAKAN MODEL PEMBELAJARAN PROBLEM BASED LEARNING (PBL) DAN GROUP INVESTIGATION (GI). BIOPENDIX: Jurnal Biologi, Pendidikan Dan Terapan, 6(1), 12-20. https://doi.org/10.30598/biopendixvol6issue1page12-20
Copyright (c) 2019 BIOPENDIX: Jurnal Biologi, Pendidikan dan Terapan
This work is licensed under a Creative Commons Attribution-ShareAlike 4.0 International License.