STRUKTUR MORFOMETIK BERBAGAI JENIS DAUN TANAMAN MANGGROVE DI DESA HULALIU
Keywords:
Mofometric Structure, Mangrove Leaves
Abstract
Background: Mangrove forests are a unique type of forest and grow along beaches or river mouths that are affected by t ides and are often called mangrove forests. Method s : This research was conducted using a descriptive research type. The population observed in this study were various types of mangrove plants with a site length of 100 m and a site width of 50 m. Results : Ca lculation of maggrove morphometric averages on leaf thickness, leaf area and stalk length obtained the highest measurement results for Bruguiera gymnorrhiza 3.21 mm (leaf thickness), 40.04 mm (leaf area), 4.19 mm ( stalk length). While the lowest measureme nt results for leaf thickness were the plant species Rhizophora apiculata with a result of 1.44 mm, for leaf area the lowest measurement results were obtained for the type Sonneratia alba, and the results for measuring the length of the petiole were the pl ant type Sonneratia caseolaris with a result of 0.95. From the results of observations made on the plants Ceriops zippoliana, sonnerati caseolaris, bruguiera gymnorrhiza, rhizophora apiculata, rhizophora stylosa, avicennia marina, sonneratia alba Conclusio n : Each plant has a different leaf shape, leaf margin and leaf base shape because the morphology of these plants is different
Downloads
Download data is not yet available.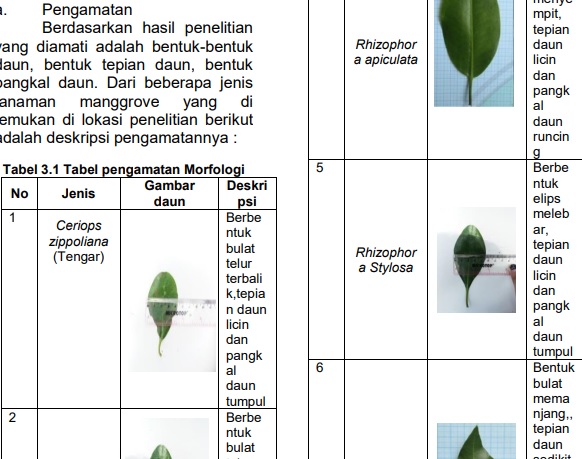 How to Cite
Tuaputty, H., Smith, A., & Tuanakotta, R. (2022). STRUKTUR MORFOMETIK BERBAGAI JENIS DAUN TANAMAN MANGGROVE DI DESA HULALIU. BIOPENDIX: Jurnal Biologi, Pendidikan Dan Terapan, 9(1), 132-140. https://doi.org/10.30598/biopendixvol9issue1page132-140
Copyright (c) 2022 BIOPENDIX: Jurnal Biologi, Pendidikan dan Terapan
This work is licensed under a Creative Commons Attribution-ShareAlike 4.0 International License.