INTEGRASI MODEL PEMBELAJARAN RESISTASI DAN FIELD TRIP TERHADAP HASIL BELAJAR DAN BERPIKIR KRITIS PADA KONSEP MATA KULIAH BIOSISTIMATIKA DAN EVOLUSI MAHASISWA SEMESTER VI PROGRAM STUDI PENDIDIKAN BIOLOGI
Hasan Tuaputty

Syahran Wael
Keywords:
learning method, resistasi, field trip
Abstract
Background: Technological developments must be in line with lecture methods that make students have
the ability to study independently, learn to be more interesting, interactive, and easy to do, such as the
integration of the Resistasi lecture method and Field Trip learning methods which provide the widest
opportunity for students to find and have the concept or material being studied. The purpose of this research
is to apply the recitation lecture method (assignment) and also the Field Trip method (tourist visits to certain
places).
Methods: This study uses a descriptive type by applying the Resistasi and Field Trip methods to the
concept or material of Biosystematics and Evaluation involving 31 students in the sixth semester of the
Biology Education Study Program. Assessment is carried out on student learning outcomes and creative
thinking is carried out by considering (1) the ability of students to carry out the integration of the Resistance
and Field Trip methods (2) The ability of students to answer critical thinking questions (3) The ability of
students to solve biosystematic and evolutionary knowledge questions (4 ) Assessment of skills and
attitudes during the integration of the Resistance Method and Field Trip. To determine the effect of the
integration of the Resistasi and Field Trip methods, using the SPSS 20 program of Anova.
Results: The Anova test on the integration of resistasi and field trip methods has an effect on mastery of
knowledge and critical thinking skills in biosystematics and evolution courses where the significant value is
0.000, and the standard knowledge of coofecients beta is 0.802.
Conclusion: the application of the integration course of the Resistasis and Field Trip methods on
biosystematics and evolutionary course materials for students of the biology education study program
showed a very good score.
Downloads
Download data is not yet available.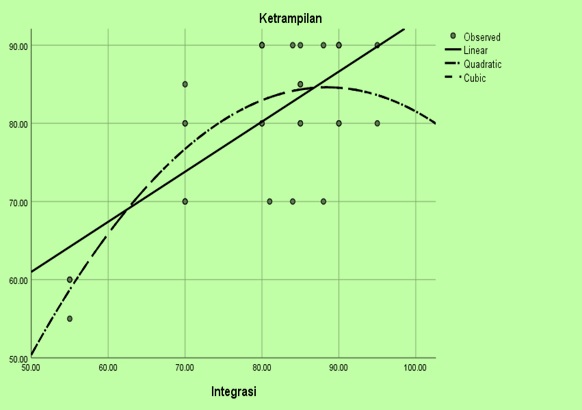 How to Cite
Tuaputty, H., & Wael, S. (2022). INTEGRASI MODEL PEMBELAJARAN RESISTASI DAN FIELD TRIP TERHADAP HASIL BELAJAR DAN BERPIKIR KRITIS PADA KONSEP MATA KULIAH BIOSISTIMATIKA DAN EVOLUSI MAHASISWA SEMESTER VI PROGRAM STUDI PENDIDIKAN BIOLOGI. BIOPENDIX: Jurnal Biologi, Pendidikan Dan Terapan, 9(1), 30-44. https://doi.org/10.30598/biopendixvol9issue1page30-44
Copyright (c) 2022 BIOPENDIX: Jurnal Biologi, Pendidikan dan Terapan
This work is licensed under a Creative Commons Attribution-ShareAlike 4.0 International License.