Oleanan Derivate Compounds From Melochia umbellata (Houtt) Stapf var. Degrabrata K Bark And Their Bioactivity
Senyawa Turunan Oleanan dari Kulit Batang Melochia umbellata (Houtt) Stapf var. Degrabrata K dan Bioaktivitasnya
Usman Usman

Chemistry Education Department, Faculty of Teacher and Training, Mulawarman University

Nunuk H. Soekamto

Department of Chemistry, Faculty of Mathematics and Natural Science, University of Hassanuddin-Indonesia

Hanapi Usman

Department of Chemistry, Faculty of Mathematics and Natural Science, University of Hassanuddin-Indonesia

Ahyar Ahmad

Department of Chemistry, Faculty of Mathematics and Natural Science, University of Hassanuddin-Indonesia
Keywords:
Oleanan, M. umbellata, NMR, LC50, inhibition
Abstract
Oleanan derivated 3-acetyl-12-oleanen-28-oat has been isolated from the n-hexane fraction of M. umbellata
(Houtt) Stapf var. degrabrata K. bark. The molecular structure were determined by IR spectroscopy, 1D and 2D
NMR (1H, 13C, DEPT, COSY, HMQC and HMBC) data analysis. Bioactivity tested results indicated that the
compound was toxic to A. salina with LC50 value was 361.93 mg/mL. At the concentration of 1000 mg/mL 3acetyl-12-oleanen-28-oat gave the highest inhibition to bacteria B. subtilis and the fungus C. albicans with the inhibited zone diameter was 15.8 mm and 15.2 mm, res.
Downloads
Download data is not yet available.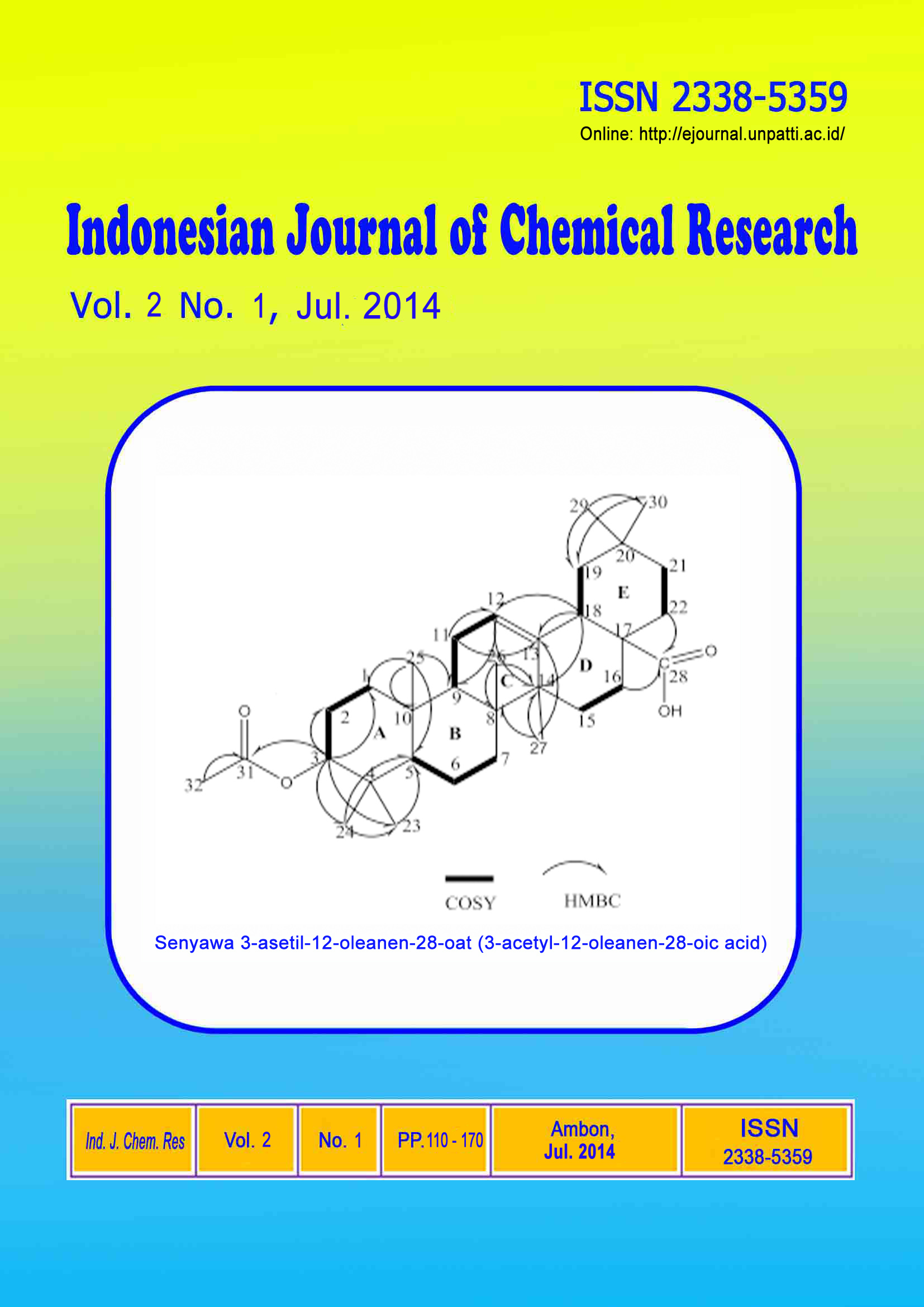 How to Cite
(1)
Usman, U.; Soekamto, N.; Usman, H.; Ahmad, A. Oleanan Derivate Compounds From Melochia Umbellata (Houtt) Stapf Var. Degrabrata K Bark And Their Bioactivity. Indo. J. Chem. Res. 2014, 2, 110-115.
Section
Artikel singkat (Short communication)