Sintesis Senyawa N-fenetil 4-O-asetil ferulamida dari Asam Ferulat melalui Reaksi Amidasi Tidak Langsung
Synthesis of Compound N-Phenetyl 4-O-Acetyl Ferulamide From Ferulic Acid Through Indirect Amidation Method
Muhammad Fajar Islam

Department of Chemistry, Faculty of Mathematics and Natural Science, University of Hassanuddin-Indonesia

Firdaus Firdaus

Department of Chemistry, Faculty of Mathematics and Natural Science, University of Hassanuddin-Indonesia

Nunuk H. Soekamto

Department of Chemistry, Faculty of Mathematics and Natural Science, University of Hassanuddin-Indonesia
Keywords:
N-phenetyl 4-O-acetyl ferulamide, ferulic acid, indirect amidation
Abstract
Compound N-phenetyl 4-O-asetil ferulamide had been synthesized from ferulic acid and phenetylamine through esterification and indirect amidation method. Esterification reaction of ferulic acid with anhydride acetate was done in pyridine solvent at room temperature. Indirect amidation was perform by chlorination using tionyl chloride in benzene solvent at 70°C and continued by amidation with phenetylamine, catalyzed by pyridine in dichloromethane solvent at room temperature. the compound obtained is brown yellowish crystal with melting point 118-120°C. The rendemen of target compound is 53.81%.
Downloads
Download data is not yet available.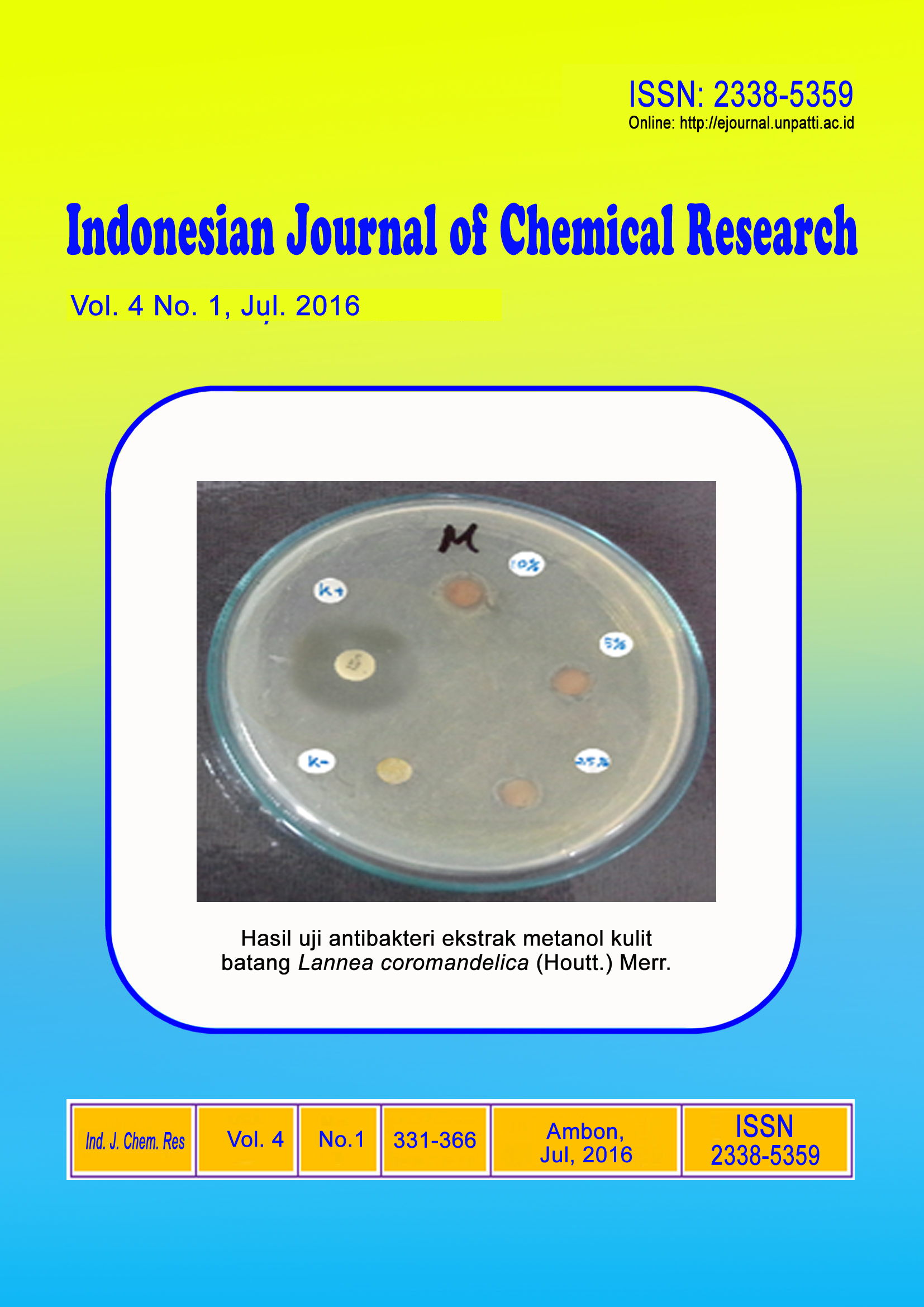 How to Cite
(1)
Islam, M.; Firdaus, F.; Soekamto, N. Sintesis Senyawa N-Fenetil 4-O-Asetil Ferulamida Dari Asam Ferulat Melalui Reaksi Amidasi Tidak Langsung. Indo. J. Chem. Res. 2016, 4, 344-347.
Section
Artikel singkat (Short communication)