THE STUDY OF ADMINISTRATION EXTRACT KEBAR'S GRASS ON NUMBER LEYDIG CELLS AND SERTOLI CELLS IN RAT Rattus norvegicus THAT EXPOSED WITH CIGARETTE SMOKE
Adrien Jems Akiles Unitly

Universitas Pattimura
Keywords:
Cigarette smoke, Kebar grass, Leydig cells, Sertoli cells
Abstract
This research aimed to study on the microscopic changes of number leydig cells and sertoli cells. A factorial CRD with periode of treatment and sample collection was applied in this study. An exposure of cigarette smoke was carried out at 10 cigarettes/rat/day for 2.5 hours in a smoking chamber. Extract kebar's grass given was 0.0945 mg/g body weight/day. Twenty seven (27) of male rats were divided into four groups. N group was untreated animals, 20h group is group that was expose to cigarette smoke for 20 days then given administration extract kebar's grass for 20 days and stopping treatment for 20 days and 60h group is group that was expose to cigarette smoke for 60 days then given administration extract kebar's grass 60 days and stopping treatment for 60 days. Data collection was carried out at twice that after cigarette smoke exposure (T0), second after administration extract kebar's grass (T1) and third after stopping treatment (T2). The parameters measured were the number of leydig cells and sertoli cells. That increasing number leydig cells and sertoli cells of rat exposed to cigarette smoke after giving seaweed extract kebar's grass for 20 days and 60 days
Downloads
Download data is not yet available.
References
K. Riveles, R. Roza, P. Talbot. Phenol, quinolines, indoles, benzene, and 2-cyclopenten-I-ones are oviductal toxicants in cigarette smoke. Toxicol Sci. 17:267-272. 2005.
R. R. Baker. Smoke generation inside a burning cigarette : Modifying combustion to develop cigarettes that may be less hazardous to health. Progress in Energy and Combustion Science. 32: 373–385. January. 2006.
L. Arcavi and N. L. Benewitz. Cigarette smoking and infection. Arch Intern Med. 164:2206-2216. 2004.
V. Pavlovic, S. Cekic, G. Rankovic & N. Stoiljkovic. Antioxidant and Pro-oxidant Effect of Ascocbic Acid. Acta Medica Medianae. 44 (1): 65-69. 2005.
P. D. Sadsoeitoeboen. Manfaat Ekstrak Rumput Kebar (Biophytum petersianum) terhadap Penampilan Reproduksi Mencit Putih Betina. [Tesis]. Bogor: Institut Pertanian Bogor. 2005.
D. R. Laurence and A. L. Bacharach. Evaluation of Drug Activites. Pharmacometrics. New York: Academic Press. 1986.
A. E. Archibong, A. Ramesh,. M. S. Niaz, C. M. Brooks, S. I. Roberson, and D. D. Lunstra. Effects of Benzo(a)pyrene on Intra-testicular Function in F-344 Rats. Int J Environ Res Public Health 5(1): 32–40. 2010.
L. Rahmawati. Pengaruh Nikotin Terhadap Jumlah Sel Leydig Pada Mencit (Mus musculus). J. Stomatognatic (J. K. G Unej) Vol. 10 No. 2 2013: 82-85. 2013.
P. Bizarro, S. Acevedo, N. G. Cabrera, P. Mussali-Galante, F. Pasos, M. R. Avilacosta, T. I Fortoul. Ultrastructural Modification in the Mitochondrion of Mouse Sertoli Cells after Inhalation of Lead, cadmium, or Lead – cadmium mixture. Reproductive Toxicology 17. 561-566. 2003.
H. Trummer, H. Habermann, J. Haas, and K. Pummer. The Impact of Cigarette Smoking on Human Semen parameters and hormones. Human Reproduction Vol.17. no 6. Pp 1554-1559. 2002.
J. Darnell and D. Baltimore. Moleculer Cell Biology Second Edition. Am Books. Sci. 1990.
S. Hardijanto, Susilowati, T. Hernawati, T. Sardjito dan T. W. Suprayogi. Buku Ajar Inseminasi Buatan. Surabaya: Airlangga University Press. 2010.
S. J. Meachem and E. Nieschlag. Inhibin B in Male Reproduction : Pathophysiology and Clinical Relevance.Journal Endocrinology, 145 : 561-571. 2001.
F.S. Grasspan and J. D. Baxter. Endokrinologi Dasar dan Klinik. Jakarta: Penerbit Buku Kedokteran EGC. 1994.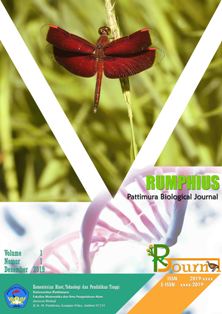 How to Cite
[1]
UnitlyA., "THE STUDY OF ADMINISTRATION EXTRACT KEBAR'S GRASS ON NUMBER LEYDIG CELLS AND SERTOLI CELLS IN RAT Rattus norvegicus THAT EXPOSED WITH CIGARETTE SMOKE", RPBJ, vol. 1, no. 1, pp. 008 - 011, Feb. 2019.
Penulis yang mengusulkan naskah dan telah disetujui untuk diterbitkan telah mengetahui bahwa naskah tersebut akan terdata dan menjadi bagian dari RPBJ. Penulis dan Pembaca mengetahui bahwa jurnal ini bersifat terbuka dan semua kontennya dapat diakses secara bebas, dengan syarat tetap mencantumkan RPBJ sebagai sumber pemberi informasi. Harapannya, jurnal ini dapat menjadi wahana pertukaran informasi dan pengetahuan ilmiah bagi masyarakat maupun komunitas scientist khususnya di bidang Biologi dan cabang ilmu.