USING CONCEPT MAPPING TECHNIQUE TO IMPROVE STUDENTS' READING COMPREHENSION AT THE FIRST GRADE OF SMA NEGERI 7 AMBON
Stella Rose Que

Universitas Pattimura
Keywords:
Concept Mapping Technique, Reading Comprehension
Abstract
Reading is complex interaction between the reader and text. Actually reading is not a simple one, because in this skill, students do not only read a text but also try to understand the message or information about the text they learn. In reading process students must know what they get from a passage. This study was conducted to determine students' improvement in reading comprehension by using concept mapping Technique. The result shows that this technique can be used to improve students reading comprehension of SMA Negeri 7 Ambon especially class X is successful. Although there were some problems which raised during teaching learning process but collaboration between English teacher and the writer help this study going smoothly. Through the technique the students can organize and identify information deeply in the text before they come to reading activity. Besides, this technique has good influenced in group discussion where the students can share their ideas and work actively to fill concept mapping sheet. The students also show positive responses toward Concept Mapping technique in the teaching learning process so the result in the class is more lively and enjoyable
Downloads
Download data is not yet available.
References
Asan,A. (2007).Concept Mapping in Science Class: A Case Study of fifth grade students.Educational Technology & Society .Retrieved on June 18, 2010
Constanta,T.I.(2006).Jurnal Tahury,Vol 3,No1,Hal.31.FKIP Universitas Pattimura
Dolehanty, C. (2008). Concept Mapping and Reading Comprehension. http://els.earlham.edu//gpe/files/30/150/CherieD2008.pdf. Retrieved on June 10, 2010
Duke. Nell. K & Pearson. P. D (2002). Effective Practices for Developing Reading Comprehension. Retrieved on June 10, 2010 Available at: red_c7_16r_pa_duke_Pdf
Eric. D (2007). Concept mapping: a graphical system for understanding the relationship between concepts. http://www.ericdegests.org/1998-1/concept.htm. Download in July 10 2008
Fadillah, E. (2008). Improving Reading Comprehension of the eleventh grade students Tambak beras Jombang. Retrieved on July 20, 2010, from http://Karya Ilmiah.um.ac.Id/INDEX.php/disertasi/article/view/4486 Just read now. (n.d). Retrieved on June 10, 2010 from http://www.justreadnow.com/strategies/analysis/htm
Khand, Zianudin. (2004). Teaching Reading Skill; Problem and Suggestion. http://www.teachingreadingskills.edu. Retrieved on July 8, 2010.
Klinger,J. K. Vaugh, S. & Boardman, A. (2007). Teaching Reading Comprehension to students With Learning Difficulties. New York : The Guilford Press.
National Reading Panel.2000.Teaching children to read: an evidence Based assessment of the scientific research literature on reading and its implications for reading instruction. Rockville,MD ;
National Institute of ChIld Health and Human Development Available at: http://www.nichd.nih.gov/publication/nrp/report.htm
Pang, E. S., Bernhardt, B. E, & Kamil , M. (n.d). Teaching Reading. Retrieved on July 15, 2010 from International Academy of Education
Sujana, N. (1989). Penelitian proses belajar mengajar. Bandung : PT Remaja Rosdakarya
Tankersley, K. (2003).The Threads of Reading, Strategies for Literacy Development Association for Supervision and Curriculum Development, Virginia, USA.
Tannenbaum, R .K., Torgesen, K. J.,& Wagner, k. R.(2006).Relationship between Word Knowledge and Reading Comprehension. Florida state university: Lawrence Erlbaum Associated, Inc.
Teaching concept mapping. Retrieved on June 11, 2010 from www.delta-education.com/downloads/sampleseeds/122804
Wikipedia. "Concept mapping and reading comprehensionâ€. Retrieved on July 10, 2010 https://en.wikipedia.org/wiki/concept map.downloads
Wikipedia. (2008) Reading (process).Retrieved on July 10, 2010, from http://en.wikipedia.org/wiki/Reading% 28 process %29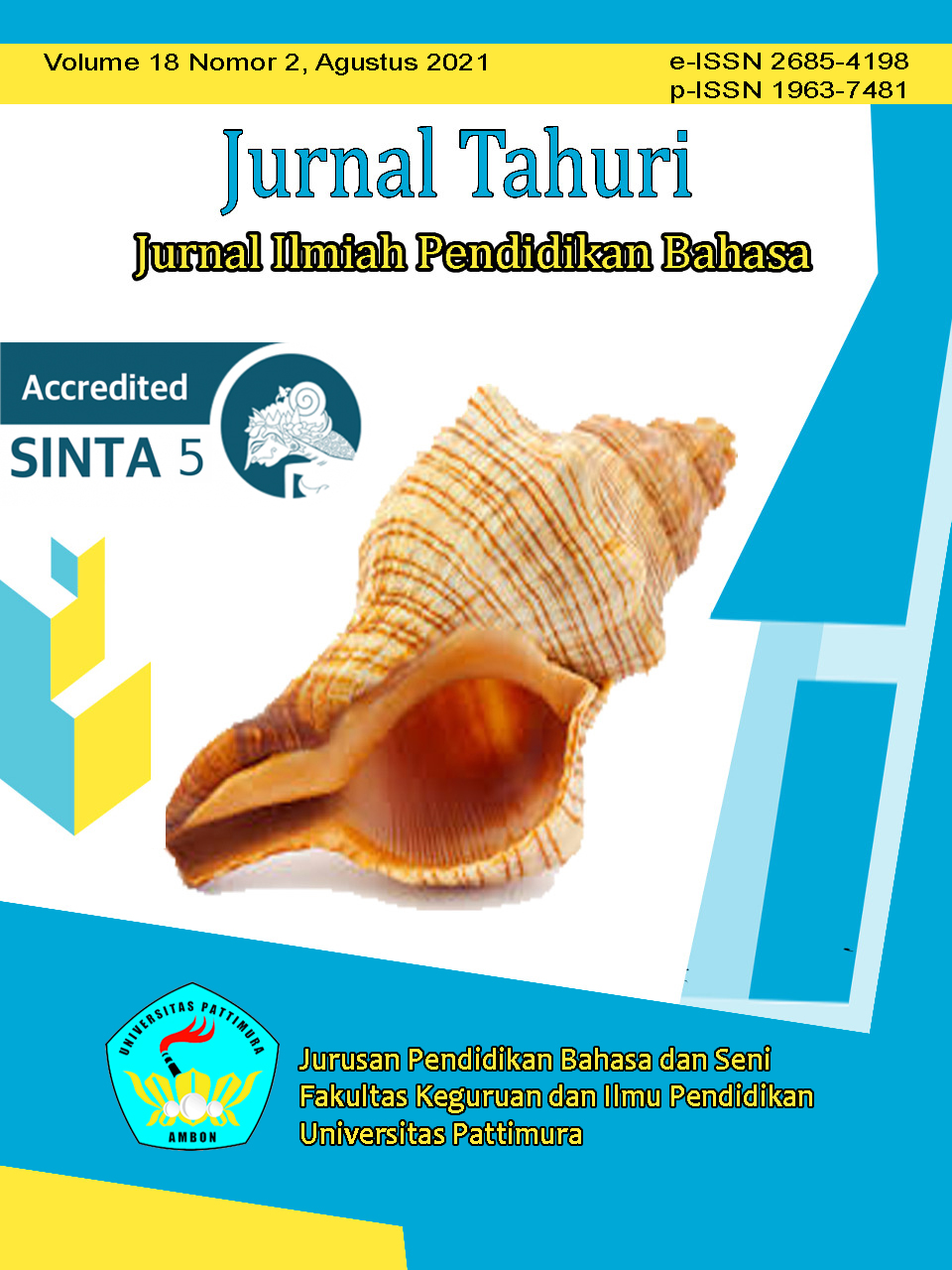 How to Cite
QueS. (2021). USING CONCEPT MAPPING TECHNIQUE TO IMPROVE STUDENTS' READING COMPREHENSION AT THE FIRST GRADE OF SMA NEGERI 7 AMBON. JURNAL TAHURI, 18(2), 1-13. https://doi.org/10.30598/tahurivol18issue2page1-13
Copyright (c) 2021 JURNAL TAHURI
This work is licensed under a Creative Commons Attribution-ShareAlike 4.0 International License.
Dilarang menjiplak atau memperbanyak naskah untuk kepentingan apapun juga, terima kasih