BOARD RACE GAME AS AN ALTERNATIVE STRATEGY IN TEACHING VOCABULARY
Salmon J Hukom

Universitas Pattimura
Keywords:
Board Race Game, Teaching Strategy, Vocabulary
Abstract
Like other components of language in teaching, vocabulary needs special teaching strategy from teacher in order to make the students enrich the number of their vocabulary. This paper aims to discuss board race game as an alternative teaching strategy of vocabulary. Many experts and researchers have conducted studies about this game in teaching vocabulary and the results show significant improvement toward the enrichment of vocabulary after implementing board race game. The board race game has exciting steps in which they can encourage the students to become more active in teaching vocabulary. This game also presents new atmosphere in teaching and learning since it motivates the students to compete one another fairly
Downloads
Download data is not yet available.
References
Alqahtani. 2015. The importance of vocabulary in language learning and how to be taught. International Journal of Teaching and Education, III(3), pp. 21 - 34.
Berne,J.I.&Blachowicz,C.L.Z.(2008).WhatReadingTeachersSayAboutVocabulary Instruction: Voices From the Classroom.TheReadingTeacher 62 (4):314-323. https://www.researchgate.net/publication/228626576_ What_Reading_Teachers_Say_About_Vocabulary_Instruction_Voices_ From_ the_ Classroom
Cameron, L. 2001. Teaching languages to young learners. Cambridge: Cambridge University Press
Crandall, J. 1998. Collaborate and cooporate: Teacher education for integrating language and contentinstruction. English Teaching Forum, 36 (1).
Halliwell, S. 1992. Teaching English in the Primary Classroom. New York: Longman.
Kusumawati,FitriPalupi.(2017).Boardracetobooststudents'vocabularymastery.Proceedings of the 1st INACELT(International Conference on English Language Teaching), 113-20.http://digilib.iainpalangkaraya.ac.id /948/1/11.%20Fitri%20Palupi%20Kusumawati%20113-120.pdf
Harmer, Jeremy. 1991. The Practice of English Language Teaching New Edition. New York: Longman
Jacobs, G. M., & Kline, L. K. (1996). Integrating language functions and collaborative skills in the second language classroom. TESL Reporter, 29, 21-33.
Lander,Emma. (2013). 10 Best ESL Games for English Teachers Abroad. https://www.gooverseas.com/blog/10-best-games-esl-teachers
Nagy, W. E., & Scott, J. A. (2000). Vocabulary processes. In M. L. Kamil, P. Mosenthal, P. D. Pearson, & R. Barr (Eds.), Handbook of reading research (Vol. 3, pp. 269-284). Mahwah, NJ: Erlbaum.
Nation, I.S.P. (2001). Learning Vocabulary in Another Language. Cambridge: Cambridge University Press.
Octaviani, Risa, et. al. 2019. Applying Board Race Game to Increase Students' Vocabulary Mastery in Uttayan Suksa Krabi School, Thailand. Journal of English Education Studies, Vol. 2, No. 2.
Pikulski,J.J.&Templeton,Shane.(2004).TeachingandDevelopingVocabulary:Keyto Long-TermReadingSuccess.HoughtonMifflinCompany,1-15.
Riedle, C.. (2008). Web 2.0: helping reinvent education. Available at http://www.thejournal.com/articles/21907.
Schmitt, N. (1998). Tracking the Incremental acquisi- tion of second language vocabulary: A longitudi- nal study. Language Learning, 48, 281–317
Schultz, M. and A. Fisher. 1988. Interacting in the Language Classroom. Games for All Reasons. Massachusetts: Addison-Wesley Publishing Company.
Siriwan,Mayuree.(2013).''English Vocabulary Learning Strategies Employed By Rajabhat University Students''. Technology Faculty. Surananee University
Stahl, S. (2005). Vocabulary Development. Newton Upper Falls, MA: Brookline Books.
Thornbury,Scott.How to Teach Vocabulary. Bluestone Press, Charlbury,Oxfordshire, UK.90 and 159, www.longman.com
Walters,J.M.(2004)'Teachingtheuseofcontexttoinfermeaning:Alongitudinalsurvey ofL1andL2vocabularyresearch'.LanguageTeaching,37(4),pp.243-252
Wright, Betteridge, and Buckby. 1994. Games for language Learning. Cambridge: Cambridge University Press.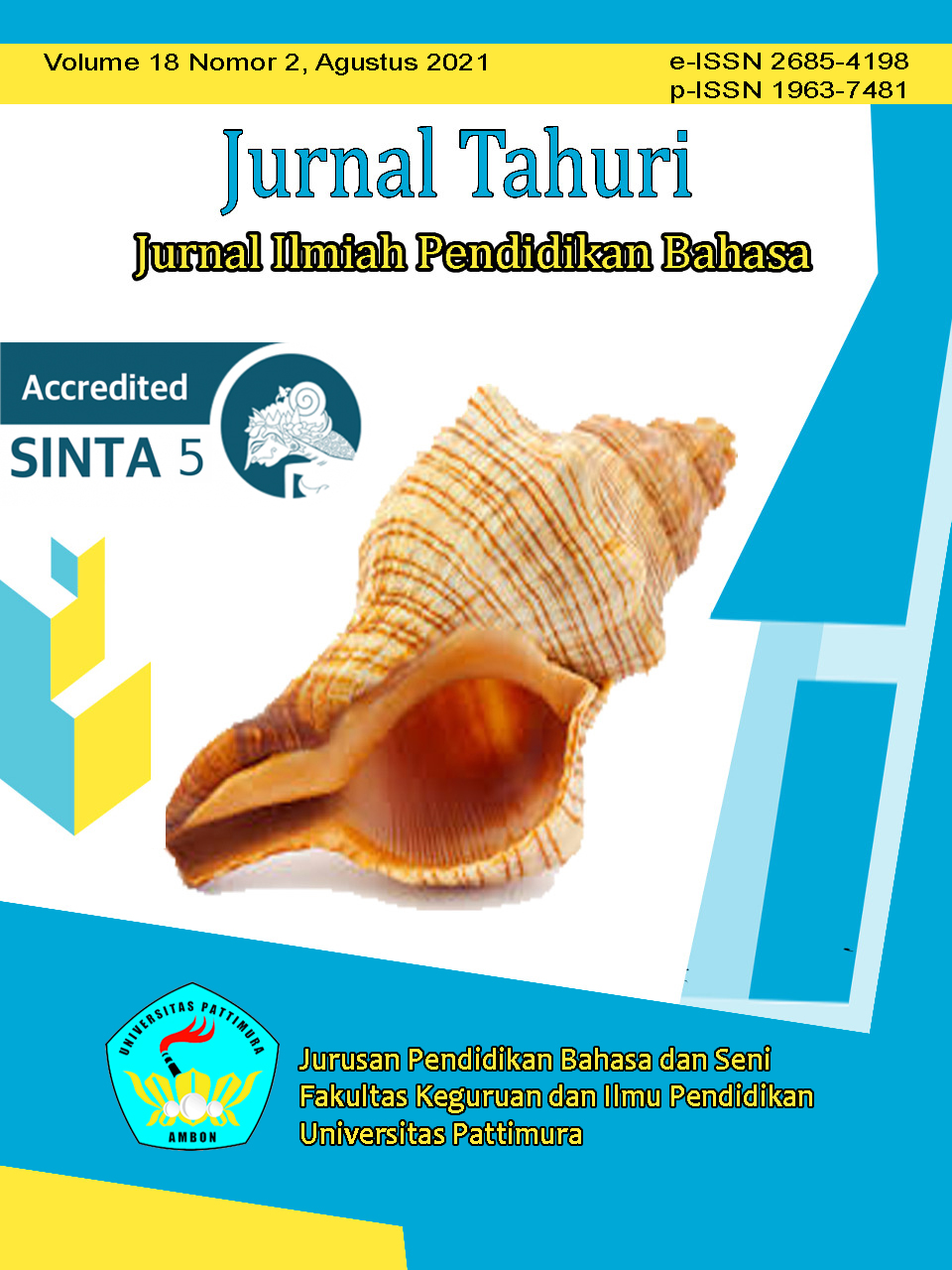 How to Cite
HukomS. (2021). BOARD RACE GAME AS AN ALTERNATIVE STRATEGY IN TEACHING VOCABULARY. JURNAL TAHURI, 18(2), 49-55. https://doi.org/10.30598/tahurivol18issue2page49-55
Copyright (c) 2021 JURNAL TAHURI
This work is licensed under a Creative Commons Attribution-ShareAlike 4.0 International License.
Dilarang menjiplak atau memperbanyak naskah untuk kepentingan apapun juga, terima kasih