CAUSES OF CODE MIXING IN INTERACTION LEARNING INDONESIAN FOR CLASS VIII SMP NEGERI 1 AMBON
Novita Tabelessy

Universitas Pattimura

Sarleoky Umkeketony

Universitas Pattimura
Keywords:
learning, code mixing, interaction, teacher, students, causal factors
Abstract
Code mixing occurs when a speaken using a language predominantly supports a speech inserted wih other language elements. This is usually related to the characteristics of the speaker, such as social background, education level, religious taste, this is what experienced by class VIII students of SMP Negeri 1 Ambon. Factors causing code mixing in Indonesian language learning interactions are object of research. The type of research used is descriptive qualitative research, by using the method of observation, field notes and interviews. The data validity technique used by the researcher is the triangulation of sources and theories, and to analyze the factors causing code mixing in Indonesian language learning interactions, the researcher used three stages, namely data presentation, data description process, and verification or making conclusions. The research results found by the researcher were three factors that caused code mixing in the interaction of Indonesian language learning by class VIII students of SMP Negeri 1 Ambon, and the results prove that it is not only students who produce mixed codes in the learning process, but the teacher also produces mixed codes when communicating with students. The process of mixing codes produced by the teacher and students was apparently done unconsciously
Downloads
Download data is not yet available.
References
Chair Abdul, Agustina Leonie. 2014. Sosiolinguistik Perkenalan Awal. Jakarta. Reka Cipta.
Kamus Besar Bahasa Indonesia. 2016
Moleong, Lexy. 2017. Metodologi Penelitian Kualitatif. Bandung: Rosda
Suandi Nengah I. 2014. Sosiolinguistik. Yogyakarta. Graha Ilmu.
Sugiyono, 2014. Metodologi Penelitian; Kuantitatif, Kualitatif, R&D. Bandung: Alfabetha.
Widya Dewa da Rohmadi. 2012. Sosiolinguistik Kajian Teori dan Analisis. Yogyakarta: Pustaka Pelajar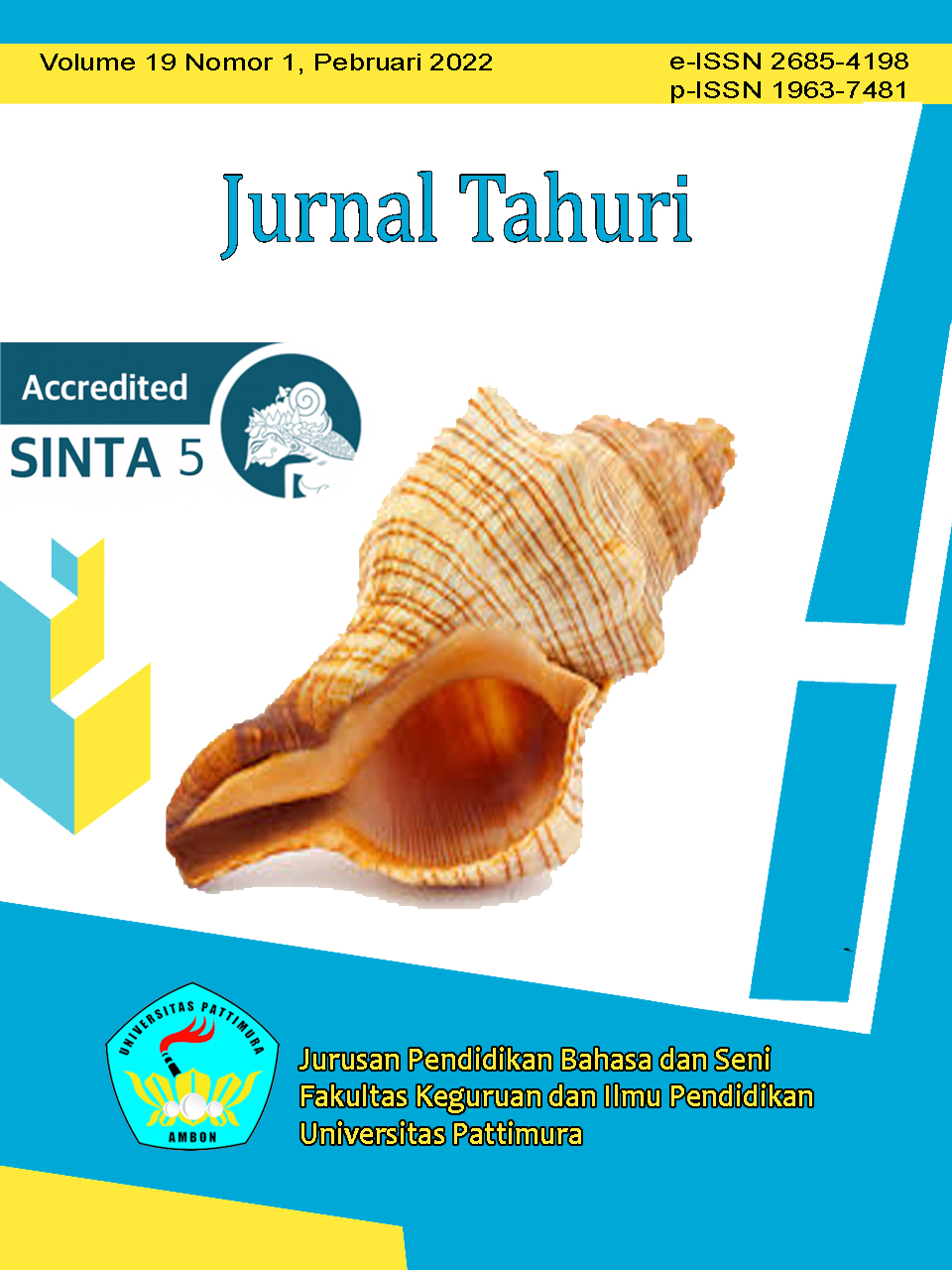 How to Cite
Tabelessy, N., & Umkeketony, S. (2022). CAUSES OF CODE MIXING IN INTERACTION LEARNING INDONESIAN FOR CLASS VIII SMP NEGERI 1 AMBON. JURNAL TAHURI, 19(1), 55-59. https://doi.org/10.30598/tahurivol19issue1page55-59
Copyright (c) 2022 JURNAL TAHURI
This work is licensed under a Creative Commons Attribution-ShareAlike 4.0 International License.
Dilarang menjiplak atau memperbanyak naskah untuk kepentingan apapun juga, terima kasih