Effect of Tapioca Concentration on Chemical and Organoleptic Characteristics of Mustard (Brassica chinensis var. Parachinensis) Crackers
Irfan Umanahu

Jurusan Teknologi Hasil Pertanian, Fakultas Pertanian, Universitas Pattimura, Jl. Ir. M. Putuhena, Kampus Poka, Ambon 97233, Indonesia

Febby J Polnaya

Jurusan Teknologi Hasil Pertanian, Fakultas Pertanian, Universitas Pattimura, Jl. Ir. M. Putuhena, Kampus Poka, Ambon 97233, Indonesia

http://orcid.org/0000-0002-7750-478X

Rachel Breemer

Jurusan Teknologi Hasil Pertanian, Fakultas Pertanian, Universitas Pattimura, Jl. Ir. M. Putuhena, Kampus Poka, Ambon 97233, Indonesia

http://orcid.org/0009-0000-2359-1067
Keywords:
Chemical properties, Mustard organoleptic, Mustard crackers, Tapioca
Abstract
This study aims to determine the best concentration of tapioca against the chemical and organoleptic characteristics of mustard crackers. The study design used a one-factor complete randomized design with four levels of treatment for adding tapioca flour concentrations. The levels of this treatment are tapioca concentrations 60, 80, 100, and 120%. The parameters analyzed are water content test, ash content test, fat content test, fiber content test, and organoleptic test of taste, color, aroma, crunchy, and overall). The results showed that mustard crackers had a water content of 5.14 to 6.79%, ash content of 1.48 to 1.76%, fat content of 11.90 to 15.10%, and fiber content of 7.55% to 9.50%. Panelists, on average, liked mustard crackers treated with 100% tapioca concentration for taste, color, aroma, and crispness. The hedonic quality of mustard crackers showed the value of mustard taste, green color, mustard aroma, and crunchiness. Overall, the panelists liked the mustard crackers with 100% tapioca concentration.
Downloads
Download data is not yet available.
References
Afifah, N. D., & Anjani G. (2012). Sistem Produksi dan Pengawasan Mutu Kerupuk Udang Berkualitas Ekspor. Seminar PATPI Perhimpunan Ahli Teknologi Pangan Indonesia. Universitas Diponegoro Semarang
[AOAC] Association of Official Analytical Chemists. (2012). Official Methods of Analysis of the Association of Official Analytical Chemists. AOAC Inc. Arlington, Virginia.
Aprillita, D., Kristiani, E. B., & Pratiwi, E. (2018). Karakteristik fisikokimia organoleptik kerupuk tapioka dengan fortifikasi tepung cangkang telur ayam. Jurnal Teknologi Pangan dan Hasil Pertanian, 2(13), 31-46.
Fauziah, F. (2022). Produksi dan Pemasaran Kerupuk Daun Kelor (Kelorupuk). Doctoral Dissertation. Politeknik Negeri Jember.
Idealistuti, Suyatno, Mutatauwi'ah. (2021). Pengaruh berbagai formulasi surimi ikan lele sangkuriang (Clarias gariepsinus) terhadap kadar protein dan tekstur pempek. Edible: Jurnal Penelitian Ilmu-ilmu Teknologi Pangan, 10(1), 29-34.
Irawan, Y., Wulandari, Y. W. & Karyantina, M. (2017). Kerupuk sayur dengan variasi konsentrasi bubur sawi hijau (Brassica rapa) dan rasio tepung terigu-tapioka. Jurnal Teknologi dan Industri Pangan 2(1), 1-7.
Jayanti, U., Dasir, & Idealistuti. (2017). Kajian penggunaan tepung tapioka dari berbagai varietas ubi kayu (Manihot esculenta crantz.) dan jenis ikan terhadap sifat sensoris pempek. Edible, 6(1), 59-62.
Johanes, L., Hertanto, Y., Natalia, L., Natalia, F., & Praptono, I. R. A. (2018). Pengaruh penambahan tapioka dan terigu terhadap kadar air pada kerupuk sawi hijau. Seri Teknologi Pengolahan Hasil Nabati B 2, 1-5.
Khamidah, A., & Antarlina, S.S. (2017). Pengaruh Penambahan Pasta Sawi pada Pembuatan Kerupuk. Seminar Nasional dan Gelar Produk, UMM. pp. 1172-1180.
Kurniawan, M., Izzati, M. & Nurchayati, Y. (2010). Kandungan klorofil, karotenoid dan vitamin C pada beberapa spesies tumbuhan akuatik. Buletin Anatomi dan Fisiologi, 18(1), 28-40.
Kusuma, T. D., Suseno, T. I. P., & Surjoseputro, S. (2013). pengaruh proporsi tapioka dan terigu terhadap sifat fisikokimia dan organoleptik kerupuk berseledri. Jurnal Teknologi Pangan dan Gizi, 12(1), 17-28.
Mayasari, N., Ani, H. M., & Kartini, T. (2015). Pemberdayaan perempuan melalui pembuatan kerupuk daun kopi pada masyarakat Desa Harjomulyo Kecamatan Silo Kabupaten Jember. Artikel Ilmiah Mahasiswa, 1(1), 1-12.
Nurainy, F., R. Sugiharto, & D. W. Sari. (2015). Pengaruh perbandingan tapioka dan tepung jamur tiram putih (Pleurotus oestreatus) terhadap volume pengembangan, kadar protein dan organoleptik kerupuk. Jurnal Teknologi Indutri & Hasil Pertanian, 1(20), 11-24.
Polnaya, F. J., Breemer, R., Augustyn, G. H., & Tuhumury, H. C. D. (2015). Karakteristik sifat-sifat fisiko-kimia pati ubi jalar, ubi kayu, keladi dan sagu. Agrinimal: Jurnal Ilmu Ternak dan Tanaman, 5(1), 37-42.
Rofiq, M., & Ernawati. (2017). Proporsi penambahan tepung tapioka dan lama perebusan terhadap kualitas pempek ikan belut (Monopterus albus). Jurnal Teknologi Pangan, 8(1), 9-16.
Rosidah & Afizia, W. M. (2012). Potensi ekstrak daun jambu biji sebagai antibakterial untuk menanggulangi serangan bakteri Aeromonas hydrophila pada ikan gurame (Osphronemus gouramy Lacepede)'. Jurnal Akuatika, 3(1), 19-27.
Sinar Tani. (2013). Pemanfaatan Limbah Pasar sebagai Pakan Ruminansia Sapi dan Kambing di DKI Jakarta. Hal 10-16. Edisi 4-10 September 2013. No. 3522 Tahun XLIV. Agroinovasi. Badan Litbang Pertanian.
Sudarmadji, S., Haryono, B. & Suhardi. (1997). Prosedur Analisis untuk Bahan Makanan dan Pertanian. Liberty. Yogyakarta.
Tahir, S. (1985). Mempelajari Pembuatan dan Karakteristik Kerupuk Tepung Sagu (Metroxylon sago R.). Skripsi. Fakultas Pertanian, Institusi Pertanian Bogor. Bogor
Teguh, L., Asep, Y., Indira, L. K., & Wahyu, K. S. (2020). Perancangan Mesin Pemipih Adonan Kerupuk Daun Singkong. Prosiding Semnas Pertanian 2020.
Ulfah, T., Pratama, Y., & Bintoro, V.P. (2018). Pengaruh proporsi kemangi terhadap aktivitas air (aw) dan kadar air kerupuk kemangi mentah. Jurnal Teknologi Pangan, 2(1), 55–58.
Wahyono. (2002). Orentasi Pasar dan Inovasi: pengaruh terhadap kinerja pemasaran. Indonesian Journal of Marketing Science, 2(2).
Wahyuningtyas, N., Basito, & Atmaka, W. (2014). Kajian karakteristik fisikokimia dan sensoris kerupuk berbahan baku tepung terigu, tapioka dan tepung pisang kapok kuning. Jurnal Teknosains Pangan, 3(2), 76-85.
Widati, A. S., Widyastuti, E. S., Rulita, & Zenny, M. S. (2011). The effect of addition tapioka starch on quality of chicken meatball chip with vacuum frying method. Jurnal Ilmu-ilmu Peternakan, 21(2), 11-27.
Winarno, F.G. (2004). Kimia Pangan dan Gizi. Gramedia Pustaka Utama. Jakarta.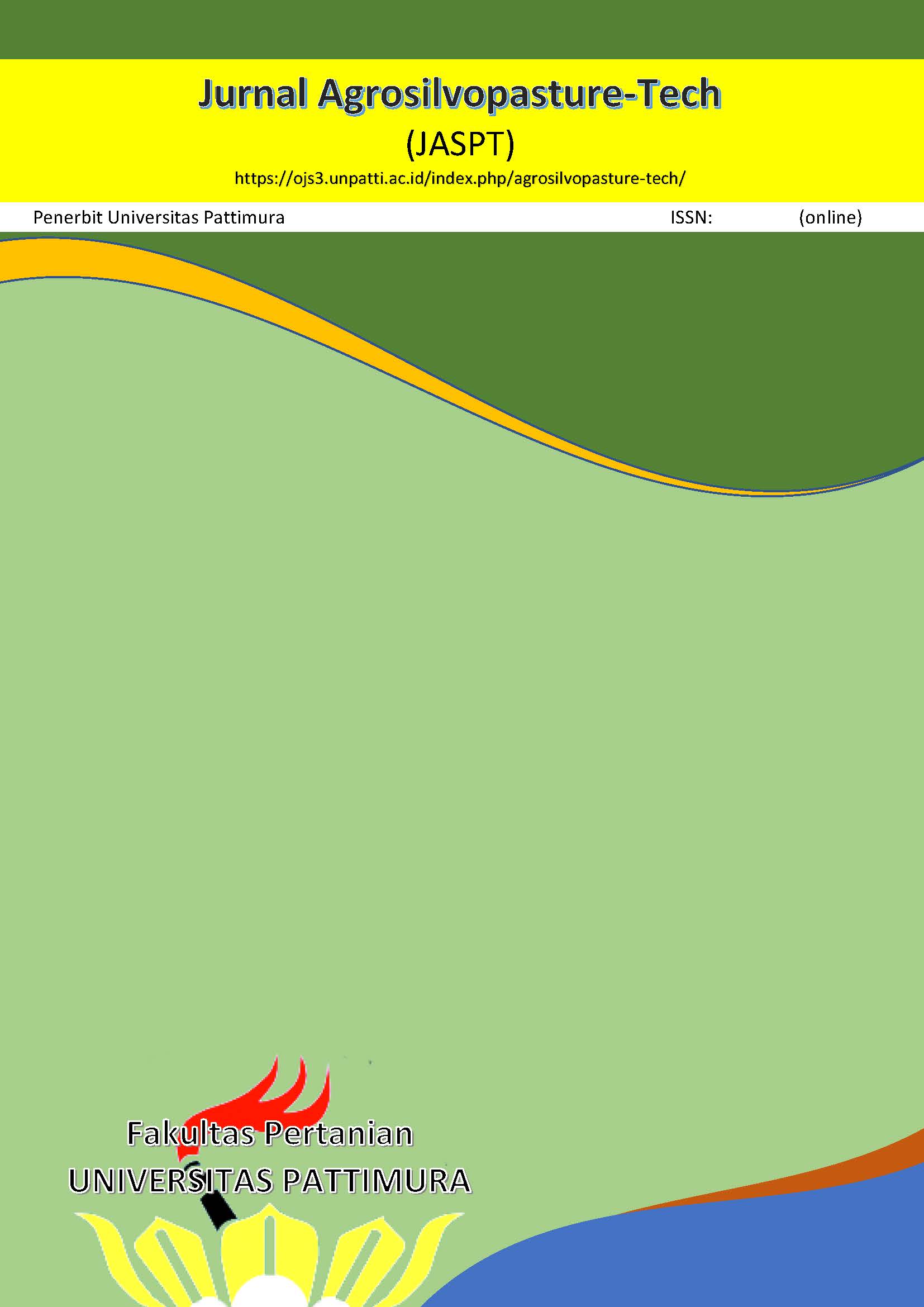 How to Cite
Umanahu, I., Polnaya, F., & Breemer, R. (2023). Effect of Tapioca Concentration on Chemical and Organoleptic Characteristics of Mustard (Brassica chinensis var. Parachinensis) Crackers. Jurnal Agrosilvopasture-Tech, 2(2), 240-247. https://doi.org/10.30598/j.agrosilvopasture-tech.2023.2.2.240
Copyright (c) 2023 The Author(s)
This work is licensed under a Creative Commons Attribution-ShareAlike 4.0 International License.