KELIMPAHAN DAN KARAKTERISTIK BAKTERI KOLIFORM PADA BAKASANG BIA GARU (Tridacna gigas L) BERDASARKAN JENIS BAHAN PENGAWET
Keywords:
Clams bakasang, Coliform, Palmyra vinegar, Preservative
Abstract
Background: Giant clam or bia garu is a kind of bivalves in the coral ecosystems. This biota is used as the raw material for processing bakasang by the people of the Babar Islands in Maluku. Preservatives used in the processing of bakasang are depend on the habits of the people. This study aims to determine the number and characteristics of coliform bacteria in clams bakasang based on the type of preservative. Methods:The presumptive test used the Most Probably Number (MPN) method on Lactose broth followed by characterization on Eosin Methylene Blue Agar (EMBA) media. Result: The number of coliform bacteria in clams bakasang using palmyra vinegar was 20 MPN/g while bakasang using salt and vinegar was 150 MPN/g. The macroscopic characterization of coliform bacteria in both types of clams bakasang were metallic green and pink with varying edges and elevations.  In bakasang using palmyra vinegar were also found yellow and white coliform bacteria. The Microscopic characterization of coliform bacteria in clams bakasang was Gram negative rods with varied cell arrangement. Conclusion: It is suspected that these bacteria belong to the genera Citrobacter, Enterobacter, and Escherichia.
Downloads
Download data is not yet available.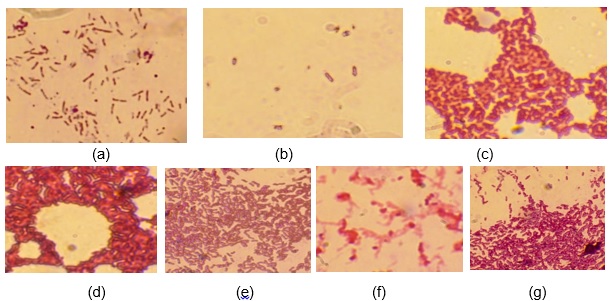 How to Cite
Mahulette, F., Sarak, B., Sangur, K., & Rupilu, R. (2022). KELIMPAHAN DAN KARAKTERISTIK BAKTERI KOLIFORM PADA BAKASANG BIA GARU (Tridacna gigas L) BERDASARKAN JENIS BAHAN PENGAWET. BIOPENDIX: Jurnal Biologi, Pendidikan Dan Terapan, 9(1), 19-23. https://doi.org/10.30598/biopendixvol9issue1page19-23