ANALISIS KADAR KARBOHIDRAT PADA TEH CELUP BERBAHAN DASAR DAUN LAMUN (Enhalus acoroides)
Prelly Marsell Jolanda Tuapattinaya

Ferymon Mahulette

Juen Carla Warella

Rufiati Simal

Nopri Ratusehaka
Keywords:
Seagrass (Enhalus acoroides), Teabags. Carbohydrate
Abstract
Background: Seagrass is the only flowering plant (angiosperm) that has true root and leaf rhizomes that live submerged in the sea. There are 60 species of seagrass scattered in the world's coastal waters, one type of seagrass that can be used by humans is the seagrass Enhalus acoroides. The economic advantage of Enhalus acoroides leaves can be used as a food ingredient because it has a complete and relatively high nutritional content. Enhalus acoroides leaves can be used as raw material for herbal teas. Herbal teas have a high carbohydrate content, for example in Camellia sinensis tea of ​​0.286%, carbohydrates are one of the chemicals that are needed by the human body.
Methods: This study was a descriptive study to determine the value of carbohydrate content in seagrass (Enhalus acoroides) leaf teabags. The research was carried out in March 2022. Sampling of seagrass leaves was carried out in Suli Village, Salahutu District, Central Maluku Regency. The stage of making seagrass teabags was carried out at the Basic Biology Laboratory of FKIP Pattimura University. And the analysis of carbohydrate content was carried out at the Biochemistry Laboratory of the Faculty of Mathematics and Natural Sciences, Pattimura University, Ambon with the type of experimental research.
Results: Based on the observations that have been made, the results showed that the carbohydrate content of TL U1 was 5.148%, TL U2 was 5.211%l, TL U3 was 5.165%. With an average carbohydrate of 5.174%.
Conclusion: Seagrass leaf teabags (Enhalus acoroides) have a high carbohydrate content and can be a new product that is rich in nutrients.
Downloads
Download data is not yet available.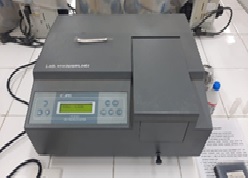 How to Cite
Tuapattinaya, P., Mahulette, F., Warella, J., Simal, R., & Ratusehaka, N. (2023). ANALISIS KADAR KARBOHIDRAT PADA TEH CELUP BERBAHAN DASAR DAUN LAMUN (Enhalus acoroides). BIOPENDIX: Jurnal Biologi, Pendidikan Dan Terapan, 9(2), 232-236. https://doi.org/10.30598/biopendixvol9issue2page232-236
Copyright (c) 2023 BIOPENDIX: Jurnal Biologi, Pendidikan dan Terapan
This work is licensed under a Creative Commons Attribution-ShareAlike 4.0 International License.