PENINGKATAN HASIL BELAJAR PESERTA DIDIK PADA MATERI OPERASI HITUNG BILANGAN PECAHAN DENGAN MENGGUNAKAN MODEL PEMBELAJARAN KOOPERATIF TIPE TEAM ASSISTED INDIVIDUALIZATION DI KELAS VII SMP NEGERI 4 AMBON
Tressya Litaay

Program PPG Bidang Studi Pendidikan Matematika FKIP Universitas Pattimura
Keywords:
learning outcomes, fractions, cooperative learning, Team Assisted Individualization
Abstract
Mathematics learning should involve the participation of students so they can be more active and easy to understand the topic they have been studied. Teachers must change the way of teaching and be able to mix interesting and effective learning, so it can encourage students to be active participants in the learning process. One of the choices of cooperative learning models that teachers can apply in the classroom is the Team Assisted Individualization. This research aims to improve the learning outcomes of students in fractional counting operations through cooperative learning models type Team Assisted Individualization in VII Class, SMP Negeri 4 Ambon. The research subjects were 30 students of VII1 grade students on the 2018/2019 school year. This research is a Class Action Research has succeeded to improving student learning outcomes in fractional counting operations in 2 cycles with a percentage of completeness in the first cycle is 41% and the percentage of completeness in the second cycle is 73%.
Downloads
Download data is not yet available.
References
Arikunto. (2008). Prosedur Penelitian Suatu Praktik. Jakarta: Rineka Cipta.
Purwanto. (2009). Evaluasi Hasil Belajar. Yogyakarta: Pustaka Pelajar.
Ratumanan, T, G. (2015). Belajar dan Pembelajaran serta Faktor-Faktor yang Mempengaruhinya. Yogyakarta: Pensil Komunika.
Siregar, Syofian. (2013). Satatistik Parametrik untuk Penelitian Kuantitatif. Jakarta: Bumi Aksara.
Slavin, R, E. (2008). Cooperative Learning: Teori, Riset, Dan Praktik. Bandung: Nusa Media.
Trianto. (2009). Mendesain Model Pembelajaran Inovatif-Progresif: Konsep, Landasan, Dan Implementasinya Pada Kurikulum Tingkat Satuan Pendidikan (KTSP). Jakarta: Kencana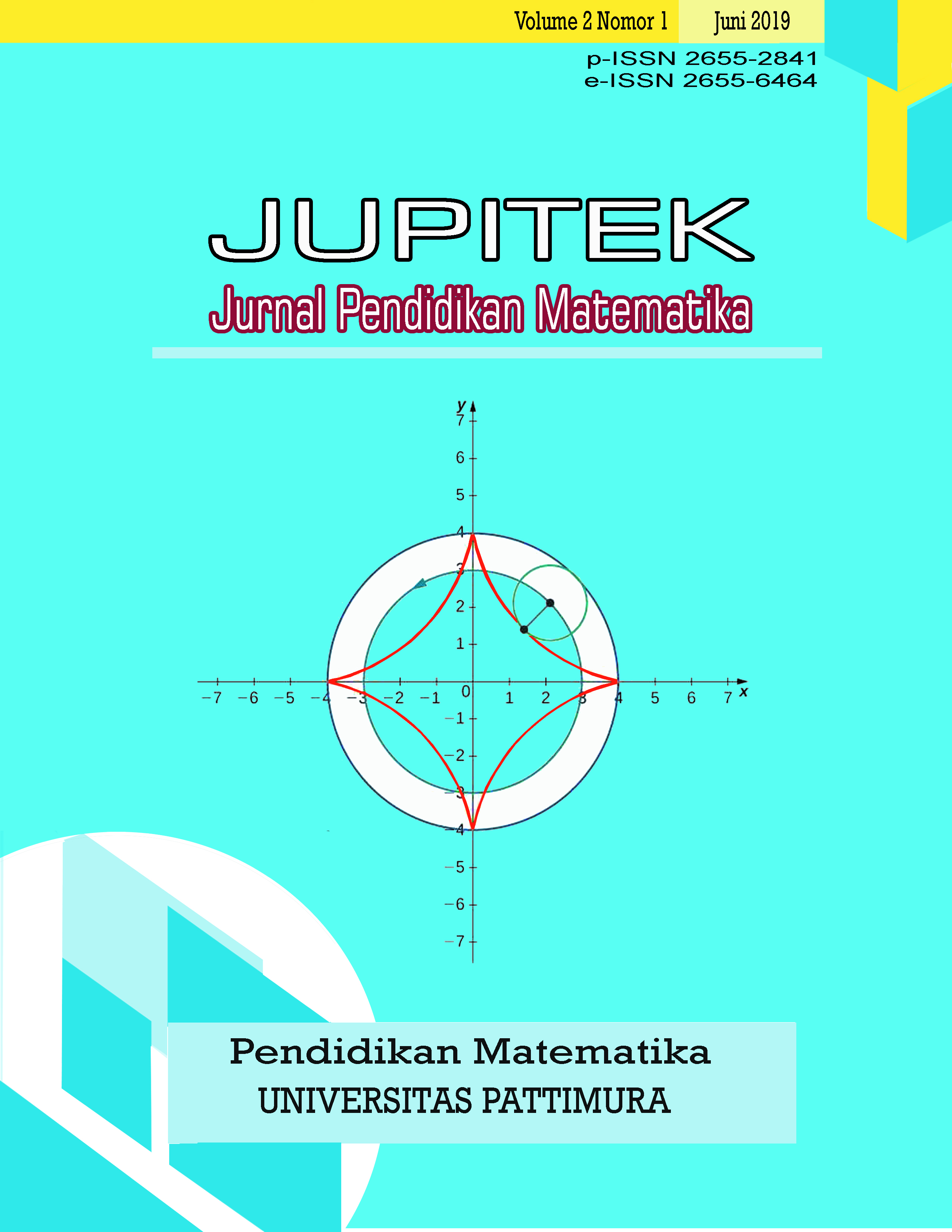 How to Cite
Litaay, T. (2019). PENINGKATAN HASIL BELAJAR PESERTA DIDIK PADA MATERI OPERASI HITUNG BILANGAN PECAHAN DENGAN MENGGUNAKAN MODEL PEMBELAJARAN KOOPERATIF TIPE TEAM ASSISTED INDIVIDUALIZATION DI KELAS VII SMP NEGERI 4 AMBON. Jurnal Pendidikan Matematika (JUPITEK), 2(1), 11-16. https://doi.org/10.30598/jupitekvol2iss1pp11-16
Copyright (c) 2019 Tressya Litaay
This work is licensed under a Creative Commons Attribution-NonCommercial-ShareAlike 4.0 International License.
License and Copyright Agreement
In submitting the manuscript to the journal, the authors certify that:
They are authorized by their co-authors to enter into these arrangements.
The work described has not been formally published before, except in the form of an abstract or as part of a published lecture, review, thesis, or overlay journal. Please also carefully read Jurnal Pendidikan Matematika (Jupitek) Posting Your Article Policy.
That it is not under consideration for publication elsewhere,
That its publication has been approved by all the author(s) and by the responsible authorities – tacitly or explicitly – of the institutes where the work has been carried out.
They secure the right to reproduce any material that has already been published or copyrighted elsewhere.
They agree to the following license and copyright agreement.
Copyright
Authors who publish with Jurnal Pendidikan Matematika (Jupitek) agree to the following terms:
Authors retain copyright and grant the journal right of first publication with the work simultaneously licensed under a Creative Commons Attribution License (CC BY-NC-SA 4.0) that allows others to share the work with an acknowledgment of the work's authorship and initial publication in this journal.
Authors are able to enter into separate, additional contractual arrangements for the non-exclusive distribution of the journal's published version of the work (e.g., post it to an institutional repository or publish it in a book), with an acknowledgment of its initial publication in this journal.
Authors are permitted and encouraged to post their work online (e.g., in institutional repositories or on their website) prior to and during the submission process, as it can lead to productive exchanges, as well as earlier and greater citation of published work.