PENGGUNAAN STRATEGI THINK DALAM PEMBELAJARAN KOOPERATIF UNTUK MATERI BANGUN RUANG DI KELAS XII SMA NEGERI SIWALIMA AMBON
Novita Ivonne Choesni

SMA Negeri Siwalima Ambon
Keywords:
cooperative learning, THINK strategy, learning devices, learning effectiveness, students learning outcomes
Abstract
Mathematics learning is generally done teacher-centered, while the 2013 curriculum based on constructivist demands are learner-centered learning. One learning model that is in accordance with the demands of the 2013curriculum is a cooperative learning model using theTHINK strategy. This study aims to develop cooperative learning devices using theTHINK strategy that is good for three dimension material, describes the effectiveness of cooperative learning by using theTHINK strategy for three dimension material, and comparing learning outcomes of students who take cooperative learning using the THINK strategy with students who follow conventional learning for three dimension material. The development of learning devices was carried out using the 4-D model Thiagarajan, et al. Which had been modified through a simplification process? The research data were analyzed descriptively. In addition, at the experimental stage, inferential ANAKOVA analysis was used. The results of the analysis show that (1) the learning devices produced, in the form of: learning plans, teacher manuals, student activity sheets, and learning outcomes tests, have met the criteria for good learning devices; (2) cooperative learning using the THINK strategyis effectiveused to teach three dimension material; (3) the learning outcomes of students who take cooperative learning using the THINK strategy  are better than the learning outcomes of students who take conventional mathematics learning.
Downloads
Download data is not yet available.
References
Daftar Pustaka
Depdiknas. 2003. Kurikulum 2004. Standar Kompetensi Matematika SMA dan MTs. Jakarta: Depdiknas.
Flavell. 1979. Metacognition and Cognitive Monitoring. Allyn Bacon
Ibrahim, dkk. 2005. Pembelajaran Kooperatif. Surabaya : UNESA.
Kelly, R. Thomas. 2006. Teaching Problem Solving, JRME, NCTM,
Nur, Mohamad. 2005. Strategi- Strategi Belajar, Pusat Sains dan Matematika Sekolah, Unipress, Surabaya.
Nurdin, 2006. Model Pembelajaran Matematika Untuk Menumbuhkan Kemampuan Metakognisi. Disertasi. Unesa. Surabaya.
Peraturan Menteri Pendidikan dan kebudayaan Republik Indonesia No 24 Tahun 2016, tentang Kompetensi Inti dan Kompetensi Dasar pada Kurikulum 2016 pada Sekolah Dasar dan Menengah.
Slavin, Robert E, 1995. Cooperativ Learning, Theory and Practice. Boston : Allyn and Bacon Publisher.
Soedjadi, R. 2007. Masalah Kontekstual Sebagai Batu Sendi Matematika Sekolah, Pusar Sains dan Matematika Sekolah, UNESA, Surabaya
Thiagarajan, S. Semmel, DS. Semmel, M. 1974. Instructional Development for Training Teachers of Exceptional Children. A Sourse Book. Blomingtn: Central for Innovation on Teaching The Handicapped.
Thomas O. Nelson. 1992. Metacognition. University of Washington
Wolfolk, A.E, Educational Psychology, 7thedition, Allyn and Bacon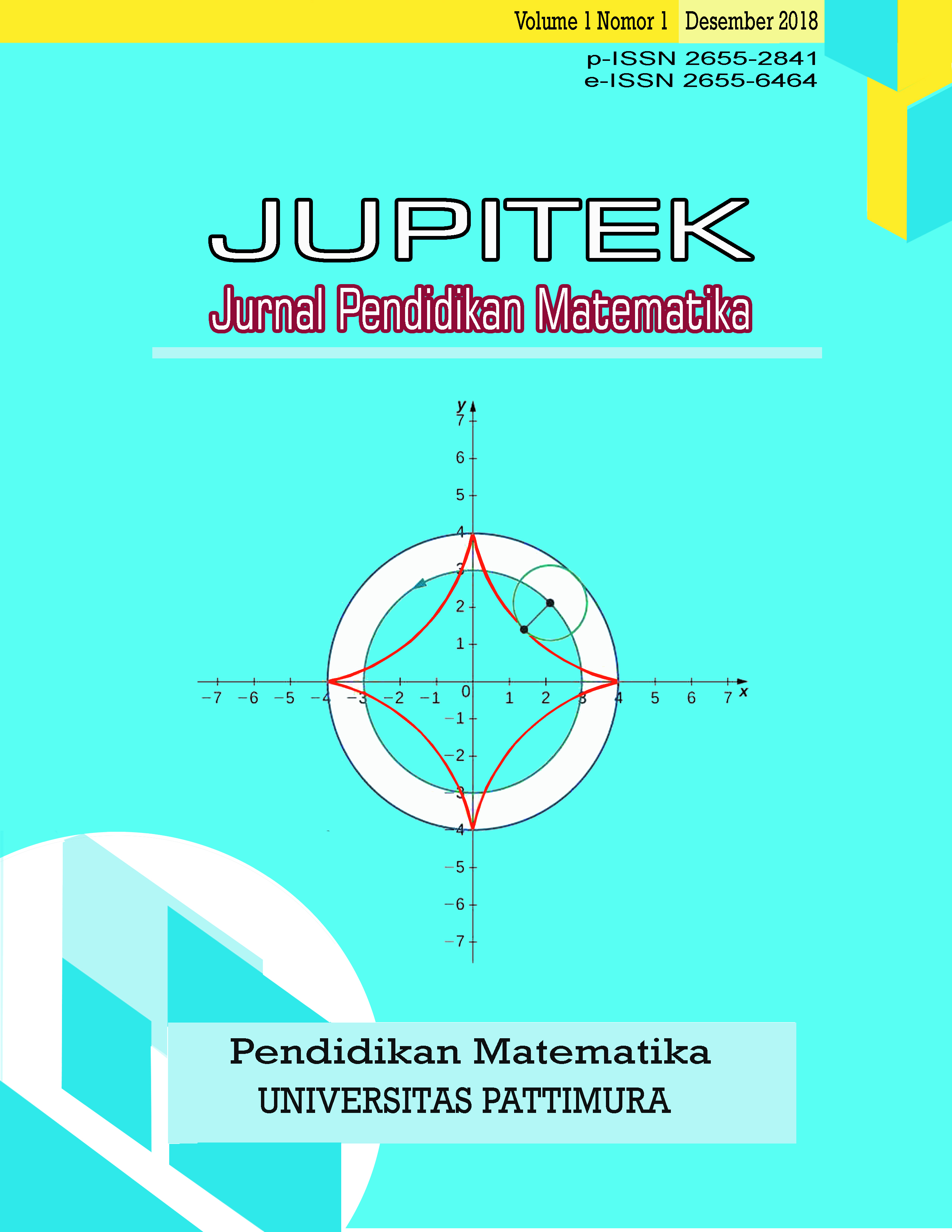 How to Cite
Choesni, N. (2018). PENGGUNAAN STRATEGI THINK DALAM PEMBELAJARAN KOOPERATIF UNTUK MATERI BANGUN RUANG DI KELAS XII SMA NEGERI SIWALIMA AMBON. Jurnal Pendidikan Matematika (JUPITEK), 1(1), 23-31. https://doi.org/10.30598/jupitekvol1iss1pp23-31
Copyright (c) 2018 Novita Ivonne Choesni
This work is licensed under a Creative Commons Attribution-NonCommercial-ShareAlike 4.0 International License.
License and Copyright Agreement
In submitting the manuscript to the journal, the authors certify that:
They are authorized by their co-authors to enter into these arrangements.
The work described has not been formally published before, except in the form of an abstract or as part of a published lecture, review, thesis, or overlay journal. Please also carefully read Jurnal Pendidikan Matematika (Jupitek) Posting Your Article Policy.
That it is not under consideration for publication elsewhere,
That its publication has been approved by all the author(s) and by the responsible authorities – tacitly or explicitly – of the institutes where the work has been carried out.
They secure the right to reproduce any material that has already been published or copyrighted elsewhere.
They agree to the following license and copyright agreement.
Copyright
Authors who publish with Jurnal Pendidikan Matematika (Jupitek) agree to the following terms:
Authors retain copyright and grant the journal right of first publication with the work simultaneously licensed under a Creative Commons Attribution License (CC BY-NC-SA 4.0) that allows others to share the work with an acknowledgment of the work's authorship and initial publication in this journal.
Authors are able to enter into separate, additional contractual arrangements for the non-exclusive distribution of the journal's published version of the work (e.g., post it to an institutional repository or publish it in a book), with an acknowledgment of its initial publication in this journal.
Authors are permitted and encouraged to post their work online (e.g., in institutional repositories or on their website) prior to and during the submission process, as it can lead to productive exchanges, as well as earlier and greater citation of published work.