APPLYING BLENDED LEARNING IN HIGHER EDUCATION IN AMBON, INDONESIA: DESCRIPTIVE REPORT FROM GRAMMAR IN WRITTEN DISCOURSE CLASS
Helena Magdalena Rijoly

Universitas Pattimura
Keywords:
Blended Learning, e-learning, Flipped Classroom, In-Class and Off-Class Learning, Google Classroom, Quizziz, Kahoot
Abstract
This paper is an account on the application of Blended Learning in Higher Education setting in Ambon, Indonesia. The Blended Learning was applied to the Grammar in Written Discourse Class in English Study Program of Faculty of Teachers' Training Unpatti. The Blended Learning process was supported by the use of three online platforms: Google Classroom, Quizziz and Kahoot. The main purposes of this paper are: to describe the process of applying the blended Learning from planning, preparation, application and evaluation, to describe the challenges of applying the Blended learning for the Lecturer, to describe the challenges of using the Blended learning for the students and to describe the lesson learned and successes from the application of Blended Learning
Downloads
Download data is not yet available.
References
Expat, I. (2019, March 13). Education 4.0: The Future Face of Education. Retrieved from Indonesian Expat: https://indonesiaexpat.biz/education-2/education-4-0-the-future-face-of-education/
FKIP-UNPATTI. (2018, July 27). Sosialisasi Program Penugasan Dosen di Sekolah (PDS) Dengan Sekolah Mitra. Retrieved from FKIP-UNPATTI: http://fkip.unpatti.ac.id/sosialisasi-program-penugasan-dosen-di-sekolah-pds-dengan-sekolah-mitra/
Jisc. (2019, April 12). Preparing for Education 4.0. Retrieved from THE - Times High Education: https://www.timeshighereducation.com/hub/jisc/p/preparing-education-40#survey-answer
Jonson, J. (2014, January 20). Blended Learning and Technology Integration. Retrieved September 21, 2019, from YouTube-JenJonson: https://www.youtube.com/watch?v=KD8AUfGsCKg
Karnad, A. (2014). Trends in Educational Tehnologies. London, UK: LSE EPrints.
Marr, B. (2016, April 5). Why Everyone Must Get Ready For The 4th Industrial Revolution. Retrieved from Forbes Website: https://www.forbes.com/sites/bernardmarr/2016/04/05/why-everyone-must-get-ready-for-4th-industrial-revolution/#1577fa863f90
Prihadi, S. D. (2017, February 11). Alasan Tarif Telkomsel di Indonesia Timur Mahal. Retrieved from CNN Indonesia: https://www.cnnindonesia.com/teknologi/20170210121605-213-192595/alasan-tarif-telkomsel-di-indonesia-timur-mahal
Rahman, A. F. (2019, Mei 12). Telkomsel Perkuat Jaringan Internet Selama Ramadhan. Retrieved from DetikInet: https://inet.detik.com/telecommunication/d-4546200/telkomsel-perkuat-jaringan-internet-selama-ramadhan
Rijoly, H. M. (2017). Are We There Yet? Assessing the Readiness of English Department, FKIP-Unpatti for E-Learning and Technology Enhanced Language Learning/Teaching. Proceedings of the International Conference on English Language Teaching (ICONELT 2017). 145, pp. 251 - 255. Atlantis Press. doi:https://doi.org/10.2991/iconelt-17.2018.53
Rijoly, H. M., & Tuhumury, M. (2019, Agustus). Instagram Sebagai Alat Penilaian Ketrampilan Berbicara dan Strategi Peningkatan Keterlibatan Peserta Didik dalam Pembelajaran Bahasa Inggris di Kelas 7.1 SMP N 6 Ambon. Tahuri, 16(2), 22-34.
Safira, N. (2019, April 30). Dampak Penggunaan Gadget Pada Generasi Z. Retrieved from Kompasiana: https://www.kompasiana.com/nandasafirakml/5cc838c8cc52834c605aff23/dampak-penggunaan-gadget-pada-generasi-z?page=all
Schwab, K. (2016, January` 14). The Fourth Industrial Revolution: what it means, how to respond. Retrieved from World Economic Forum: https://www.weforum.org/agenda/2016/01/the-fourth-industrial-revolution-what-it-means-and-how-to-respond/
Shively, K. (2017). Reflections from the Field: Creating an Elementary Living Learning Makerspace. Learning Communities Research and Practice, 5(1). Retrieved from https://www.researchgate.net/publication/328513105_Reflections_from_the_Field_Creating_an_Elementary_Living_Learning_Makerspace
Teach Thought Staff. (2018, December 2). The Definition of Blended Learning. Retrieved from Teach Thought: https://www.teachthought.com/learning/the-definition-of-blended-learning/
Trisna, A. (2019, September 3). Bahaya Gadget Bagi Anak. Retrieved from The Asian Parent.Com: https://id.theasianparent.com/bahaya-gadget-bagi-anak
UNESCO. (2018). A Global Framework of Reference on Digital Literacy Skills for Indicator 4.4.2. Montreal, Canada: UNESCO Open Access Repository.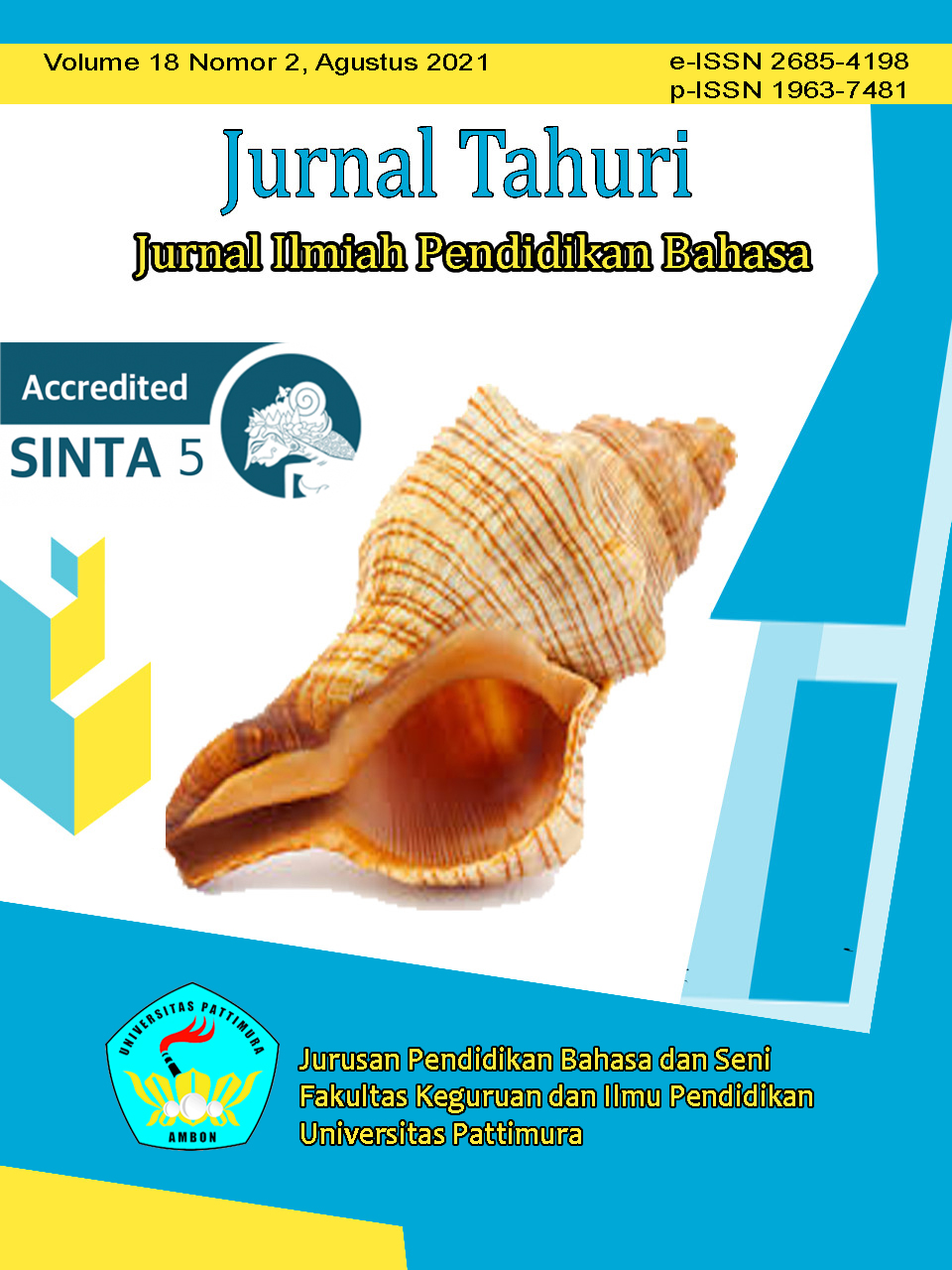 How to Cite
RijolyH. (2021). APPLYING BLENDED LEARNING IN HIGHER EDUCATION IN AMBON, INDONESIA: DESCRIPTIVE REPORT FROM GRAMMAR IN WRITTEN DISCOURSE CLASS. JURNAL TAHURI, 18(2), 24-40. https://doi.org/10.30598/tahurivol18issue2page24-40
Copyright (c) 2021 JURNAL TAHURI
This work is licensed under a Creative Commons Attribution-ShareAlike 4.0 International License.
Dilarang menjiplak atau memperbanyak naskah untuk kepentingan apapun juga, terima kasih