IMAGE MEDIA AND THE RESULTS OF LEARNING OUTCOMES OF KONTRASTIVE KULTURKUNDE COURSES OF THE STUDENTS OF GERMAN LANGUAGE EDUCATION STUDY PROGRAM, FKIP PATTIMURA UNIVERSITY, AMBON
Tamaela Ida Costansa

Universitas Pattimura

Melanius Sarbunan

Universitas Pattimura
Keywords:
Image Mediar, Results of Learning, Kontrastive Kulturkunde
Abstract
The purpose of this study is to determine the influence of the use of image media on the learning outcomes of students of the German Language Education Study Program in Kontrastive Kulturkunde courses that use image media and those that do not use images. The use of image media applied in this study follows what Macaire and Hosch (2004: 67) have suggested about the function of images, that images can reactivate students' initial knowledge (Vorwissen der Schülerinnen und Schüler), show similarities/authenticity (Authentizität) and indicate actual situations (Aktualität), a communicative perspective image of an object and a representative image, which is a visual that depicts the state of nature and people's lives. (Perspektive und Repräsentativität) and which have similarities or differ with their own culture (Nähe oder Ferne zur eigenen Kultur). This research was motivated by the low learning outcomes of students in Kontrastive Kulturkunde courses. The type of this research used is experiment with one group pretest - posttest design with t-test analysis technique with significance level α = 0.05. Testing the effectiveness of this study is with the use of image media. The target of this study was 20 students of semester 4, German Language Education Study Program FKIP Pattimura University Ambon in Kontrastive Kulturkunde courses. The result of the calculation appears that, tcount > ttable=1,729 which is 11,103 > 1,729. Based on the results of the calculation it can be said that, there is a noticeable difference between the value after and before the application of the image media
Downloads
Download data is not yet available.
References
Gebhard Jerry, G. 2006. Teaching English as a Foreign or Second language. Second Edition (USA : The University of Michigan Press.
Kramsch Claire, 2000. Language and Culture. Oxford : Oxford University Press
Macaire Dominique dan Hosh Wolfram. 2004. Bilder in der landeskunde. Fernstudieneinheit 11. Berlin : Langenscheidt. ISBN 3-468-49660-5
Munadi Yudhi, 2008. Media Pembelajaran. Sebuah Pendekatan Baru. Jakarta: Gaung Persada Press. ISBN : 978-979-1488-49-5 PC Bibliothek Langenscheidt
Sadirman, A, Rahardjo R.,dkk. 2009. Media Pendidikan Pengertian, Pengembangan, dan Pemanfaatannya. Seri Pustaka Teknologi Pendidikan Nomor 6. Jakarta: Rajawali Pers. ISBN 97
Supriyono Agus, 2009. Cooperative Learning : Teori dan Aplikasi PIKEM. Jogjakarta: Pustaka Pelajar.
Thobroni Muhamad & ArifMustofa, 2011. Belajar & Pembelajaran Pengembangan Wacana dan Praktik Pembelajaran dalam Pembangunan Nasional. Jogjakarta : Ar-Ruzz-Media. ISBN: 978-979-25-4879-2
Uno, Hamzah & Nurdin Mohamad, 2011. Belajar dengan Pendekatan PAILKEM, Jakarta: PT Bumi Aksara.
Internet
Die 16 Wappen https://www.hanisauland.de/lehrer-innen/lehrer-innen-tafelbilder/wbt-bundeslaender-und- hauptstaedte-in-deutschland
Das Bundesländerpuzzle http://www.wissen.de/die-deutschen-bundeslaender-im-wissenstest
Schwarzwald https://www.google.coid/search?q=fotos+der+Schwarzwald&riz =1C1TSECenlD515ID515&og=fotos+der+Schwarzwald&ags=chrome. 69157.150850198sourceid-chrome&essm=93&ie=UTF-8
Sanga F. Analisis Kontrastif Sebagai Sebuah Pendekatan Lado. Ojs.unud.ac.id/index Phplinguistikalarticle/. 1229Translate this page by F Sanga - 2008 – Cited by 1-Related articles, h.7 http://www.ppplkbahasa.net/index.php?opiton-com content&task=view&id=1598ltemid 93
Harz https://www.google.co.id/search?q=fotos+Harz+wald&riz-1CITSEC enID515ID515&oq=fotos+Harz+wald&aqs=chrome.69i57.12002joj9&sourceid=chrome&es sm=93&ie=UTF-8
Naturpark Teutoburger Wald https://www.google.co.id /search?g=fotos+ Teutoburger+Wald.&rlz=1CITSECenID515lID515&og=fotos+Teutoburger+ Wald.&aqs=chrome.69isz.6545iojo&sourceid=chrome&es sm=D93&ie-UTF-8
Zadeh Mohamadreza. www.kommunikationkmb.de/. /Sektion Kommunikation von Innovationen Summary 080208.pdf – Similar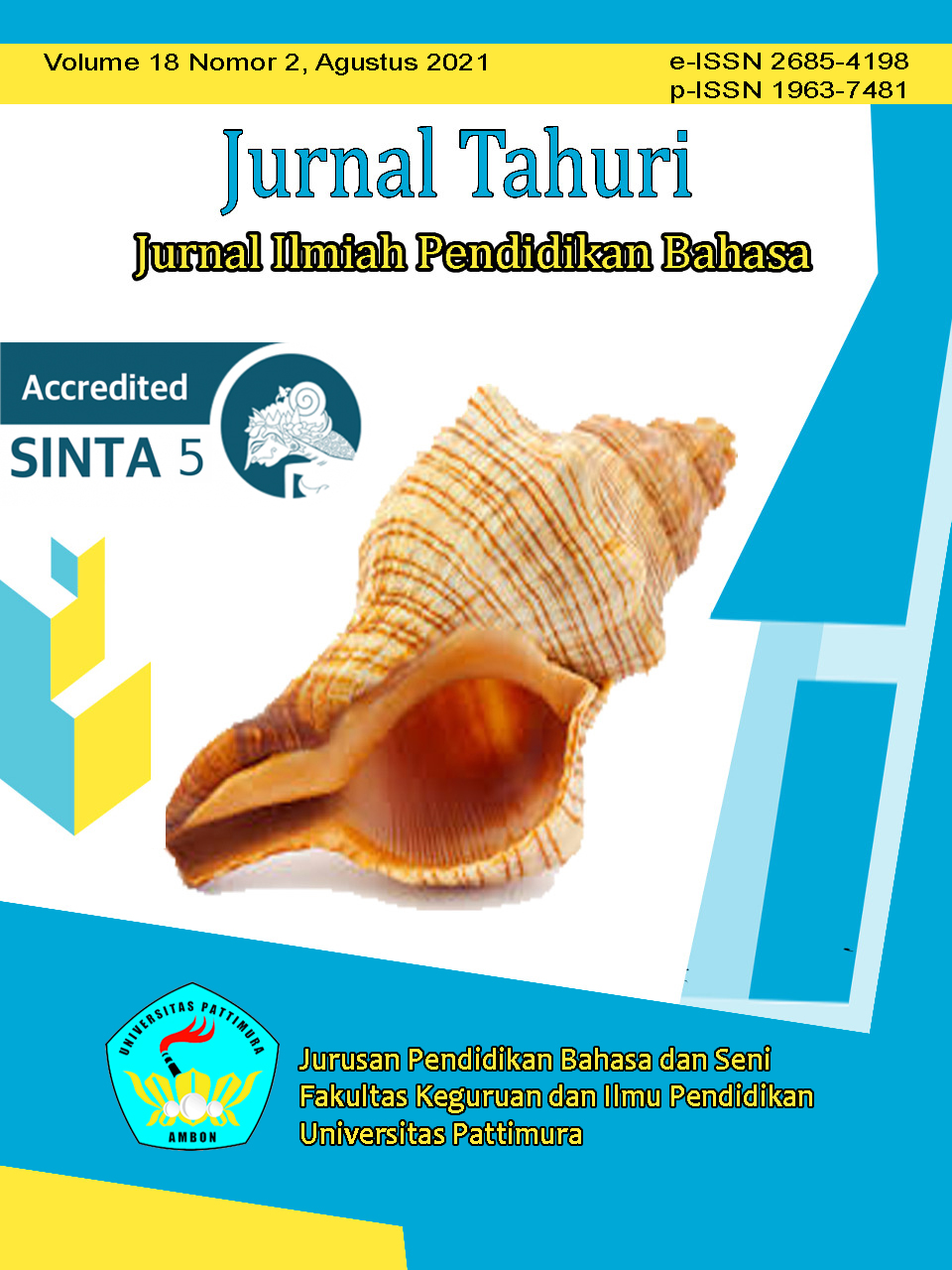 How to Cite
Costansa, T., & Sarbunan, M. (2021). IMAGE MEDIA AND THE RESULTS OF LEARNING OUTCOMES OF KONTRASTIVE KULTURKUNDE COURSES OF THE STUDENTS OF GERMAN LANGUAGE EDUCATION STUDY PROGRAM, FKIP PATTIMURA UNIVERSITY, AMBON. JURNAL TAHURI, 18(2), 41-48. https://doi.org/10.30598/tahurivol18issue2page41-48
Copyright (c) 2021 JURNAL TAHURI
This work is licensed under a Creative Commons Attribution-ShareAlike 4.0 International License.
Dilarang menjiplak atau memperbanyak naskah untuk kepentingan apapun juga, terima kasih