INFLUENCE OF PROJECT METHODS ON LEARNERS' LEARNING OUTCOMES IN DRAMA COURSES IN PANDEMIC ERA
Tamaela Ida Costansa

Universitas Pattimura

Marshalo Rovianto Kakerissa

Universitas Pattimura

Windy Putri Latuheru

Universitas Pattimura
Keywords:
project methods, pandemic era, Drama courses, learning outcomes
Abstract
The purpose of this study is to describe the effectiveness of project methods in pandemic times in drama courses in the German Language Education Study Program. The respondents in the study were fifth-semester students. The project phase in this research consists of 7 phases, namely: 1) Preparation phase (Vorbereitungsphase); 2) Early phasel (Einstiegsphase); 3) Planning phase (Planungsphase); 4) Implementation and realization phases (Ausführungsphase). 5) Evaluation and control phase (Auswertungsphase); 6) Final Results Phase (Ergebnis präsentation), and 7. Closing phase (Abschluss). According to Reich, K: Data collection techniques using qualitative descriptive methods. The end result of the project is to create a picture book about Maluku folklore (Mӓrchen). Maluku folklore book is made following the script of the drama from Esser Rolf, namely: The beginning, conflict situation, climax, redah, and end. The final results of the project showed 4 respondents got a score of 70, 3 respondents got a score of : 80, 7 respondents got a score of 90, and 3 respondents got a score of 100. Based on the assessment score of the final results of learning, it can be concluded that the project method has a positive influence on the learning outcomes of Drama courses
Downloads
Download data is not yet available.
References
Esser R. 2007. Das grosse Arbeitsbuch Literaturunterricht. Lyrik, Epik, Dramatik. Muelheim an der Ruhr, Verlag an der Ruhr
Nurgiyantoro Burhan, 2011 Penilaian Otentik Dalam Pembelajaran Bahasa, Yogyakarta, Gadjah Mada University Press.
Uno Hamzah & Koni S. 2012. Assessment Pembelajaran. Jakarta. PT Bumi Aksara
Internet Source
Moch Abduh, 2019 Panduan Penilaian Kinerja (Performance Assessment)
Pusat penilaian Pendidikan Badan Penelitian dan pengembangan Kementerian Pendidikan dan Kebudayaan, Jakarta. Pusat Penilaian Pendidikan Panduan Penilaian Kinerja (Performance ..https: //pusmenjar.kemdikbud.go.id › file-9
Reich K. Projektarbeit - Unterrichtsmethoden im konstruktiven und ..http://methodenpool.uni-koeln.de › projektmethode
Fuer Lehre und Lernen Universität Stuttgart. Das Ziel von Projektarbeiten https://ilias3.uni-stuttgart.de/goto.php?target=cat_1948111
Was ist Projektarbeit https://www.grin.com/document/71385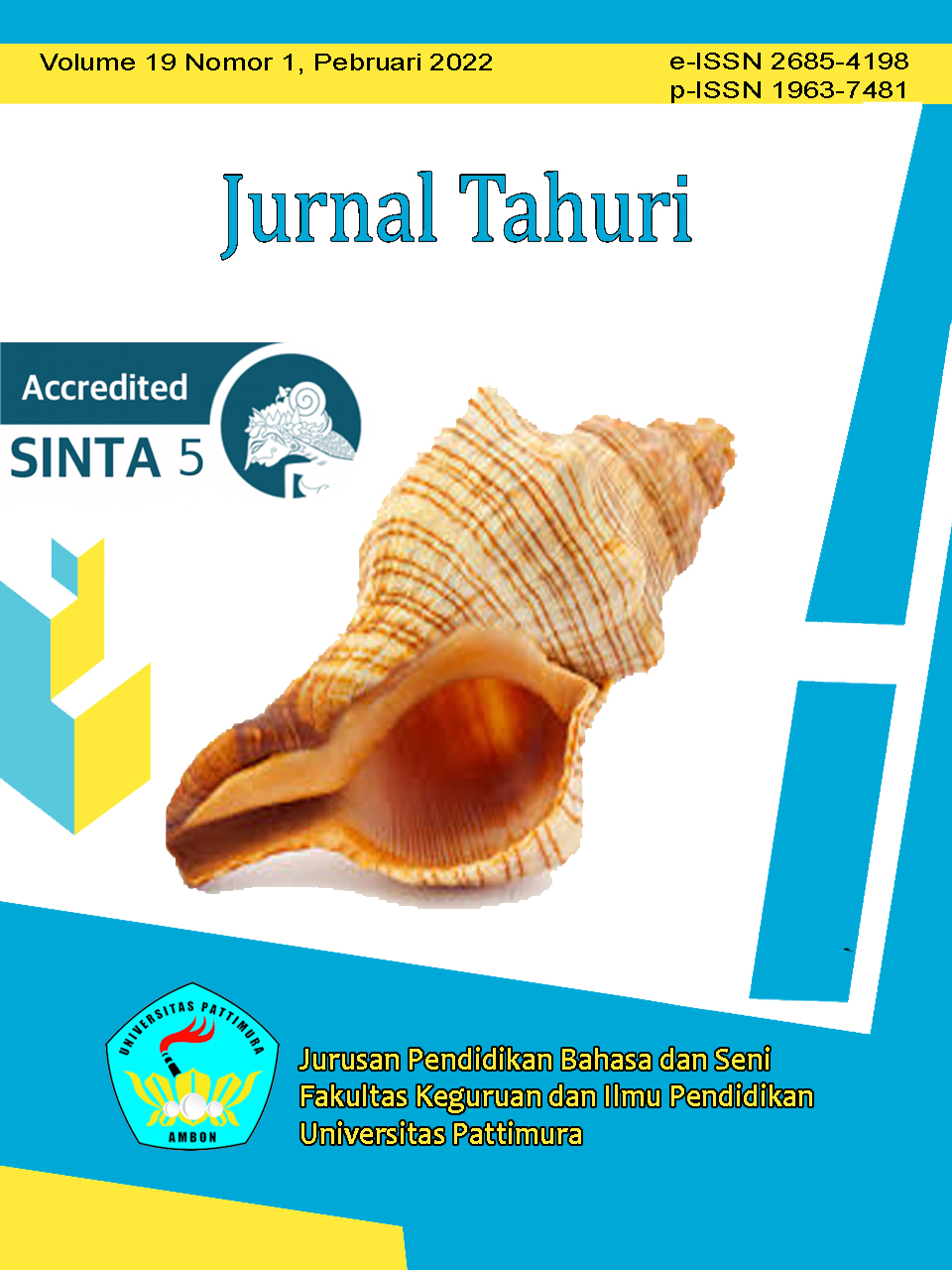 How to Cite
Costansa, T., Kakerissa, M., & Latuheru, W. (2022). INFLUENCE OF PROJECT METHODS ON LEARNERS' LEARNING OUTCOMES IN DRAMA COURSES IN PANDEMIC ERA. JURNAL TAHURI, 19(1), 60-66. https://doi.org/10.30598/tahurivol19issue1page60-66
Copyright (c) 2022 JURNAL TAHURI
This work is licensed under a Creative Commons Attribution-ShareAlike 4.0 International License.
Dilarang menjiplak atau memperbanyak naskah untuk kepentingan apapun juga, terima kasih