Strategi Pengembangan Industri Gula Merah Lontar Sebagai Resource Based Industry di Kabupaten Jeneponto
Strategy for The Development of Lontar Brown Sugar Industry as A Resource Based Industry in Jeneponto District
Syahmidarni Al Islamiyah

Program Studi Teknologi Hasil Pertanian Politeknik Gorontalo, Jl. Muchlis Rahim, Desa Panggulo Barat, Kecamatan Botupingge, Kabupaten Bone Bolango, Provinsi Gorontalo
Keywords:
Brown sugar, Jeneponto, lontar, resource-based industry, strategy
Abstract
The lontar sugar industry in Jeneponto Regency is one of the local industries managed by societies on a domestic scale. The complexity of the problems has slowed down the growth of the industry. Therefore, it is important to create a development strategy with the concept of agro-industry or resource-based industry. The purpose of this research was to analyze and strategize the concept. Data collected in this study was by survey, interview, questionnaire, and literature study. SWOT analysis (Strength, Weakness, Opportunities, and Threats) was applied to develop strategies. The SWOT analysis results obtained a strategy (SO, ST, WO, WT), which consists of 16 alternative strategy formulations., Five strategic formulations were obtained based on the ranking from the highest score: increasing production capacity, entrepreneurship training, forming partnership businesses, forming collaborative business groups, and promoting palm sugar products as superior regional products.
Keywords: Brown sugar; Jeneponto; lontar; resource-based industry; strategy
ABSTRAK
Industri gula merah lontar di Kabupaten Jeneponto adalah salah satu industri lokal yang dikelola oleh masyarakat dengan skala rumah tangga. Kompleksnya masalah yang dihadapi menyebabkan lambatnya perkembangan industri ini. Oleh karena itu, penting untuk membuat strategi pengembangan dengan konsep agroindustri atau resource based industry. Tujuan dari penelitian ini adalah untuk menganalisis dan menyusun strategi. Metode pengumpulan data dengan survey, wawancara, kusioner dan studi pustaka. Analisis data untuk menyusun strategi dengan analisis Strenght, Weakness, Opportunities and Threats (SWOT). Hasil analisis SWOT diperoleh 16 formulasi alternatif strategi. Berdasarkan peringkatan diperoleh lima formulasi strategi berurut dari skor tertinggi yaitu menambah kapasitas produksi, pelatihan kewirausahaan, membentuk usaha kemitraan, membentuk kelompok usaha bersama, dan mempromosikan produk gula lontar sebagai produk unggulan daerah.
Kata Kunci: Gula-merah; Jeneponto; lontar; resource based industry; strategi
Downloads
Download data is not yet available.
References
Arianti, Y.S., dan L.R. Waluyati. 2019. Analisis nilai tambah dan strategi pengembangan agroindustri gula merah di Kabupaten Madiun. Jurnal Ekonomi Pertanian dan Agribisnis 3: 256-266. DOI: 10.21776/ub.jeoa.2019.003.02.4
Gabriel, A. 2013. Perencanaan Strategi Pengembangan Industri Rumah Tangga Gula Kelapa (Studi Kasus Industri Rumah Tangga Gula Kelapa Desa Gledug, Kecamatan Sanankulon, Kabupaten Blitar). Disertasi. Universitas Brawijaya. URL: http://repository.ib.ac.id/id/eprint/149449
Hasanah, U., Masyhuri, dan Djuwari. 2015. Analisis nilai tambah agroindustri sale pisang di Kabupaten Kebumen. Ilmu Pertanian 18: 141-149.
Hidayah, I. 2010. Analisis prioritas komoditas unggulan perkebunan daerah Kabupaten Buru. AGRIKA 4: 1-8. DOI: 10.31328/ja.v4i1.143.
Islamiyah, S.A. 2017. Identifikasi lokasi potensial pengembangan industri pengolahan gula merah lontar di Kabupaten Jeneponto. Perbal: Jurnal Pertanian Berkelanjutan 5: 58-63. DOI: 10.30605/perbal.v5i1.686
Islamiyah, S.A. 2020. Analisis faktor potensi pengembangan industri pengolahan gula merah lontar di Kabupaten Jeneponto. Journal of Agritech Science 4: 1-12. DOI: 10.30689/jasc.v4i1.555
Karmiati, K., V.D. Yunianto, dan B.W. Prasetiyono. 2016. Strategi pengembangan agro industri gula tumbu di Kabupaten Kudus. Jurnal Litbang Provinsi Jawa Tengah 14: 25-34. DOI: 10.36762/jurnaljateng.v14i1.362
Kurniawan, M. dan N. Haryati. 2017. Analisis strategi pengembangan usaha minuman sari buah sirsak. Industria Jurnal Teknologi dan Manajemen Agroindustri 6: 97–102. DOI: 10.21776/ub.industria.2017.006.02.6
Kusumanto, I.H.D. 2016. Analisis peluang pengembangan industri gula aren dalam mendukung pengembangan industri gula aren dalam mendukung swasembada gula nasional. Jurnal Pertanian Tropik 3: 150-170. DOI: 10.32734/jpt.v3i2.2970
Maarif, S. dan H. Syam. 2008. Kajian Perlunya Kebijakan Pengembangan Agroindustri Sebagai Leading Sector. Bogor: Program Studi Teknologi Industri Pertanian, Program Doktor PPs IPB Bogor.
Maemunah, S. 2015. Strategi Pengembangan Industri Kecil Gula Aren di Kecamatan Limbangan, Kabupaten Kendal. Skripsi. Jurusan Ekonomi Pembangunan Fakultas Ekonomi Universitas Negeri Semarang. Semarang.
Saputra, E., L. Fitriana, dan E. Bahar. 2012. Strategi pengembangan usaha gula aren di Desa Rambah Tengah Barat Kecamatan Rambah Kabupaten Rokan Hulu. Jurnal Sungkai 1: 22-31. DOI: 10.30606/js.v1i1.178
Sartina, D.F. 2019. Kemendes PDTT Dorong Pengembangan Produk Unggulan Desa. https://ekonomi.bisnis.com/read/20190621/9/936322/kemendes-pdtt-dorong-pengembangan-produk-unggulan-desa. Diakses: 13 Juli 2020.
Siregar, G., Salman, dan L. Wati. 2014. Strategi pengembangan usaha tahu rumah tangga. Agrium 19: 12-20. DOI: 10.30596/agrium.v19i.327
Tambunan, P. 2010. Potensi dan kebijakan pengembangan lontar untuk menambah pendapatan penduduk. Jurnal Analisi Kebijakan Hutan 7: 27-45. DOI: 10.20886/ jakk.2010.7.1.27-45
Rangkuti, F. 2005. Analisis SWOT Teknik Pembedahan Kasus Bisnis. Jakarta: PT. Gramedia Pustaka.
Wongkar, N., J.N.K. Dumais, dan T.M. Katiandagho. 2017. Strategi pengembangan agroindustri gula aren di Desa Tondei 1. Jurnal Agri-Sosio Ekonomi 13: 215-226. DOI: 10.35791/agrsosek.13.3A.2017.18187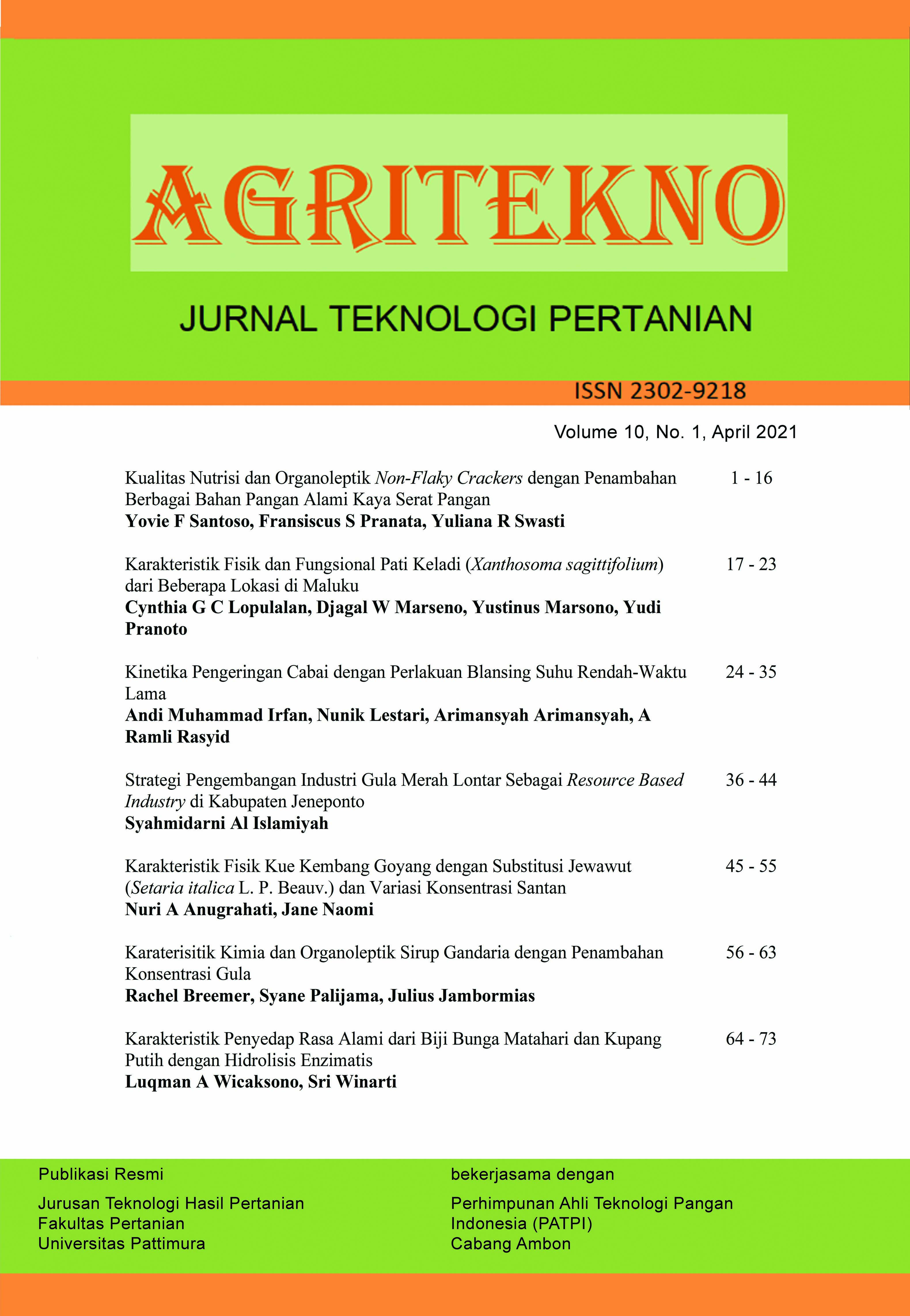 How to Cite
Islamiyah, S. (2021). Strategi Pengembangan Industri Gula Merah Lontar Sebagai Resource Based Industry di Kabupaten Jeneponto. AGRITEKNO: Jurnal Teknologi Pertanian, 10(1), 36-44. https://doi.org/10.30598/jagritekno.2021.10.1.36
Copyright (c) 2021 Syahmidarni Al Islamiyah
This work is licensed under a Creative Commons Attribution-ShareAlike 4.0 International License.
Authors who publish with this journal agree to the following terms:
Authors retain copyright and grant the journal the right of first publication with the work simultaneously licensed under a Creative Commons Attribution License that allows others to share the work with an acknowledgement of the work's authorship and initial publication in this journal.
Authors are able to enter into separate, additional contractual arrangements for the non-exclusive distribution of the journal's published version of the work (e.g., post it to an institutional repository or publish it in a book), with an acknowledgement of its initial publication in this journal.
Authors are permitted and encouraged to post their work online (e.g., in institutional repositories or on their website) prior to and during the submission process, as it can lead to productive exchanges, as well as earlier and greater citation of published work (See The Effect of Open Access).