Utilization of Striped Snakehead Fish and Tofu Dregs in Making Nugget
Dewi Fortuna Ayu

Jurusan Teknologi Hasil Pertanian, Fakultas Pertanian, Universitas Riau, Kampus Bina Widya km 12,5 Simpang Baru, Pekanbaru 28293 Indomesia

Nadia Sapika

Jurusan Teknologi Hasil Pertanian, Fakultas Pertanian, Universitas Riau, Kampus Bina Widya km 12,5 Simpang Baru, Pekanbaru 28293 Indomesia

Faizah Hamzah

Jurusan Teknologi Hasil Pertanian, Fakultas Pertanian, Universitas Riau, Kampus Bina Widya km 12,5 Simpang Baru, Pekanbaru 28293 Indomesia
Keywords:
Nugget, striped snakehead fish, tofu dregs
Abstract
This research aimed to get the best formulation of striped snakehead fish and tofu dregs nuggets based on Indonesian National Standard SNI 7758-2013. A completely randomized design was conducted with five treatments, which were the ratios of striped snakehead fish and tofu dregs, such as 90:10, 85:15, 80:20, 75:25, and 70:30, and three replications. Data showed a significant effect of the ratio of striped snakehead fish and tofu dregs on moisture, ash, protein, crude fibre content, and descriptive analysis in sensory evaluation and overall hedonic test on nugget. The nugget from the ratio of striped snakehead fish and tofu dregs 90:10 was the best formulation with a moisture content of 64.66%, an ash content of 1.04%, protein content of 9.69%, a fat content of 0.65%, and crude fibre content of 0.61%. The descriptive sensory analysis showed that the nugget had a white color inside and a golden yellow outside, flavored with striped snakehead fish, a bit chewy, and had a striped snakehead fish taste.
Downloads
Download data is not yet available.
References
Agusta, F. K., Ayu, D. F., & Rahmayuni. (2020). Nilai gizi dan karakteristik nugget ikan gabus dengan penambahan kacang merah. Jurnal Teknologi Pangan, 14(1), 68-82.
Asikin, A. N. & Kusumaningrum, I. (2017). Edible portion dan kandungan kimia ikan gabus (Channa striata) hasil budidaya kolam di Kabupaten Kutai Kartanegara, Kalimantan Timur. Ziraa'ah, 42(3), 158-163.
Ayu, D. F., Sormin, D. S., & Rahmayuni. (2020). Karakteristik mutu dan sensori nugget ikan patin (Pangasius hypopthalmus) dan nangka (Artocarpus heterophyllus) muda. Jurnal Teknologi dan Industri Pertanian Indonesia, 12(2), 40-48.
Badan Standardisasi Nasional. 2013. Nugget ikan Standar Nasional Indonesia (SNI) 01-7758-2013. Jakarta.
Indang, N. M. & Dwiyana, P. (2016). Pemanfaatan limbah ampas tahu pada pembuatan nugget. Artikel Ilmu Kesehatan, 8(1), 92-98.
Kurniawati, & A. Fitriyono. (2012). Pengaruh substitusi tepung terigu dengan tepung tempe dan tepung ubi jalar kuning terhadap kadar protein, β-karoten, dan mutu organoleptik roti manis. Journal of Nutrition College, 1(1), 344-351.
Kusharto, C. M. (2006). Serat makanan dan peranannya bagi kesehatan. Jurnal Gizi dan Pangan, 1(2), 45-54.
Mahmud, M.K., Hermana, M. Nazarina, S. Marudut, N.A. Zulfianto, Muhayatun, A.B. Jahari, D. Permaesih, F. Ernawati, Rugayah, Haryono, S. Prihatini, I. Raswanti, R. Rahmawati, D. Santi, Y. Permanasari, U. Fahmida, A. Sulaeman, N. Andarwulan, Atmarita, Almasyhuri, N. Nurjanah, N. Ikka, G. Sianturi, E. Prishantono. dan L. Marlina. 2018. Tabel Komposisi Pangan Indonesia. Direktorat Jenderal Kesehatan Masyarakat. Jakarta.
Nile, E., Wahyuni, I., Ransaleleh, T.A., & Karisoh, L. Ch. M. (2017). Sifat organoleptik nugget daging broiler menggunakan tepung tempe. Zootek Journal, 37(2): 314-320.
Ofrianti, Y., & Wati, J. (2013). Pengaruh variasi konsentrasi tepung kedelai sebagai bahan pengikat terhadap kadar air mutu organoleptik nugget ikan gabus. Jurnal Sain Peternakan Indonesia, 7(2), 107-113.
Parinduri, M., Rusmarilin, H., & Limbong, L. N. (2016). Pegaruh penambahan tepung kedelai germinasi dengan tapioka dan perbandingan daging ayam dengan bubur rebung terhadap mutu nugget rebung. Jurnal Rekayasa Pangan dan Pertanian, 4(3): 341-350.
Permatasari, P. K. & Rahayuni, A. (2013). Nugget tempe dengan subsitusi ikan mujair sebagai alternatif makanan sumber protraharein, serat, dan rendah lemak. Journal of Nutrition College, 2(1): 1-9.
Prastia, Ali, A., & Hamzah, F. (2016). Pembuatan nugget jamur merang (Volvariella volvacea) dengan penambahan ikan gabus (Channa striata). Jurnal Online Mahasiswa FAPERTA, 3(2), 1-10.
Pratiwi, L., Yusmarini, & Harun, N. (2016). Jantung pisang dan ikan gabus dalam pembuatan nugget. Jurnal Online Mahasiswa FAPERTA, 3(1).
Rizki, R., Desmelati, & Suparmi. (2018). Pengaruh penambahan tepung rebung (Dendrocalamus asper) terhadap mutu nugget ikan biji nangka (Upneus moluccenis). Berkala Perikanan Terubuk, 46(1), 44-55.
Sormin, R. B. D., Gasperz, F., & Woriwun, S. (2020). Karakteristik nugget ikan tuna (Thunnus sp.) dengan penambahan ubi ungu (Ipomea batatas). AGRITEKNO: Jurnal Teknologi Pertanian, 9(1), 1-9.
Suryani, N., Erawati, C. M., & Amelia, S. (2018). Pengaruh proporsi tepung terigu dan tepung ampas tahu terhadap kandungan protein dan serat serta daya terima biskuit program makanan tambahan anak sekolah (PMT-AS). Jurnal Kedokteran dan Kesehatan, 14(1), 11-25.
Susanty, A., Yustini, P. E., & Nurlina, S. (2019). Pengaruh metode penggorengan dan konsentrasi jamur tiram putih (Pleurotus streatus) terhadap karakteristik kimia dan mikrobiologi abon udang (Panaeus indicus). Jurnal Riset Teknologi Industri, 13(1), 80-87.
Tungadi, R. (2019). Potential of snakehead fish (Ophiocephalus striatus) in accelerating wound healing. Universal Journal of Pharmaceutical Research, 4(5), 40-44.
Untoro, N.S., Kusrahayu, & Setiani, B. E. (2012). Kadar air, kekenyalan, kadar lemak, dan citarasa bakso daging sapi dengan penambahan ikan bandeng presto (Chanos chanos). Animal Agriculture Journal, 1(1), 567-583.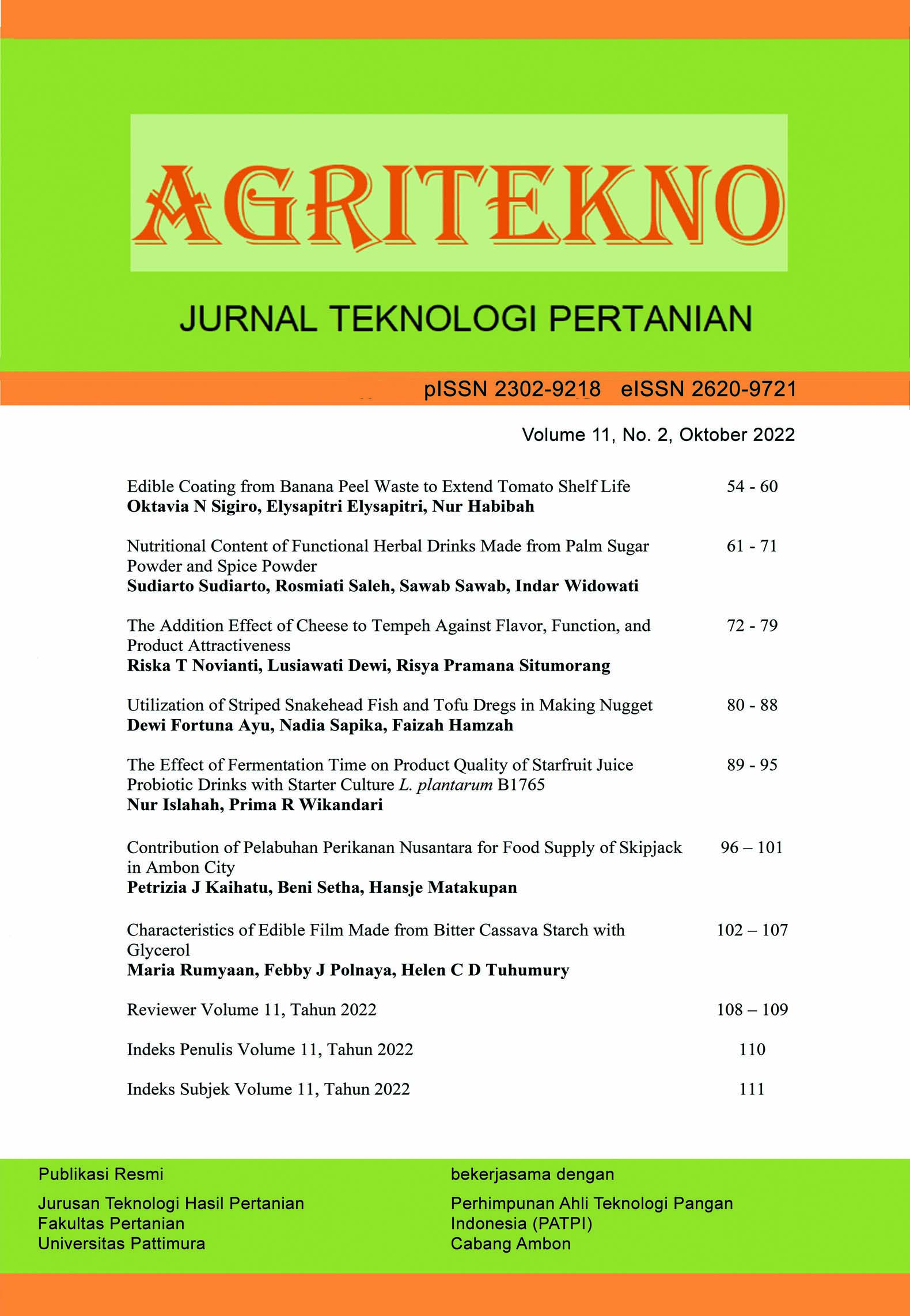 How to Cite
Ayu, D., Sapika, N., & Hamzah, F. (2022). Utilization of Striped Snakehead Fish and Tofu Dregs in Making Nugget. AGRITEKNO: Jurnal Teknologi Pertanian, 11(2), 80-88. https://doi.org/10.30598/jagritekno.2022.11.2.80
Copyright (c) 2022 The Author(s)
This work is licensed under a Creative Commons Attribution-ShareAlike 4.0 International License.
Authors who publish with this journal agree to the following terms:
Authors retain copyright and grant the journal the right of first publication with the work simultaneously licensed under a Creative Commons Attribution License that allows others to share the work with an acknowledgement of the work's authorship and initial publication in this journal.
Authors are able to enter into separate, additional contractual arrangements for the non-exclusive distribution of the journal's published version of the work (e.g., post it to an institutional repository or publish it in a book), with an acknowledgement of its initial publication in this journal.
Authors are permitted and encouraged to post their work online (e.g., in institutional repositories or on their website) prior to and during the submission process, as it can lead to productive exchanges, as well as earlier and greater citation of published work (See The Effect of Open Access).