Studi Pengaruh Suhu dan Lama Penggorengan Terhadap Kualitas Jamur Tiram (Pleurotus osteatus) dengan Penggorengan Vacum
Study of the Effect of Temperature and Frying Time on the Quality of Oyster Mushroom (Pleurotus osteatus) Using Vacuum Frying
St Sabahannur

Program Studi Agroteknologi Fakultas Pertanian Universitas Muslim Indonesia, Jl. Urip Sumoharjo, km. 5. Makassar, Indonesia

Suraedah Alimuddin

Program Studi Agroteknologi Fakultas Pertanian Universitas Muslim Indonesia, Jl. Urip Sumoharjo, km. 5. Makassar, Indonesia

Hanifa Nikmah

Program Studi Agroteknologi Fakultas Pertanian Universitas Muslim Indonesia, Jl. Urip Sumoharjo, km. 5. Makassar, Indonesia
Keywords:
Chips, Oyster mushroom, temperature, vacuum frying
Abstract
Oyster mushroom is one type of vegetable that is rarely utilized due to a lack of knowledge about how to process the mushroom itself. The perishable nature of mushrooms causes difficulties in distribution and marketing as fresh produce. One of the processed products from oyster mushrooms is chips. Vacuum frying is a frying method that is applied to heat-sensitive materials such as fruits and vegetables. This study was aimed to determine the effect of temperature and duration of vacuum frying on the physicochemical and organoleptic qualities of oyster mushroom chips. The study was conducted using a completely randomized design with a two-factor factorial pattern: the first factor, vacuum frying with a temperature of 85o and 90oC. The second factor, frying time, is 50, 60, and 70 minutes. The results showed that vacuum-fried oyster mushrooms with a temperature of 85oC and a frying time of 70 minutes produced oyster mushroom chips with the lowest fat content of 38.08%, the preferred taste, and color (score 4), while the preferred texture was frying at 90oC and long 70 minutes. The yield value and moisture content of oyster mushroom chips did not differ at different temperatures and frying times.
Keywords: Oyster mushroom; vacuum frying; chips; temperature
ABSTRAK
Jamur tiram merupakan salah satu jenis sayuran yang pemanfaatannya sangat sedikit karena kurangnya pengetahuan tentang cara mengolah jamur itu sendiri. Sifat jamur yang mudah rusak menyebabkan kesulitan dalam distribusi dan pemasaran sebagai produk segar. Salah satu produk olahan dari jamur tiram adalah keripik. Penggorengan vakum merupakan metode penggorengan yang diterapkan pada bahan yang peka terhadap panas seperti buah-buahan dan sayuran. Penelitian bertujuan mengetahui pengaruh suhu dan lama waktu penggorengan vakum terhadap kualitas fisikokimia dan organoleptik keripik jamur tiram. Penelitian dilakukan menggunakan rancangan acak lengkap dengan pola faktorial dua faktor. Faktor pertama, penggorengan vakum dengan suhu 85o dan 90oC. Faktor kedua, lama penggorengan adalah 50, 60, dan 70 menit. Hasil penelitian menunjukkan jamur tiram yang digoreng vakum dengan suhu 85oC dan lama penggorengan 70 menit menghasilkan keripik jamur tiram dengan kadar lemak terendah 38,08%, rasa, dan warna yang disukai (skor 4), sedangkan tekstur yang disukai adalah penggorengan pada suhu 90oC dan lama. 70 menit. Nilai rendemen dan kadar air keripik jamur tiram tidak menunjukkan perbedaan pada suhu dan waktu penggorengan yang berbeda.
Kata kunci: Jamur tiram; keripik; penggorengan vakum; suhu
Downloads
Download data is not yet available.
References
[AOAC] Association of Official Analytical Chemists. 2000. Official Methods of Analysis of AOAC International. Eds. 17. Association of Official Analytical Chemists, Maryland (US).
Afrozi, S., Mufarida, N.A., & Sofiyah, R. (2018). Hubungan optimalisasi suhu dan waktu penggorengan pada mesin vacuum frying terhadap peningkatan kualitas keripik pisang kapok. Jurnal Proteksion, 2(2), 43-52. https://doi.org/10.32528/jp.v2i2.2229
Asmawit, & Hidayati. (2014). Pengaruh suhu penggorengan dan ketebalan irisan buah terhadap karakteristik keripik nanas menggunakan penggorengan vakum. Jurnal Litbang Industri, 4(2), 115-121. http:// dx.doi.org/10.24960/jli.v4i2
Ayustaningwarno, F. (2014). Teknologi Pangan. Yogyakarta: Graha Ilmu.
Ayustaningwarno, F., van Ginkel, E., Vitorino, J., Dekker, M., Fogliano, V., & Verkerk, R. (2020). Nutritional and physicochemical quality of vacuum-fried mango chips is affected by ripening stage, frying temperature, and time. Frontiers in Nutrition, 7, 95. https://doi.org/10.3389/fnut.2020.00095
Belkova, B., Hradecky, J., Hurkova, K., Forstova, V., Vaclavik, L., & Hajslova, J. (2018). Impact of vacuum frying on quality of potato crisps and frying oil. Food Chemistry, 241, 51–59. https://doi.org/10.1016/j.foodchem.2017.08.062
Diamante, L.M., Savage, G.P., & Vanhanen, L.P. (2012). Optimisation of vacuum frying of gold kiwifruit slices: Application of response surface methodology. International Journal of Food Science & Technology, 47(3), 518-524. https://doi.org/10.1111/j.1365-2621.2011.02872.x
Diamante, L.M., Shi, S., Hellmann, A., & Busch, J. (2015). Vacuum frying foods: Products, process and optimization. International Food Research Journal, 22(1), 15–22.
Dueik, V., Robert, P. & Bouchon, P. (2010). Vacuum frying reduces oil uptake and improves the quality parameters of carrot crisps. Food Chemistry, 119(3), 1143-1149. https://doi.org/10.1016/j.foodchem.2009.08.027
Dueik, V. & Bouchon, P. (2011). Development of healthy low-fat snacks: Understanding the mechanisms of quality changes during atmospheric and vacuum frying. Food Reviews International, 27(4), 408-432. https://doi.org/10.1080/87559129.2011.563638
Hilapad, M.R., Esguerra, E.B., & Castillo-Israel, K.A.T. (2020). Optimization of processing parameters for vacuum fried oyster mushroom (Pleurotus ostreatus (Jacquin) P. Kummer). Food Research, 4(4), 1371-1382. https://doi.org/10.26656/fr.2017.4(4).065
Hu, J., Zeng, H., Deng, C., Wang, P., Fan, L., Zheng, B., & Zhang, Y. (2019). Optimization of vacuum frying condition for producing silver carp surimi chips. Food science & nutrition, 7(8), 2517–2526. https://doi.org/10.1002/fsn3.1077
Ismed. (2016). Analisis proksimat keripik wortel (Daucus carota L.) pada suhu dan lama penggorengan yang berbeda menggunakan mesin vacuum frying. Jurnal Teknologi Pertanian Andalas, 20(2), 25-32. https://doi.org/10.25077/jtpa.20.2.25-32.2016
Ketaren, S. (2005). Pengantar Teknologi Minyak dan Lemak Pangan. Jakarta: UI–Press.
Lastriyanto, A., Argo, B.D., & Pratiwi, R.A. (2019). Karakteristik fisik dan protein fillet daging ikan lele beku (Clarias batrachus) hasil penggorengan vakum. Jurnal Keteknikan Pertanian Tropis dan Biosistem, 7, 87-96.
Li, P., Zhang, X., Hu, H., Sun, Y., Wang, Y., & Zhao, Y. (2013). High carbon dioxide and low oxygen storage effects on reactive oxygen species metabolism in Pleurotus eryngii. Postharvest Biology and Technology, 85, 141-146. https://doi.org/10.1016/j.postharvbio.2013.05.006
Maity, T., Bawa A.S., & Raju, P.S. (2014). Effect of vacuum frying on changes in quality attributes of jackfruit (Artocarpus heterophyllus) bulb slices. International Journal of Food Science, 752047. https://doi.org/10.1155/2014/752047
Moreira, R.G. (2014). Vacuum frying versus conventional frying – An overview. European Journal of Lipid Science and Technology, 116, 723–734. https://doi.org/10.1002/ejlt.201300272
Muhammadali, A., Jamaluddin, & Fadilah, R. (2021). Kualitas keripik salak (Salacca zalacca) pada berbagai variasi temperatur dan waktu selama penggorengan hampa udara. Jurnal Pendidikan Teknologi Pertanian, 7, 67-78.
Nourian, F. & Ramaswamy, H.S. (2003). Kinetics of quality change during cooking and frying of potatoes: Part I. Texture. Journal of Food Process Engineering, 26(4), 377-394. https://doi.org/10.1111/j.1745-4530.2003.tb00608.x
Pakpahan, Y.E., Lubis, Z., & Setyohadi. (2014). Pengaruh lama perebusan dan lama penyangraian dengan kuali tanah liat terhadap mutu keripik biji durian (Durio zibethinus Murr). Journal Rekayasa Pangan dan Pertanian, 2(3), 47-53.
Pandey, A. & Moreira, R.G. (2012). Batch vacuum frying system analysis for potato chips. Journal of Food Process Engineering, 35(6), 863-873. https://doi.org/10.1111/j.1745-4530.2011.00635.x
Pedreschi, F. & Moyano. P. (2005). Effect of pre-drying on texture and oil uptake of potato chips. LWT - Food Science and Technology, 38(6), 599-604. https://doi.org/10.1016/j.lwt.2004.08.008
Sothornvit, R. (2011). Edible coating and post-frying centrifuge step effect on quality of vacuum-fried banana chips. Journal of Food Engineering, 107(3-4): 319-325. https://doi.org/10.1016/j.jfoodeng.2011.07.010
Sumarlan, H.S., Lastriyanto, A., & Erawati, D. (2016). Karakteristik penggorengan vakum jamur. Kajian jamur tiram putih (Pleurotus ostreatus) dan jamur kancing (Agaricus bisporus). Jurnal Keteknikan Pertanian Tropis dan Biosistem, 4(2), 148-156.
Sumarsih, S.M. (2015). Oyster Mushroom Seed Business. Jakarta: Penebar Swadaya.
Suprana, Y.A. (2012). Pembuatan keripik pepaya menggunakan metode penggorengan vakuum dengan variabel suhu dan waktu. Tugas Akhir Fakultas Teknik, UNDIP, Semarang.
Tumbel, N., & Manurung, S. (2017). Pengaruh suhu dan waktu penggorengan terhadap mutu keripik nanas menggunakan penggoreng vakum. Jurnal Penelitian Teknologi Industri, 9(1), 9-22. http://dx.doi.org/10.33749/jpti.v9i1.3204
Tarzi, B.G., Bassiri, A., Ghavami, M. & Bamenimoghadam, M. (2011). Process optimization in vacuum frying of mushroom using response surface methodology. World Applied Sciences Journal, 14(7), 960-966.
Wanakamol, W. & Poonlarp, P. (2018). Effects of frying temperature, frying time and cycles on physicochemical properties of vacuum fried pineapple chips and shelf-life prediction. International Food Research Journal, 25(6), 2681-2688.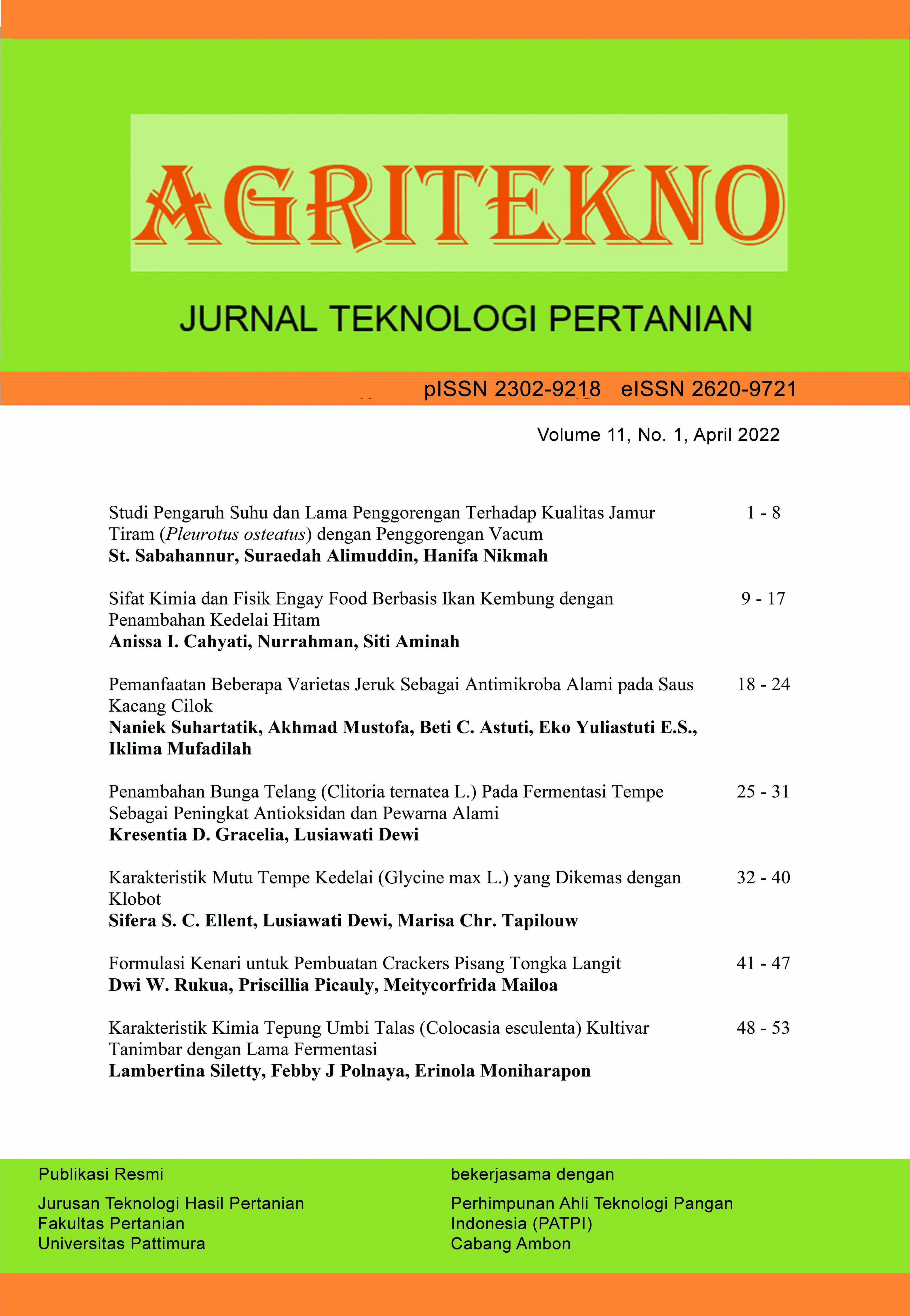 How to Cite
Sabahannur, S., Alimuddin, S., & Nikmah, H. (2021). Studi Pengaruh Suhu dan Lama Penggorengan Terhadap Kualitas Jamur Tiram (Pleurotus osteatus) dengan Penggorengan Vacum. AGRITEKNO: Jurnal Teknologi Pertanian, 11(1), 1-8. https://doi.org/10.30598/jagritekno.2022.11.1.1
Copyright (c) 2022 Authors
This work is licensed under a Creative Commons Attribution-ShareAlike 4.0 International License.
Authors who publish with this journal agree to the following terms:
Authors retain copyright and grant the journal the right of first publication with the work simultaneously licensed under a Creative Commons Attribution License that allows others to share the work with an acknowledgement of the work's authorship and initial publication in this journal.
Authors are able to enter into separate, additional contractual arrangements for the non-exclusive distribution of the journal's published version of the work (e.g., post it to an institutional repository or publish it in a book), with an acknowledgement of its initial publication in this journal.
Authors are permitted and encouraged to post their work online (e.g., in institutional repositories or on their website) prior to and during the submission process, as it can lead to productive exchanges, as well as earlier and greater citation of published work (See The Effect of Open Access).