Contribution of Pelabuhan Perikanan Nusantara for Food Supply of Skipjack in Ambon City
Petrizia J Kaihatu

Program Studi Ilmu Kelautan Pascasarjana Universitas Pattimura, Jl. Ir. M. Putuhena, Kampus Poka Ambon, 97233, Indonesia

Beni Setha

Fakultas Perikanan dan Ilmu Kelautan Universitas Pattimura, Jl. Mr. Chr. Soplanit, Kampus Poka, Ambon, 97233, Indonesia

Hansje Matakupan

Fakultas Perikanan dan Ilmu Kelautan Universitas Pattimura, Jl. Mr. Chr. Soplanit, Kampus Poka, Ambon, 97233, Indonesia
Keywords:
Fisheries, food, PPN Ambon, production, skipjack
Abstract
The fishery is a source of food. Ambon City as an area that has an ocean area of ​​52% can rely on the fishery sector as a source of protein food. The level of fish consumption in Ambon City in 2019 was 37.01 kg/capita/year with the most consumed type of fish being the type of tuna/ skipjack/tuna. Pelabuhan Perikanan Nusantara Ambon (PPN) is one of the fish landings centers that contribute to the provision of fish food, including skipjack (Katsuwonus pelamis) in Ambon city. The production of skipjack which landed at the Nusantara Fisheries Port (PPN) Ambon in 2014-2020 fluctuated with an average production of 613.51 tons or 32.03%. The highest production was in 2014 at 1,093.54 tons and the lowest was in 2015 at 161.07 tons. Based on the average production of skipjack tuna (Katsuwonus pelamis), PPN contributes 21.14% to the supply of fish food in Ambon City.
Downloads
Download data is not yet available.
References
Badan Pusat Statistik Provinsi Maluku. (2019). Provinsi Maluku dalam Angka 2019. BPS Provinsi Maluku. Ambon.
Badan Ketahanan Pangan. (2019). Direktori Perkembangan Konsumsi Pangan. Kementerian Pertanian Republik Indonesia. Jakarta.
Budiasih, D., & Dewi, D. A. N. (2015). CPUE dan tingkat pemanfaatan perikanan Cakalang (Katsuwonus pelamis) di sekitar Teluk Palabuhan Ratu, Kabupaten Sukabumi, Jawa Barat. Agriekonomika, 4(1), 3-39.
Damayanti, Y. (2012). Kontribusi perikanan tangkap terhadap penyediaan pangan ikan dalam mendukung ketahanan pangan di Provinsi Jambi. Buletin PSP, 20, 81-87.
Firdaus, M. (2018). Profil perikanan tuna dan cakalang di Indonesia. Buletin Ilmiah "Marina" Sosial Ekonomi Kelautan dan Perikanan, 4(1), 23-32.
Fuada, N., Muljati, S., & Triwinarto, A. (2018). Sumbangan ikan laut terhadap kecukupan konsumsi protein Penduduk Indonesia. Penelitian Gizi dan Makanan, 41(2), 77-88.
Kementerian Kelautan dan Perikanan RI. (2020). Statistik-KKP. statistik.kkp.go.id diakses Juli 2020.
Luhur, E. S., & Yusuf, R. (2017). Analisis rantai nilai ikan ikan cakalang di Kota Ambon, Maluku. Jurnal Sosek KP, 12, 93-105.
Matakupan, H. (2019). Kebijakan Investasi Perikanan Tangkap Pelagis di Kota Ambon. Disertasi. Program Doktor Pascasarjana Universitas Pattimura. Ambon.
Pusat Data, Statistik dan Informasi KKP. (2018). Kelautan dan Perikanan dalam Angka Tahun 2018. Kementerian Kelautan dan Perikanan. Jakarta.
Pusat Data, Statistik dan Informasi KKP. (2018). Satu Data Produksi Kelautan dan Perikanan Tahun 2017. Kementerian Kelautan dan Perikanan. Jakarta.
Pelabuhan Perikanan Nusantara Ambon. Laporan Statistik Pelabuhan Perikanan Nusantara Ambon tahun 2018 – 2020.
Rahman, M. A., Laksmini, M., Agung, M.U.K., & Sunarto. (2019). Pengaruh musim terhadap kondisi oseanografi dalam penentuan daerah penangkapan ikan Cakalang (Katsuwonus pelamis) di perairan selatan Jawa Barat. Jurnal Perikanan dan Kelautan, 10(1), 92-102.
Republik Indonesia. (2012). Undang-Undang Nomor 18 tahun 2012 tentang Pangan. Lembaran Negara RI tahun 2012 Nomor 227. Menteri Hukum dan Hak Asasi Manusia. Jakarta.
Salim, A. (2018). Pemanfaatan pelabuhan untuk meningkatkan perekonomian masyarakat nelayan. Jurnal Pemikiran Penelitian Ekonomi, 6(2), 1-14.
Salmarika, Taurusman, A.A., & Wisudo, S.H. (2018). Status pengelolaan sumber daya ikan tongkol di perairan Samudera Hindia berbasis pendaratan pukat cincin di pelabuhan perikanan Samudera Lampulo, Aceh: Suatu pendekatan ekosistem. Jurnal Penelitian Perikanan Indonesia, 24(4), 263-272.
Saputra, A., Sompie, M.S., & Manoppo, L. (2014). Analisis tren hasil tangkapan ikan Cakalang (Katsuwonus pelamis) dengan alat tangkap purse seine dan pole and line (Studi kasus di Pelabuhan Perikanan Samudera Bitung). Jurnal Ilmu dan Teknologi Perikanan Tangkap, 1(6), 204-208.
Siahainenia, M.S., Hiariey, J., Baskoro, M. S., & Waileruny, W. (2017). Pemanfaatan optimasi sumberdaya cakalang di perairan maluku. Jurnal Triton, 13, 125-134.
Susanto, A., Hamzah, A., Irnawati, R., Nurdin, H.S., & Supadminingsih. F. N. (2020). Peran sektor perikanan tangkap dalam mendukung ketahanan pangan perikanan di Provinsi Banten. LEUIT Journal of Local Food Security, 1(1), 9-17.
Talakua, E.F., Ohorella, M., & Budiono, S. (2020). Stok ikan Tuna (Thunnus sp.) Tahun 2015-2019 di Banda Naira, Maluku Tengah. Lawere, 1, 13-27.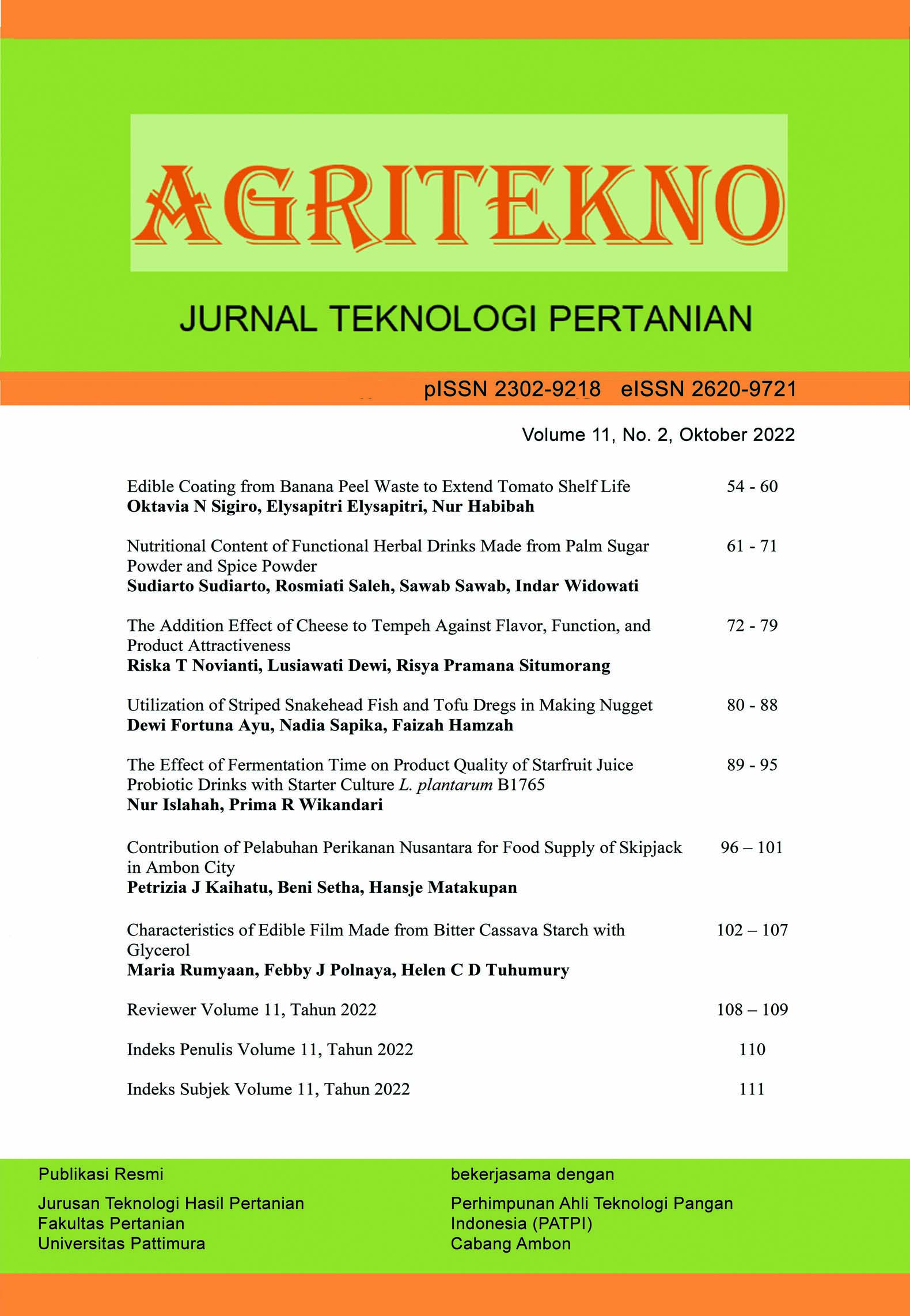 How to Cite
Kaihatu, P., Setha, B., & Matakupan, H. (2022). Contribution of Pelabuhan Perikanan Nusantara for Food Supply of Skipjack in Ambon City. AGRITEKNO: Jurnal Teknologi Pertanian, 11(2), 96-101. https://doi.org/10.30598/jagritekno.2022.11.2.96
Copyright (c) 2022 The Author(s)
This work is licensed under a Creative Commons Attribution-ShareAlike 4.0 International License.
Authors who publish with this journal agree to the following terms:
Authors retain copyright and grant the journal the right of first publication with the work simultaneously licensed under a Creative Commons Attribution License that allows others to share the work with an acknowledgement of the work's authorship and initial publication in this journal.
Authors are able to enter into separate, additional contractual arrangements for the non-exclusive distribution of the journal's published version of the work (e.g., post it to an institutional repository or publish it in a book), with an acknowledgement of its initial publication in this journal.
Authors are permitted and encouraged to post their work online (e.g., in institutional repositories or on their website) prior to and during the submission process, as it can lead to productive exchanges, as well as earlier and greater citation of published work (See The Effect of Open Access).