PENGARUH PENAMBAHAN TEPUNG DAUN KELOR (Moringa oleifera) TERHADAP KARAKTERISTIK ORGANOLEPTIK DAN KIMIA BISKUIT MOCAF (Modified Cassava Flour)
Gelora Helena Augustyn

Jurusan Teknologi Hasil Pertanian, Fakultas Pertanian, Universitas Pattimura

Helen Cynthia Dewi Tuhumury

Jurusan Teknologi Hasil Pertanian, Fakultas Pertanian, Universitas Pattimura

Matheos Dahoklory

Jurusan Teknologi Hasil Pertanian, Fakultas Pertanian, Universitas Pattimura
Keywords:
biscuit, MOCAF, moringa leaf flour
Abstract
The purpose of the research was to analyse the effect of Moringa leaf flour on the organoleptic and chemical properties of mocaf biscuit. A completely randomized experimental design was applied with single factor having a levels of flour adition, P1 (0:100), P2 (3:100), P3 (6:100) dan P4 (9:100). Result showed that nutritional content of moringa leaf flour on moisture, protein, vitamin C and carbohydrate contents were 9.57%, 26.02%, 1.2% and 51.91% respectively. Mocaf biscuit made of P2 (3:100) was found to be the best product with the moisture, ash, fat, protein, vitamin C, and carbohydrate content of 2.74%, 1.41%, 2.20%, 11.15%, 10.12%, 0.25% and 72.12% subsequently. The biscuit made with this P2 result in organoleptic properties that were mostly prefered by panelists on colour (3.20), aroma (3.22), texture (3.32), taste (3.20) and overall (3.41).
Keywords: biscuit, mocaf, moringa leaf flour
ABSTRAK
Penelitian bertujuan untuk menganalisa pengaruh penambahan tepung daun kelor terhadap karakteristik organoleptic dan kimia biskuit mocaf. Penelitian ini menggunakan Rancangan Acak Lengkap (RAL) Faktor Tunggal dengan 1 taraf perlakuan penambahan tepung daun kelor (P) dan tepung mocaf dengan tiga kali ulangan. Taraf perlakuan dalam penelitian yaitu: P1 (0:100), P2 (3:100), P3 (6:100), dan P4(9:100). Hasil penelitian menghasilkan kandungan gizi tepung daun kelor yaitu: 9,57% kadar air, 7,85% kadar abu, 4,03% kadar serat, 2,52% kadar lemak, 26,02% kadar protein, 1,92% kadar vitamin C dan 51,91% kadar karbohidrat, sedangkan biskuit mocaf dengan perlakuan P2 (3:100) memiliki 2,74% kadar air, 1,41% kadar abu, 2,20% kadar serat, 11,52% kadar lemak, 10,12% kadar protein, 0,25% kadar vitamin C, dan 72,38%. Hasil uji organoleptik, panelis menyukai biskuit mocaf untuk tingkat kesukaan terhadap warna 3,20 (suka), aroma 3,22 (suka), tekstur 3,32 (suka), rasa 3,20 (suka), dan overall 3,41 (suka).
Kata kunci: biskuit, mocaf, tepung daun kelor
Downloads
Download data is not yet available.
References
Almatsier, S. 2010. Prinsip Dasar ilmu Gizi. Gramedia Pustaka Utama. Jakarta.

Aminah, S., T. Ramdhan, dan M. Yanis. 2015. Kandungan nutrisi dan sifat fungsional tanaman kelor (Moringa oleifera). Buletin Pertanian Perkotaan 5: 35-44.

AOAC. 2007. Official Methods of Analysis Association of Official Anaylitical Chemist. Inc. Arlington Virginia.

Apandi, M. 1984. Teknologi Buah dan Sayur. Penerbit Alumni. Bandung.

Badan Standarisasi Nasional (BSN). 1992. SNI No 01-28731992 tentang Biskuit. BSN. Jakarta.

Buckle, K.A. 2008. Ilmu Pangan. UI-Press. Jakarta.

De Man. 1997. Kimia Makanan. Penerbit ITB. Bandung.

Fuglie, L.J. 2002. The Miracle Tree Moringa oleifera: Natural Nutrition for the Tropic Church World Service. Dakar. Senegal.

Ginting, E. 2002. Teknologi penanganan pascapanen dan pengolahan ubikayu menjadi produk-antara untuk mendukung agroindustri. Buletin Palawija 4: 67-83.

Hsu, R., S. Midcap, M. Arbainsyah, and L. de Witte. 2006. Moringa Oleifera; Medicinal and Socio-Economic Uses. Internasional Course on Economic Botany. National Herbarium Leiden, the Netherlands.

Indrasti, D. 2004. Pemanfaatan Tepung Talas Belitung (Xanthosoma sagittifolium) dalam Pembuatan Cookies. Skripsi. Fakultas Teknologi Pertanian IPB. Bogor

Kholis, N. dan F. Hadi. 2010. Pengujian bioassay biskuit balita yang disuplementasi konsentrat protein daun kelor (Moringa oleifera) pada model tikus malnutrisi. Jurnal Teknologi Pertanian 11: 144-151.

Kumulaningsih, S. 2006. Antioksidan Alami Penangkal Radikal Bebas, Sumber, Manfaat, Cara Penyediaan dan Pengolahan. Trubus Agrisarana. Surabaya.
Oduro, I., W.O. Ellis, and D. Owusu. 2008. Nutritional potential of two leafy vegetables: Moringa oleifera and Ipomoea batatas leaves. Scientific Research and Essay 3: 057-060.

Pangaribuan, A.D. 2013. Substitusi Tepung Talas Belitung Pada Pembuatan Biskuit Daun Kelor (Moringa oleifera Lamk). Skripsi. Fakultas Teknobiologi, Universitas Atma Jaya. Yogyakarta.

Subagio. 2008. Pengembangan Tepung MOCAF. Salemba. Jakarta.

Simbolan, J.M., M. Simbolan, and N. Katharina. 2007. Cegah Malnutrisi dengan Kelor. Kanisius. Yogyakarta.

Suarti, B., E. Ardyanto, and M.D. Masyhura. 2015. Penambahan tepung daun kelor dan lama pemanggangan terhadap mutu biskuit dari MOCAF (Modified Cassava Flour). Agrium 19: 238-248.

Sudarmadji, S., B. Haryono, dan Suhardi. 1997. Prosedur Analisa untuk Bahan Makanan dan Pertanian. Liberty. Yogyakarta.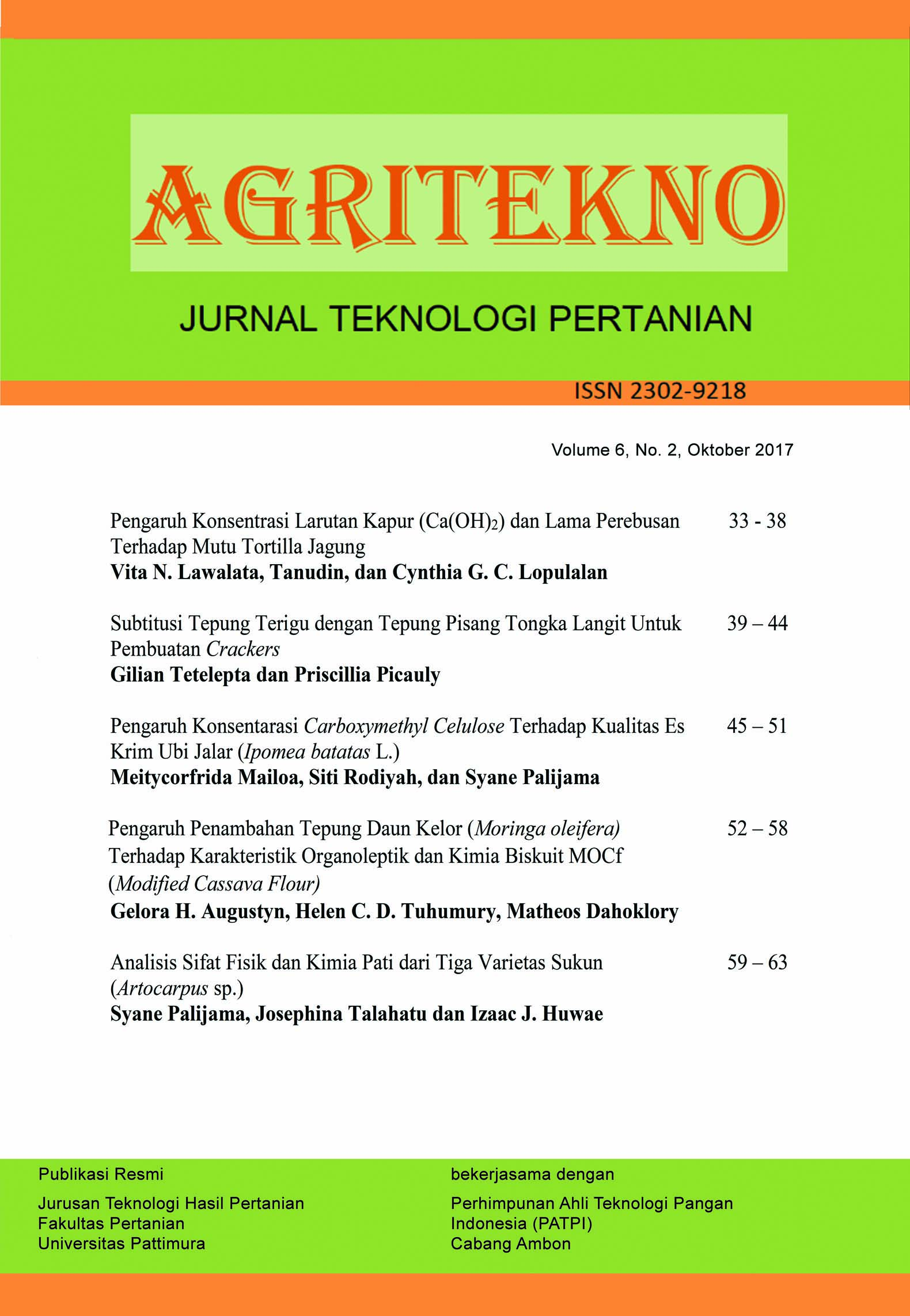 Copyright (c) 2017 AGRITEKNO, Jurnal Teknologi Pertanian
This work is licensed under a Creative Commons Attribution-ShareAlike 4.0 International License.